Bernie Sanders drew more than 19,000 to an NBA arena in Portland, Oregon, setting the record for the largest political event of the 2016 presidential event as of yet.
Thousands of people poured into the Trail Blazers arena to listen to Sanders, the Vermont senator running for the Democratic nomination, speak. 
"Whoa. This is an unbelievable turnout," Sanders said as he walked onstage, reported CNN. 
Michael Lewellen, a spokesman for the arena, said that in addition to the over 19,000 people inside, an estimated 9,000 others had lined up outside but were ultimately unable to get in. They listened to the speech via loudspeakers. 
Many in the crowd believe that Sanders can defeat Hillary Clinton, the biggest Democratic candidate that has declared so far. Joe Biden, the vice president, has not decided whether or not to run as of yet. 
Brian Foren, who brought his son Liam to the event, said he was backing Sanders because he was concerned Clinton's "baggage" would hurt her in the general election.
"I appreciate his honestness and his frankness," he said. "She has a lot of baggage and I worry that her baggage might cost us the election."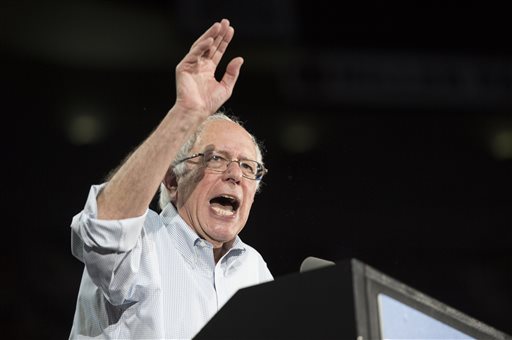 The Washington Post noted that 28,000 people is a lot of people, and wondered whether Clinton could even draw that many right now.
"Ask yourself this: If Hillary Clinton announced a rally next weekend in, say, Seattle, could she get 28,000 people to show up? Maybe. But it's far from a sure thing that she could," wrote Chris Cillizza.
"Crowds are at some level an indicator of organic energy — it is after all how it became clear in 2006 and 2007 that something major was happening with Obama. And, one of Clinton's biggest problems is — you guessed it! — the perception that her candidacy lacks energy."
In fact, the Portland event was just one day after Sanders spoke at the University of Washington's Hec Edmunson Pavilion on Saturday. At that event, he spoke to 12,000 supporters inside while another 3,000 waited outside–the state's biggest political crowd since an Obama visit in 2010, reported the Seattle Post Intelligencer. 
Sanders has been the subject of some black protests during some of his events, but told the crowd that he wants to target allegedly racist policies like the "War on Drugs," which he said is destryong too many young lives.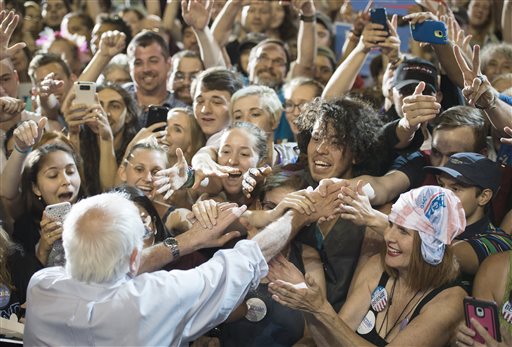 "Too many lives are being destroyed by our system of incarceration," he said. "No President will fight harder to end the stain of racism and reform our criminal justice system. Period."
The self-described socialist is planning on speaking at the Los Angeles Memorial Sports Arena on Monday, August 10, with a stop beforehand in Oakland for a brunch meeting with the large National Nurses United union.