The research institute behind Australia's COVID-19 modelling has said that the virus will be easier to control after reaching vaccination targets, but has warned Aussies to expect hundreds of daily cases of the CCP virus to continue emerging, along with ongoing public health measures.
The Melbourne-based Doherty Institute issued the statement after Queensland and West Australia's state leaders publicly displayed reluctance to follow through on an agreed National Cabinet plan to open interstate borders or stop using lockdowns once 70 to 80 percent of the population was vaccinated.
"This level of vaccination will make it easier to live with the virus, as we do with other viruses such as the flu. However, it won't be possible to maintain a situation where there are no cases at all," the statement read, noting that after the vaccination targets are met, the focus will be on hospitalisation and medical care.
Doherty predicted that at 70 percent, Australia could still see 385,983 symptomatic cases and 1,457 deaths over a six-month period. However, with optimal public health measures—free of any lockdowns—the number can be reduced further to 2,737 cases and 13 deaths.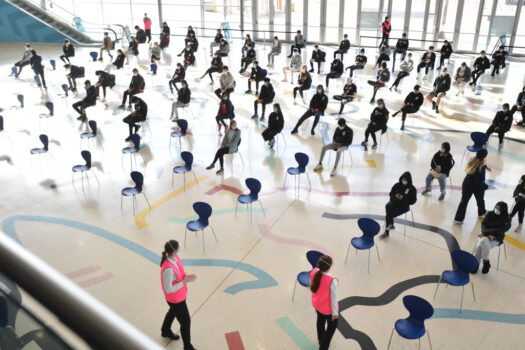 "We've learned from watching countries that have removed all restrictions that there is no 'Freedom Day,'" the statement read. "We will need to keep some public health measures in place—test, trace, isolate, and quarantine—to keep the reproduction number below one, but as vaccination rates increase, we'll be able to ease up further, and it is unlikely that we will need generalised lockdowns."
The institute said that until the country hit the 70 to 80 percent vaccination mark, governments would need to continue suppressing the virus through restrictions. Public sentiment towards restrictions has begun to boil over, however, with thousands of Australians taking to the streets on the weekend in protest against COVID lockdowns.
In late July, the national cabinet—an intergovernmental body involving the prime minister and state and territory leaders—agreed on a four-stage vaccination plan based on Doherty's modelling.
At the 70 percent vaccination mark, a state will enter Phase B, where stay-at-home orders and restrictions are still possible, but will be unlikely.
Upon reaching the 80 percent vaccination target, Phase C is triggered, and the country will begin reopening international borders. Lockdowns however will need to be "highly targeted," while vaccinated residents will be exempt from domestic restrictions.
Some public health measures will still be needed even after the population has moved into the Phase D.
Last week, West Australian Premier Mark McGowan stood by the state's right to implement "highly-targeted" lockdowns and indicated his government would likely continue to pursue a zero-COVID strategy.
Further, Queensland Premier Annastacia Palaszczuk called for renewed modelling before she would commit to opening borders, saying the previous research did not consider high case numbers and was premised "around 30 cases in the community."
Doherty's response on Monday was designed to assuage this concern, emphasising that even with hundreds of new cases per day, the country could still safely ease restrictions.
Currently, Queensland and Western Australia have the lowest percentage of fully vaccinated residents at 27.87 and 27.17 percent, respectively. The current national average is 30.27 percent.
Prime Minister Scott Morrison issued a public plea on Monday for state leaders to follow the vaccination roadmap and break the cycle of lockdowns.
"We should not delay it. We should prepare for it. We should not fear it, we should embrace it, and we should move forward together," he told reporters.