NEW YORK—Before "On Your Feet!" even begins one is met with a barrage of ear-deafening music from behind the curtain. Is this meant to inform the audience that loud is good? Well, sometimes.
"On Your Feet!" is a musical (book by Alexander Dinelaris; music produced and recorded by Emilio and Gloria Estefan and Miami Sound Machine) that tells the story of the rise to international musical fame of the noted Estefan couple.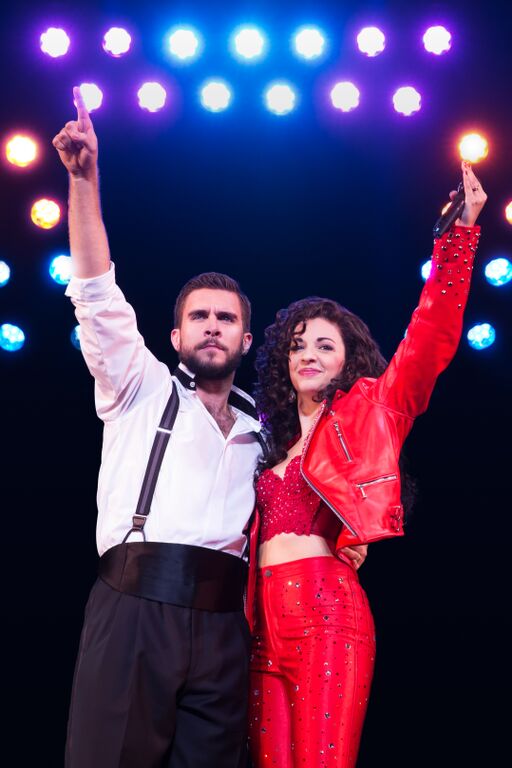 Starting out in their native Cuba, Emilio (Josh Segarra) persistently woos the appealing Gloria (Ana Villafañe) under the watchful eyes of Gloria's mother, Gloria Fajardo (Andrea Burns), and grandmother Consuelo (Alma Cuervo).
Emilio, already a professional musician and budding impresario, not only finds Gloria attractive, but feels she has potential as a star singer. At first it's slow going for Emilio, as Gloria's mother disapproves of the young man's advances. 
Why, he wonders, is he such anathema to Fajardo? Consuelo informs him that it is simply jealousy; Gloria's mom could have had a chance at stardom, but family duties ruled out that possibility. At which point we are treated to a vivid solo number by Andrea Burns.
In fact, a large portion of the show early on is devoted to performances by Little Gloria, sung with a mature belt sound by Alexandria Suarez.
The choice of Ana Villafañe to portray Gloria Estefan was serendipitous.
As time goes on, Fajardo relents in her opposition to the match of the young couple, and the Estefans go on to great success. Not only is Gloria a terrific performer, but Emilio is a great negotiator and able to get contracts that put the couple over the top in their field.
Late in the story, a tragic auto accident fells Gloria with a severe back injury. But, with perseverance, grit, and family support, she is able to overcome that obstacle.
In fact, a late scene in the show between the couple and Fajardo is the most moving, as Fajardo, seemingly for the first time, warms up to son-in-law Emilio. 
Throughout the show we hear many of the major hits that Gloria made famous, including "Cuba Libre," "Don't Wanna Lose You," "Get on Your Feet," "Rhythm Is Gonna Get You," "Turn the Beat Around," and more.
"Conga" takes the company offstage and into the aisles, inviting audience members to join them. A few take up the offer, though they seemed to me to be plants.
The songs are accompanied by fierce dance numbers (choreography by Sergio Trujillo). I say "fierce" quite deliberately. The dances are all performed with great abandon and not always with the sublime skill usually projected by top Broadway chorus dancers.

It seemed as if the producers or creative staff (direction by Jerry Mitchell, who boasts a slew of credits and theater awards, including a Tony) felt that sheer force, loud volume, and enthusiasm would win the day. Not so, in my opinion.
In fact, the greatest flaw in the show is that the musical numbers do not appear integrated into the story. The dances were placed seemingly without rhyme or reason. Each could have been put anywhere in the show. Nor was there any reference to them in the spoken scenes. In fact, the dialogue could have been entirely removed and the dance numbers alone could make up numerous examples of Latin dance.
As the dance numbers did not enhance or advance the purpose of the production, the dances, though exciting on their own, seemed more of an interruption than an advantage. In sum, the production lacked unity.
However, there is plenty in "On Your Feet!" to please a large audience. The show is infused with Latin music—its passion and vitality.
Overall, the musical numbers are infectious, and there are some terrific performances. The choice of Ana Villafañe to portray Gloria Estefan was serendipitous.  Not only does she have beauty and the skills of singing, dancing, and acting, she also has charisma, that indefinable quality a star must possess. 
The greatest flaw in the show is that the musical numbers do not appear integrated into the story.
Josh Segarra gives a strong and believable performance as Emilio. The other principals mentioned, including Andrea Burns, Alma Cuervo, and Alexandria Suarez, offer top support. And I mustn't omit young Eduardo Hernandez, a phenomenal miniature dance star.
It's also nice to see a woman rise to the top of her profession. In case you might not know who Gloria Estefan is (responsible for music, lyrics and orchestrations, along with husband Emilio), according to the program notes, she is "the most successful Latin crossover performer in the history of pop music." She boasts seven Grammy Awards and more than 100 million albums sold worldwide.
Related Coverage
So, if you're into that Latin beat to warm you on a cold winter's night, "On Your Feet!" is your ticket.
'On Your Feet!'
Marquis Theatre
1535 Broadway
Tickets: 877-250-2929, or Ticketmaster.com
Running Time: 2 hours, 30 minutes (one intermission)
Open run
Diana Barth writes for various publications and publishes New Millennium, an arts publication. She may be contacted at DiaBarth@juno.com