NEW YORK—What better way to spend a midsummer night than to experience an enchanting performance of William Shakespeare's "A Midsummer Night's Dream," helmed by director Lear deBessonet, courtesy of Public Theater's Free Shakespeare in the Park.
A marvelous concoction from Shakespeare's fertile imagination, "Dream" features three different sets of individuals—aristocrats, modest workmen, and fantastical fairies—presented in turn, then melded into interrelationships. It's often difficult to discern where reality ends and fantasy begins. And it's all about love.
Music plays a big part in enhancing the production.
Of immediate concern is the upcoming wedding of Theseus, the Duke of Athens (Bhavesh Patel), to Hippolyta, Queen of the Amazons (De'Adre Aziza). But his governing duties need attending to: A citizen, Egeus (David Manis), complains that his daughter Hermia (Shalita Grant) refuses to marry his choice of suitor, Demetrius (Alex Hernandez), and instead favors Lysander (Kyle Beltran).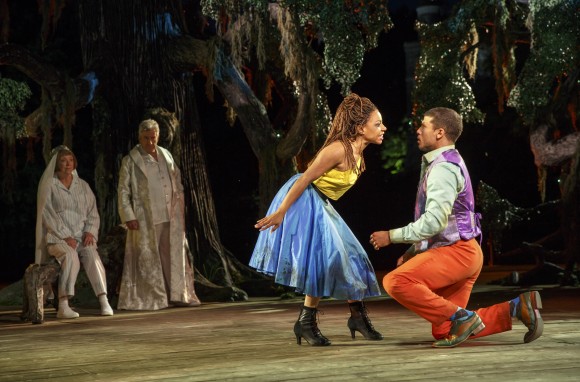 Meanwhile, Hermia's friend Helena (Annaleigh Ashford) dotes on Demetrius, yet he scorns her. Thus begins a series of comical and magical events.
The workmen, or rude mechanicals, have entered the forest not far from Athens. They're amateur actors and hope to be invited to put on a play—"The Most Lamentable Comedy and Cruel Death of Pyramus and Thisbe"—to celebrate the Duke's impending wedding. Major roles go to Nick Bottom the weaver (Danny Burstein), playing Pyramus, and Francis Flute (Jeff Hiller), play his lover, Thisbe.
Oberon, King of the Fairies (Richard Poe) and his estranged wife, Queen Titania (Phylicia Rashad), enter the forest. They argue over the Changeling Boy (Benjamin Ye) whom Titania has promised to care for, but Oberon wants the boy as his own knight. When Titania refuses his request, Oberon, as punishment, orders his servant Robin Goodfellow, known as Puck (Kristine Nielsen), to find a certain flower and drop its juice into the eyes of the Queen, now asleep, to make her fall in love with the first creature she sees upon awakening.
The acting is uniformly excellent.
Determined to elope, Hermia and Lysander enter the forest, followed by Demetrius and Helena. When Oberon sees Demetrius cruelly reject Helena, he orders Puck to drop some of the flower's juice into the Athenian's eyes. Puck administers the juice incorrectly, causing both Lysander and Demetrius to fall in love with Helena, who in turn is enraged, feeling the two men are mocking her. Confusion ensues.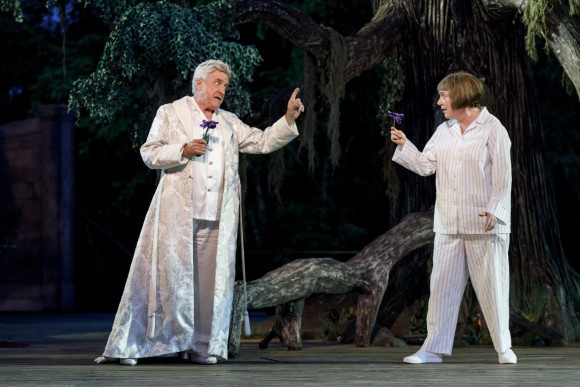 When the workingmen "actors" return to rehearse, Bottom wanders off and is met by Puck, who places a donkey's head onto him, and it is he whom Titania awakens to and falls in love with. Hilarity ensues. 
The acting is uniformly excellent. It's perhaps unfair to single out individuals in such fine ensemble playing, but my eyes and ears went particularly to Ashford as Helena, Burstein as Bottom, Rashad as Titania, and Hernandez as Demetrius.
The over-the-top excellence of the production elements fosters a sense of being in a magical place, making the supernatural appear almost natural. Scenic design by David Rockwell is superlative, with the enormous trees of the forest, their gnarled trunks and deep green leaves, being both inviting and somewhat sinister. Rockwell's set is supported by Tyler Micoleau's lighting; it is a delight when the trees light up at just the right moments.
Music plays a big part in enhancing the production. The fact that it is contemporary rock adds to the richness of the production. The original music, music supervision, and orchestration is by Justin Levine. Music director Jon Spurney, doubling on keyboard and guitar, leads an ensemble of five players.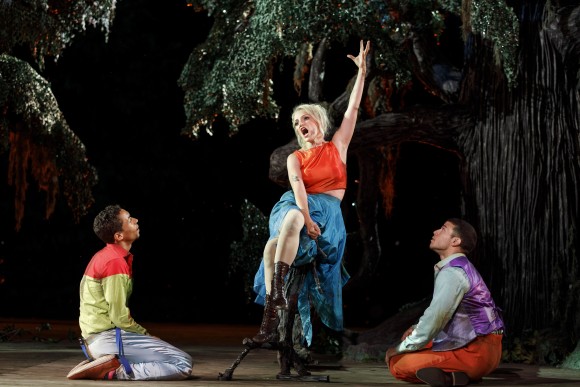 As the Fairy Singer, glamorous Marcelle Davies-Lashley took center stage for two vivid contemporary numbers.
Choreographer Chase Brock is responsible for the several excellent group dances, as well as for individual turns by some performers. In fact, the two young couples display dance and even acrobatic skills at times.
Costumes by Clint Ramos are nothing short of spectacular, with rich, iridescent brocades adorning the major players. Rashad's Titania looked particularly elegant, with her long, almost-white wavy tresses (wigs by Cookie Jordan) and shimmering white gown.
Not to be omitted is the unusual and absolutely appropriate casting, particularly in the roles of the fairies. Here there's a mix in age, with some performers having senior status. I was warmed to see Vinie Burrows (First Fairy, Peaseblossom), whose work I'd seen decades ago. Subtly, the extended age of the group enhances the production's sense of universality.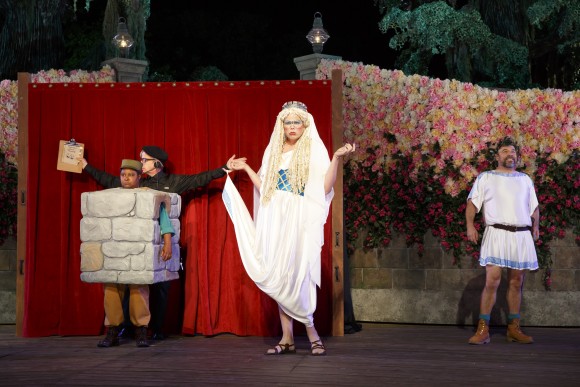 With Oskar Eustis as the Public's artistic director, and Patrick Willingham as its executive director, the Public can count deBessonet's production as a jewel in the crown of its extensive list of successes.
'Midsummer Night's Dream'
Delacorte Theater in Central Park
(near 81st Street & Central Park West)
Running Time: 2 hours, 40 minutes (one intermission)
Tickets: Free after noon on the day of the performance
Closes: Aug. 13
Diana Barth writes for several theater publications, including New Millennium. She may be contacted at DiaBarth99@gmail.com