The White House has had a spooky Halloween makeover as it prepares to open its doors to trick-or-treaters on Monday, Oct. 30.
The South Lawn will be open to "ghosts and goblins of all ages" from 4 p.m. to 7 p.m. the night before Halloween, according to a statement from the First Lady Melania Trump.
The event will be open to schoolchildren and parents from over 20 schools in Maryland, Virginia, and the District of Columbia. It will also cater to military families and community groups.
The festive transformation features massive decorative spiders and cobwebs.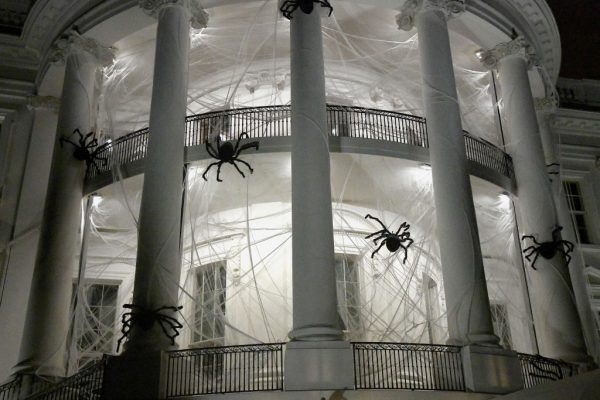 "During this event, trick-or-treaters will enjoy seeing the South Portico decorated in spider webs, creating a festive look and feel. There will also be bats and orange pumpkins with profiles of past presidents. Fog will fill the air, and the trees and south facade will be lit with different colors throughout the night," said the statement from the first lady's office.
The first lady captured an image from inside of the White House, looking out at the spooky cobwebs draped over the building. She wrote on Twitter, "The @WhiteHouse is getting ready for #Halloween2017 trick-or-treaters!"
The People's House @WhiteHouse is ready to celebrate #Halloween2017 pic.twitter.com/35p3AbnM9o

— Melania Trump (@FLOTUS) October 28, 2017
During the afternoon, President Donald Trump and the first lady will hand out cookies from the White House Pastry Kitchen, Presidential M&M's, and other candies, according to the statement.
Other departments will also be on hand to give out items, including the United States Secret Service, National Aeronautics and Space Administration, Federal Emergency Management Agency, National Park Service, and the Department of Education.
White House director of social media and assistant to the president, Dan Scavino Jr. shared images of the Halloween decorations as they were being prepared.
Halloween ??preparations underway at the @WhiteHouse! pic.twitter.com/c7vTINL3cw

— Dan Scavino Jr. (@Scavino45) October 28, 2017
An image posted by press secretary and Deputy Communications Director for the first lady, Stephanie Grisham showed workmen preparing the cobwebs for the afternoon.
The @WhiteHouse is getting ready for #Halloween2017 trick-or-treaters! ????? pic.twitter.com/8QoHOIm2uM

— Stephanie Grisham (@StephGrisham45) October 27, 2017