U.S. Secretary of State Mike Pompeo defended the strength and sustainability of the Western world despite misgivings in Europe when speaking at the Munich Security Conference on Feb. 15.
More than 500 high-level decision-makers from all over the world convene annually at the Munich Security Conference in Munich, Germany, to discuss international security policies and address current security challenges. Among the attendees are heads of states, ministers, members of parliament, business leaders, scientists, and high-ranking members of civil society.
The central theme of this year's conference was fading of the West, and "the Western project," a phenomenon called "Westlessness" by the Munich Security Report 2020, an official primer for this year's conference. In today's world, what has been understood as the basis of the West: liberal democracy, human rights, market-based economy, and the rule of law, "is increasingly contested," which in turn poses security challenges, according to the report.
"The world is becoming less Western … the West itself may become less Western, too," the report says.
The main theme of Pompeo's speech was "The West Is Winning."
"Free nations are simply more successful than any other model that's been tried in the history of civilization. Our governments respect basic human rights, they foster economic prosperity, and they keep us all secure," Pompeo said. The West is not just limited to geographical location, as "any nation that adopts a model of respect for individual freedom, free enterprise, national sovereignty … [is] part of this idea of the West," he explained.
To illustrate his point, Pompeo talked about the many refugees who risk their lives to escape in droves across the sea to Greece or Italy, but not to Iran or Cuba. On the other hand, some Asian countries were able to get out of poverty and emerge as world-leading economies by embracing Western principles, like South Korea, which is in stark contrast with Communist-ruled North Korea.
Pompeo emphasized the strength of the U.S. economy, citing low unemployment rates, rising wages, as well as the resilience of the country's political system.
Respect for sovereignty, freedom, and democracy are critical values of the West that allow it to win, Pompeo said.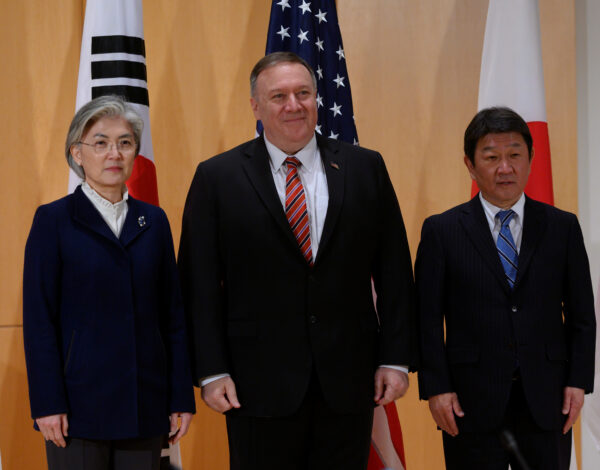 US Commitment to Protection of Freedom and Sovereignty
There are, however, countries that do not respect sovereignty and can pose threats to the West, Pompeo said. He listed Russia, which "seized Crimea and parts of Eastern Ukraine," Iran, which attacked Saudi oil facilities and has troops in several Middle East countries, and China, which "encroaches on the exclusive economic zones of Vietnam, the Philippines, and Indonesia," and uses "unfair trade practices."
He strongly disagreed with remarks made in recent years by Western leaders, "questioning America's commitment to the transatlantic alliance and America's leadership in the world." He also quoted a Western leader who said the day before that "the United States rejects the international community."
In response, Pompeo provided examples of U.S. involvement in fighting and countering all kinds of attacks on sovereignty and freedom of Western countries. The United States has worked to confront and counter these threats through sanctions and military actions.
The United States also arms threatened or attacked nations—e.g., Ukraine and provides them with financial aid, and training. The United States has led the global fight to defeat ISIS, Pompeo said.
The United States urged NATO Allies to increase their defense spending to "$400 billion in new pledges," and actively participates in NATO's military exercises in Europe, he said.
"We support independent nations. … Our signature military project together is a defensive alliance," Pompeo said.
Pompeo announced a new U.S. commitment to "provide up to $1 billion in financing to Central and Eastern European countries of the Three Seas Initiative." The goal is "to galvanize private sector investment in the energy sector to protect freedom and democracy around the world," said Pompeo.

The Three Seas Initiative is a political platform at the presidential level that unites 12 Central and Eastern European countries, located between the Adriatic, the Baltic, and the Black seas, in an endeavor to build a North-South infrastructure corridor connecting countries of this region.
Most of the Three Seas participants used to be a part of the former Eastern Communist Bloc, dominated by the Soviet Union. Therefore their infrastructure was not only underdeveloped in comparison with Western Europe but also focused mainly on interconnections along the East-West axis. This was a major impediment to economic growth in the region. In terms of energy, the region remained dependent on a single supplier of gas and oil—Russia.
Included in the Three Seas Initiatives are projects to create an energy market that will provide diversification of energy sources and suppliers, and one of the new energy suppliers to countries participating in the initiative is an American producer of liquefied natural gas (LNG).
Reuters contributed to this report.