The Walking Dead season 5 premiere was slated for Sunday night but fans are also wondering about episode 2 and the other upcoming episodes. 
The descriptions for some upcoming episodes have already come out, while some relatively major spoilers for episode 2 have also emerged.
Episode 2 is titled "Strangers." 
"Rick leads a risky mission for a possible small reward when the supplies run low," says the description.
The November edition of SFX magazine gives more insight into the episode with a report from the set.
"We're in a peaceful Georgia forest mid-May. A gentle breeze drifts through the trees and sun-spotted leaves rustle. But amid the serenity, death is present. Or more specifically the undead. Four walkers have surrounded a large boulder. Atop sits a young African American man wearing the white collar and black shirt of a priest. The priest kicks at their hands and screams in terror. 'Help! Help! anybody Help!'" it reported.
"From out of the forest tears what at first looks like a platoon of infantrymen. But as the brush clears, their faces grow familiar- Rick Grimes, his son Carl, Daryl Dixon, Maggie Greene, Glen Rhee, Michonne, Carol Peletier.
"In a heartbeat, they envelop the walkers, Rick grabs one, slams its head against the boulder, and throws it to the ground. Carol drives her knife through the skull of another. Michonne hits hers twice in the back of its head with the butt of a rifle, then a third time after it drops. The threat eliminated, Glenn shouts 'are we good?'. After scanning for more walkers Rick replies 'Yeah'. He looks up at the terrified man and offers him his hand.
'Cut!' cries director David Boyd. Actor Seth Gilliam climbs off the rock and the stars of the Walking Dead take a breath. It's day three of shooting the second episode of the show's fifth season here at Raleigh studios in Senoia."

Eight episodes of season 5 will air consecutively before a midseason break, meaning that episode 2 will air on October 19, episode 3 will air on October 26, and episode 4 will air on November 2.
Episode 3 is titled "Four Walls and a Roof."
"Rick and the others find themselves pitted against a group of nasty people," says the description.
Episode 4 is titled "Slabtown."
"Things appear safe and nice, but there is a bit of a dark side for another group of survivors," says the description.
Also in SFX, Norman Reedus (Daryl) was asked about his character's relationship with Beth last season.
"It changed him a lot," he said. "he saw a hope in Beth and Beth brought something out of him that he'd kind of given up on.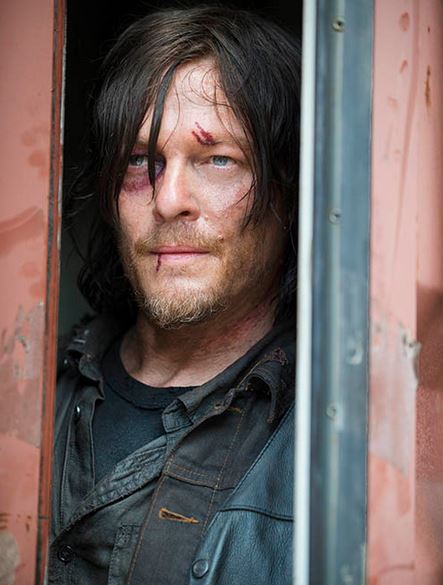 "Especially since he lost his family and friends at the prison and lost a safe place to live with these people. After all that was taken away from him, it was kind of like being ripped away from a comfortable place all over again. Beth gave him hope that the world outside wasn't as bad as he was thinking it was. Even if it is, she hinted that it may not be. At that moment in their lives, it meant even more than she meant it to mean."
He also said that the characters are all pretty tired, answering a question about if Daryl carries the hope Beth gave him into season 5.
"I don't know. this is episode 2. Everyone in the group is pretty beat up right now, and they don't know where they're headed," Reedus said.
"They're just trying to find someplace to lay their head and be safe for a minute. After a while you sort of forget, as characters, what you're looking for. You just keep looking. I don't know if that hope's still there. But I think he's very happy to be back with this group."
Also, new regular Michael Cudlitz (Abraham) said that he expects death in the season.
"I fully expect to die," he said.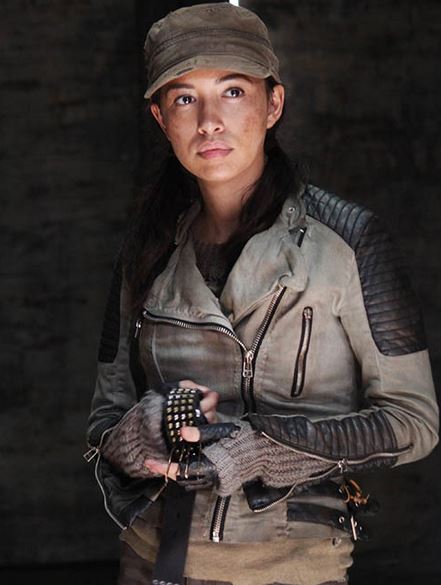 "Everyone's here on borrowed time. There are characters that are still around in the comic book that were off this show two years ago, and there are characters that were not in the comic book that are still around. I'm excited to be here for whatever duration this is. Whatever comes is a gift."
He also teased a possible confrontation between Rick, the leader of the group for most of the show, and Abraham, the leader of the smaller group of Eugene and Rosita. 
"The whole focus of my group right now is the mission," Cudlitz said. "Everything is mission-oriented. Everything stems from and to the mission. Eugene is the package that we have to get to DC. That takes precedence over everything. There's full commitment to the mission at this point … Right now he's Rick and we're going to DC. So we'll see what unfolds."
"Don't get in my way," he concluded. 
MORE:
Walking Dead Season 5 Death Spoilers: Beth Dies Early in Season, Fans Speculate
Morgan Jones in The Walking Dead Season 5 Premiere: Lennie James Returns at End of Episode 1