In a fun little seaside spot in Venice, Calif., a new culinary team has rolled out an amazing new dining and cocktail menu that has elevated traditional bar food to a whole new level. The new food and drink items are unique, creative, and delicious.
The Venice Whaler is a local seaside institution, having stood on the corner of Washington Boulevard and the beach in Venice for over 70 years.
However, the Whaler has seen a complete makeover this past year due to the collaboration of new owner Mike Dobson (Ma'Kai in Santa Monica and Red O in Los Angeles, Huntington Beach, and Santa Monica), General Manager TJ Williams, Executive Chef Nick Liberato (Spike TV's Bar Rescue and Bravo's Top Chef Masters), and Bar Director Anthony Settecase (who has worked at top spots in Los Angeles and New York).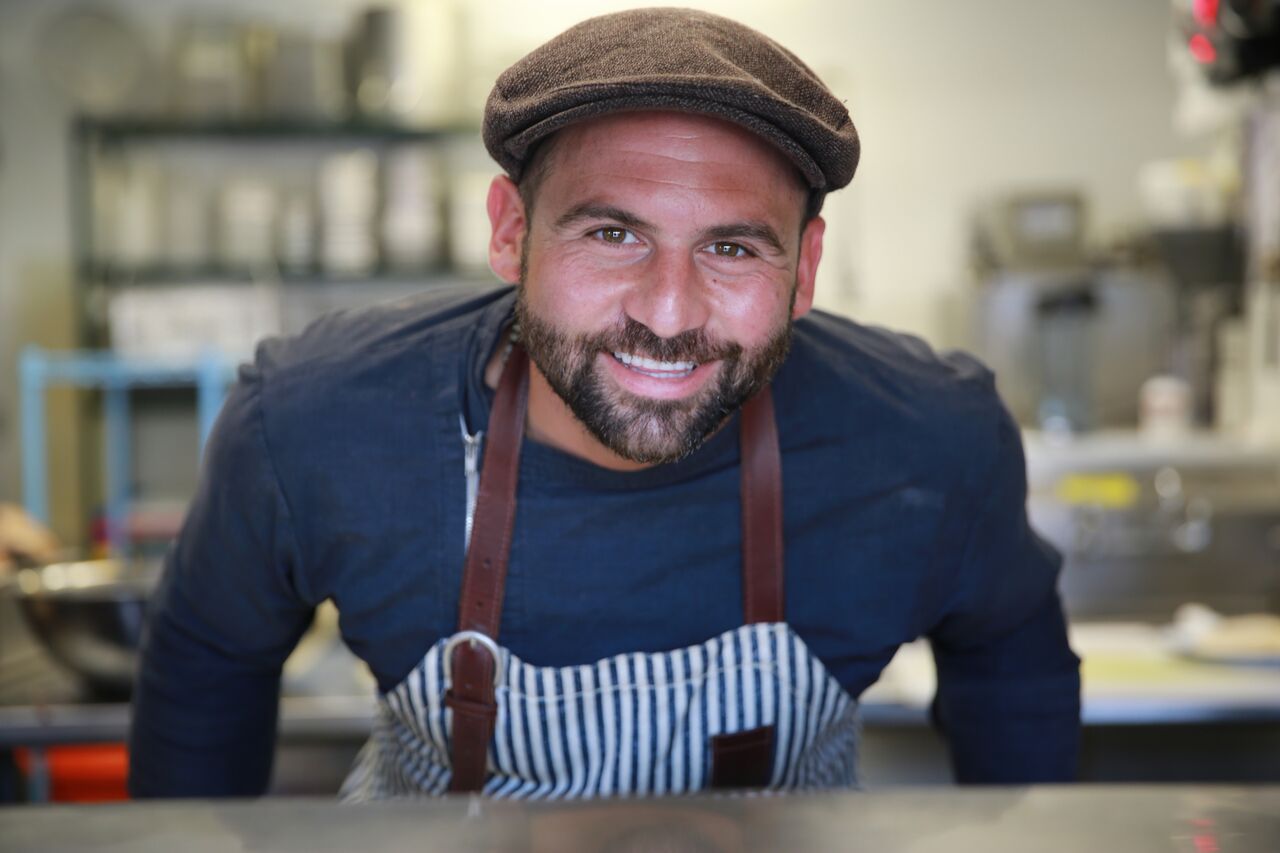 Chef Nick brings knowledge, skill, and creativity from around the world to this local pub (and some secret recipes as well). Chef Nick's cooking experience in places such as Italy, Hawaii, and New Zealand has helped him to create a menu as flavorful and unique as his experience. He handpicks the freshest ingredients from local farmers' markets, and proves his statement that "having integrity and creativity goes a long way."
The Venice Whaler is open from 7 a.m. to 2 a.m. every day. The takeaway window opens early so you can rev up for your beach jog, bike ride, or morning surf, with a freshly squeezed juice and a breakfast burrito. You might see Chef Nick out there on the waves as well. Later in the day the takeaway window serves beachside favorites such as cod fish tacos and pizza.
The true magic, however, is on the inside, where beachside classics are prepared with the freshest ingredients exquisitely combined to express their unique flavors.
You will certainly agree, once you've tried the Yellowfin Tuna Poke with macadamia nuts, avocado, and spicy aioli. Other favorites include the Maine Lobster Roll on fresh brioche, and a meaty Crab Cake.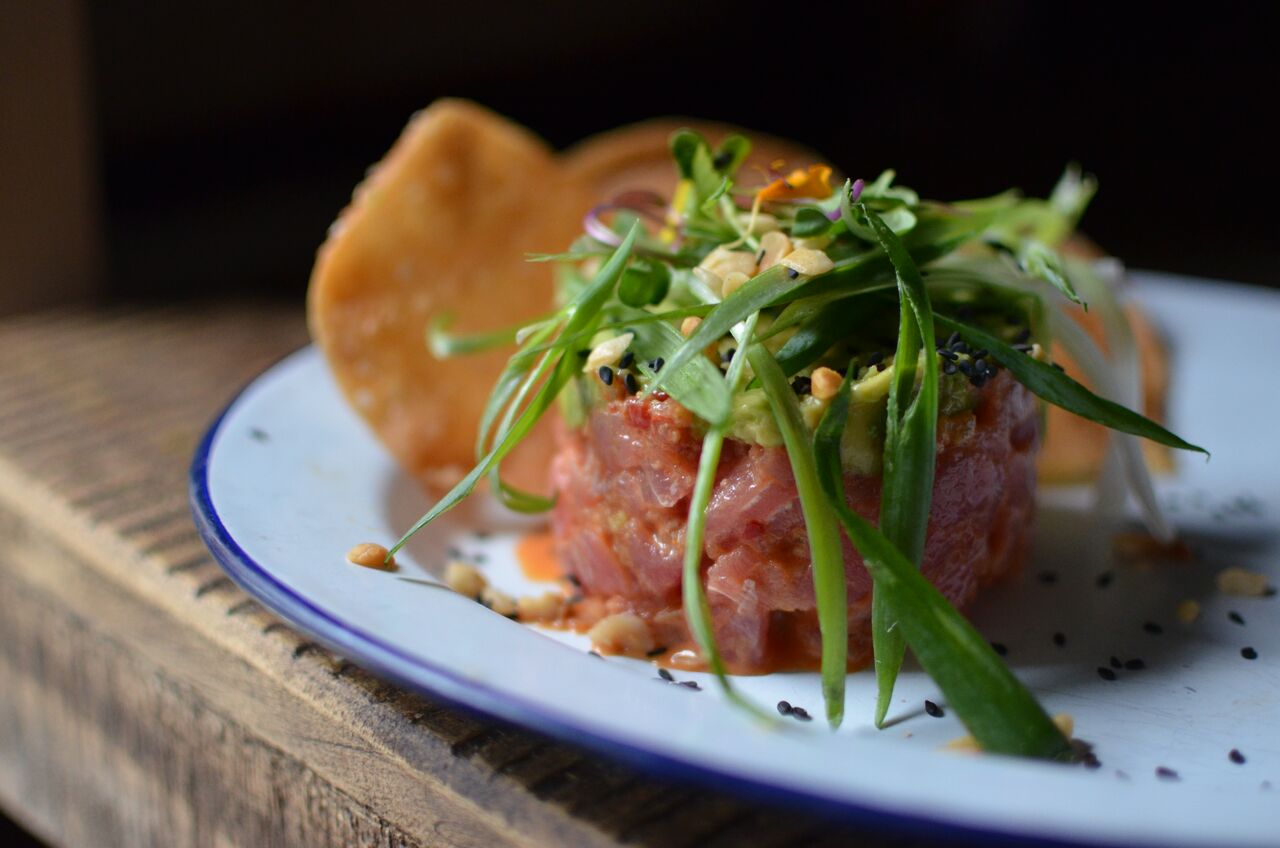 Chef Nick is most excited about the new Shrimp Po'Boy, featuring crispy beer-battered shrimp. "I love New Orleans. It is some of my favorite food in the country," he says.
The Venice beach crowd also gets to benefit from Chef Nick's time working in Italy. His pizza dough is superb, and is baked fresh daily. One of his signature pizzas, the Calabrian Queen, is topped with sausage, red onion, and chili flakes, the three most popular ingredients in the southern Italian region of Calabria.
Also inspired by Chef Nick's time in Italy, the Chicken Ricotta Meatballs are served in a rich and creamy San Marzano tomato sauce. They are amazing!
There are also some delicious salads on the menu. The new Roasted Beet Salad features colorful beets macerated in vinegar in a dressing of crushed pistachios, honey and rosewater. It's unique, flavorful, and yes, beautiful!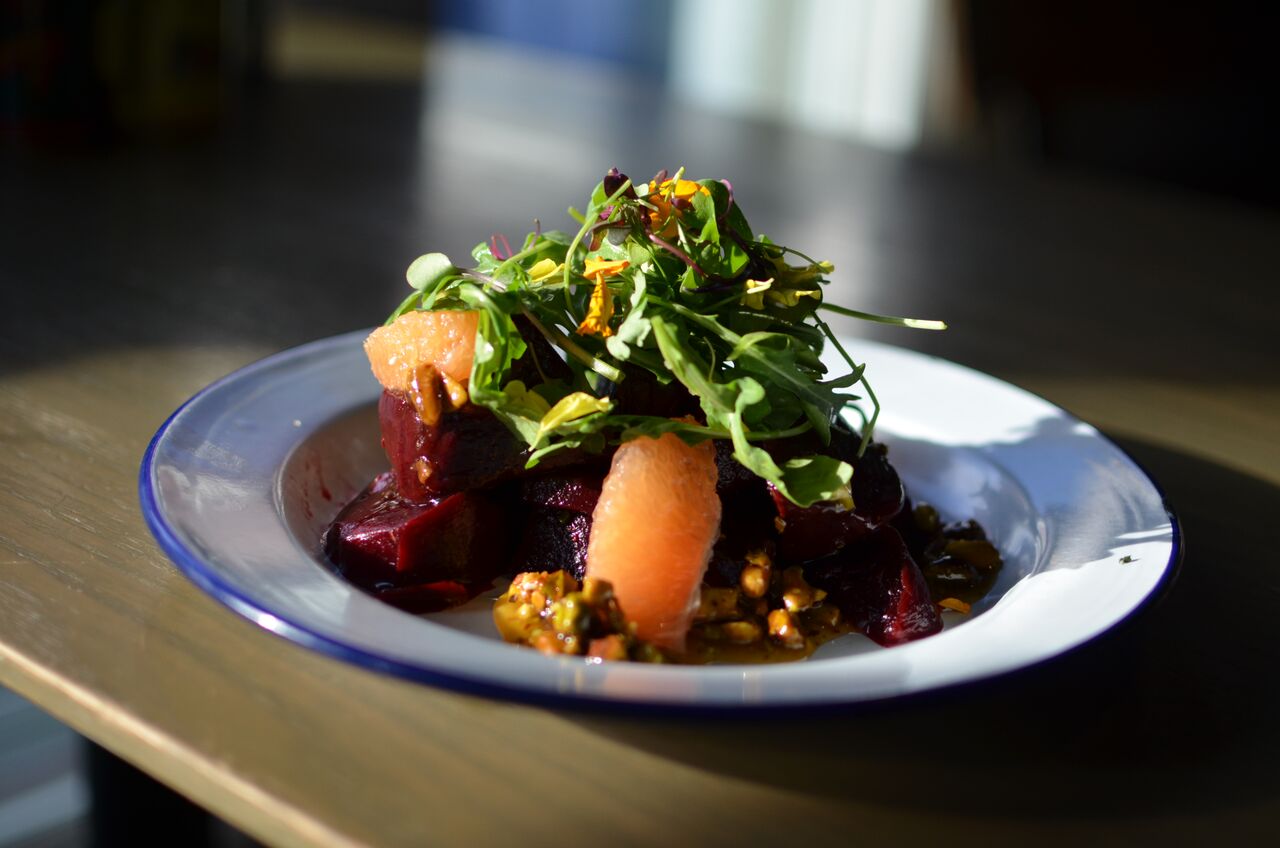 On the sweeter side, the new dessert, Baked in Venice, is a play on Baked Alaska. It has burnt meringue-coated sponge cake, ice cream, and raspberry coulis. This made our list of the top five desserts on the Westside.
The bar is also infinitely more sophisticated with bar director Anthony Settecase on board.
"I have been very surprised at the positive reaction," Settecase says. "We are selling a ton of Old Fashioneds at the beach, man!" Settecase has assembled a selection of cocktails and beers not previously available on the beach.
Try the "Abelinha," which is Spanish for little bee. It has a smoky Mezcal with house-made honey syrup, yellow chartreuse, and fresh lemon juice. It's the perfect blend of just a few simple ingredients to create a lovely taste. A local favorite is the "Go To," Settecase's version of a Vodka Lemonade, which includes muddled strawberry and cucumber.
Lately, Settecase has added new shelves to hold the new bottles. "Our spirit selection is off the hook—we have really been ramping it up," he says. There are now well more than 200 spirits offered.
Ahhh yes, the locals are happy! Come join them!
Creativity and integrity, in a casual beachside pub—it's what we love about Venice.
Venice Whaler
10 W Washington Blvd, Venice
310-821-8737
Hours
7 a.m. – 2 a.m.
Stephanie Chase is a food and travel writer for a variety of publications, including the Epoch Times and the Santa Monica Star. She is also a contributor to the food and travel website, thetop9.com.