The Vatican Calls for an End to the CCP's Self-Appointments of Bishops
December 1, 2006 12:00 am Last Updated: December 1, 2006 12:00 am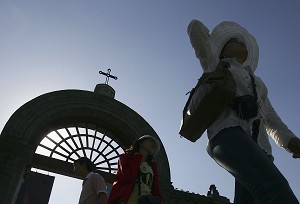 The Chinese Catholic Patriotic Church has once again appointed a Bishop without the consent of the Roman Papacy. The ordination ceremony of the Assistant Bishop of the Xuzhou Parish was scheduled to be held in the morning of November 30. The Vatican responded with "shock" and stated that this might be a "deadly stroke" to the dialogue between the Vatican and China. The Vatican expressed the hope that China would stop the ordination immediately.
However, Liu Bainian, Vice-President of the Chinese Catholic Patriotic Church replied that whoever China appoints as their Bishop is their internal affair and that the Vatican should respect and not interfere with China's decision. Earlier this year the Chinese church appointed the bishops for the Wuhu Parish in Anhui Province and the Kunming Parish of Yunnan Province. These arrangements greatly displeased the Vatican.
According to Vatican's Asian News, Wang Renlei was chosen a week ago. The eight clergies of the parish had tried to elect one who is courageous and supportive of the idea of a free church, however, "the appointment has been previously decided by the officials of the Bureau of Religious Affairs."
Liu Bainian refutes that, "This ballot was conducted anonymously. It wasn't regulated or participated in by any government officials and so the Vatican should believe that Father Wang Renlei is an honest and upright man."
It was said that there would be two other Bishops from Beijing at tomorrow's ordination ceremony. Bishop Qian Yurong of the Xuzhou Parish will be hosting the ceremony. Qian is a government-appointed bishop and has been known to support the Chinese communist government. The local government has also donated six million yuan (about US$ 750,000) to fund the ceremony.
The report said that the Vatican was very shocked by this news and said that this action may once again be a "deadly stroke" to the dialogue between the Vatican and China and will ruin all the efforts and collaboration of both sides to date.
Wang Renlei is the third bishop appointed by China this year. Around April and May this year, the Chinese Catholic Patriotic Church appointed Father Ma Yinglin and Father Liu Xinhong as the bishops of the Kunming and Anhui Parishes before receiving the consent of the Vatican. Pope Benedict XVI has given a solemn declaration on this issue and said that China's appointment of its bishops has "gravely violated religious freedom". Following the laws of Catholicism, the Pope then excommunicated Ma Yinglin, Liu Xinhong and two other bishops who conducted the ordination ceremonies.