Counterfeit Apple Stores Exposed in China
July 21, 2011 9:40 pm Last Updated: October 1, 2015 4:09 pm

According to a blogger who goes by the alias "BirdAbroad," an entire store of products appears to have been counterfeited in China, including the store itself in Kunming, China.
"They looked like Apple products. It looked like an Apple store. It had the classic Apple store winding staircase and weird upstairs sitting area. The employees were even wearing those blue t-shirts with the chunky Apple name tags around their necks."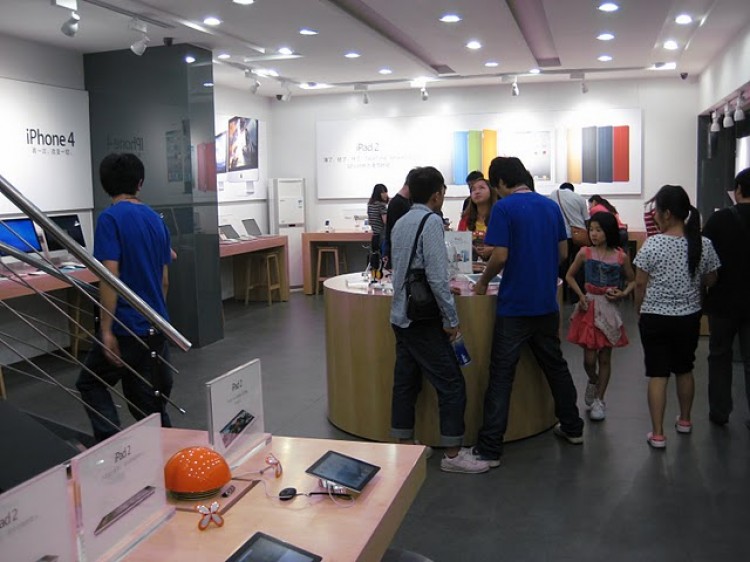 Photos posted by the blogger highlight certain features that are associated with Apple store fit-outs and staff uniforms.
The report comes from a citizen reporter who, as an employee of an international public health organization in China, discovered the store in Kunming.
"You have already guessed the punchline, of course: this was a total Apple store ripoff. A beautiful ripoff—a brilliant one—the best ripoff store we had ever seen (and we see them every day). But some things were just not right: the stairs were poorly made. The walls hadn't been painted properly," wrote BirdAbroad.



It seems this revelation is not unique, in this city of 6.8 million, she found at least two more knock-off Apple Stores that were duping Chinese customers.
Apple Inc., the Cupertino, Calif.-based maker of iPhones and iPads, is popular in China. Apple debuted its first retail store in Beijing before the Olympics in July 2008. There have subsequently been three more legitimate Apple Store openings in China, one more in Beijing and two in Shanghai.
Around 40,000 people per day visit the official Chinese retail Apple Stores, which is fourfold the average traffic of Apple stores in the United States. In Apple's latest earning's announcement, they report that their revenue in China has quadrupled, which is equivalent to $2.6 billion, 10 percent of Apple's total revenue.