The U.S. Open: Open to All Indeed!
June 8, 2015 6:22 pm Last Updated: June 9, 2015 6:23 pm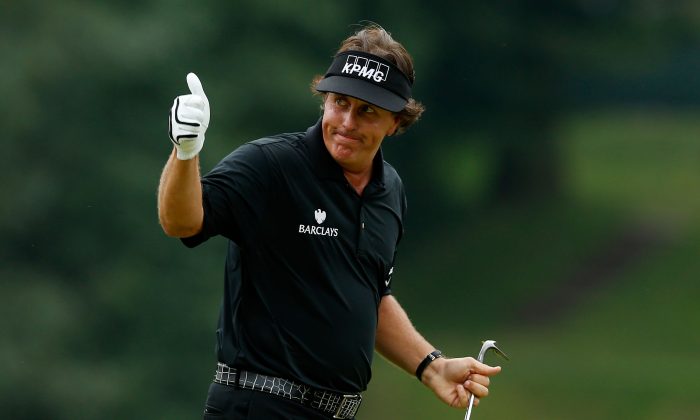 CLIFTON, N.J.—Imagine having the opportunity to step up to the plate, showing whether you can hit major league pitching. Or, walking onto the court, flashing your moves in mixing it up with NBA players. In either situation, it's more fantasy than reality.
Golf is a bit different in this regard. Each year, contestants of all types and background envision earning a spot in the field for the U.S. Men's Open—the national championship of American golf. Teeing it up with Tiger Woods, Phil Mickelson, or Rory McIlroy is certainly a possibility.
The key word is "open." Since its earliest days, the U.S. Open has been an event in which anyone who plunks down the entry fee and sports a handicap now of 1.4 or less can place their name into the process and envision their name among the roughly 150-plus players who will tee it up next week at Chambers Bay—just outside of Seattle. It certainly takes a good degree of gumption, but the fascination with the event rests far beyond the associated big names one has come to expect competing for the ultimate prize in golf in the USA—notwithstanding The Masters.
Open to Integration—Eventually
Since the event's inception in 1895, there have been instances where players have emerged from all corners and from all different backgrounds. The odds are certainly long, but that has not prevented many from trying. When the first African/Native American played—John Shippen—there was talk among a number of competitors in the field they would not play if Shippen did. USGA President Theodore Havemeyer informed the renegades that the event would be played with Shippen—with or without them. Eventually Shippen would finish in a tie for sixth. No African-American would play the event again until Ted Rhodes in 1948.
Unlike the aforementioned Masters, the U.S. Open is not an invitational event. Between May 4 and 21, there were 111 sites across the USA that conducted 18-hole qualifiers to advance a certain number of players to the next level of qualifying.
The very top finishers then advance to 36-hole Sectional qualifying, conducted at 12 sites—10 in America with the others in Japan and in England.
All told, roughly 60 or so spots are up for grabs. Many of those in the qualifying process are former major champions who have lost their eligibility and need to qualify to return. Playing in yesterday's Columbus, Ohio, sectional was the likes of American Ryder Cup Captain and PGA Tour star Davis Love III. Vijay Singh, a 34-time winner on the PGA Tour along with three major championships also needed to re-qualify. Lee Janzen, former two-time winner of the U.S. Open, played in Monday's sectional in the Westchester County, New York, area. Former world No. 1 and British Open winner David Duval was in the field at the Memphis qualifier. Included among other former major winners attempting to qualify were Stewart Cink, Ben Curtis, and Mike Weir. 
Where Stars Are Born
Qualifying is an egalitarian exercise, providing a glimmer of hope for the unknown player to come out of the shadows and possibly start a tour career. In 1966, future stars Johnny Miller, Hale Irwin, and Lee Trevino entered the golf scene. Miller would finish as low amateur with a fifth-place finish at his home course—The Olympic Club in San Francisco. Seven years later, Miller would win the '73 U.S. Open at Oakmont, outside of Pittsburgh, with a stellar final round 63. 
Trevino would finish in a tie for 54th and was paired with Miller during the '66 event, yet he did not see much hope in trying again. His wife at that time sent in his application for the '67 event at Baltusrol in New Jersey, and Trevino made the most of the opportunity with a fifth place finish. That event became the springboard for him the very next year. Trevino would win at Oak Hill in Rochester, New York, and in doing so, tied the then championship record with a 275 total—becoming the first man to score four consecutive rounds below 70 in a U.S. Open.

Hale Irwin, two-time All Big-Eight defensive back at Colorado, would start his long association with the U.S. Open by tying for 61st. Irwin would go on to win the event three times, and is still the oldest champion winning his final Open at 45 at Medinah in 1990.
Related Coverage
Unlike the other three majors, the United States Golf Association, the governing body of golf in America and the organizer for numerous national championships including the Men's Open, has stayed the course and kept the door open for those who have not broken through. The Open Championship, conducted by the R&A Golf Club of St. Andrews, also provides for qualifiers but in recent years has scaled back the sheer number of events in which someone can likely make it through to the championship itself. 
The odds are indeed slight, but Cinderella can happen at a U.S. Open. Given that this year's event at Chambers Bay marks only the third municipally owned course to host the event and the first time the Pacific Northwest will stage the event, it might be just the location for something completely unexpected to happen. For those looking to make a mark, the path has indeed been marked by past successes. The dream—no matter how remote—is certainly possible.
M. James Ward, a member of Golf Writer's Association of America (GWAA) and past member of Met Golf Writer's Association (MGWA), has reported on golf's grandest events since 1980 in a variety of forums.