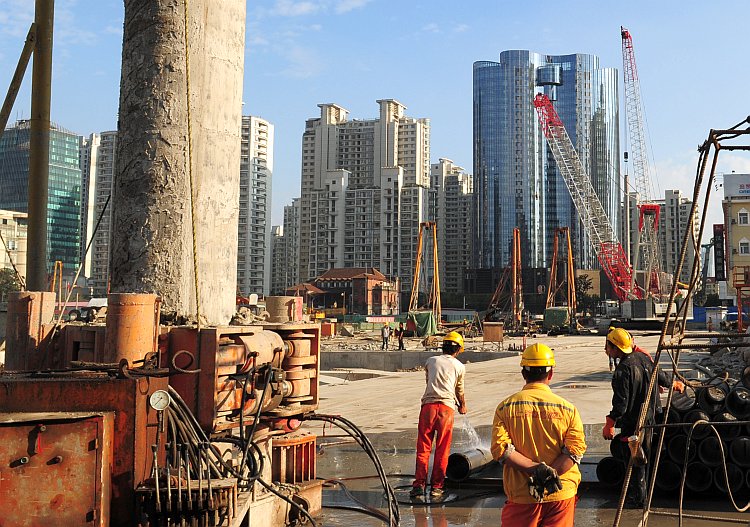 Western economists speak with awe and envy about Chinese GDP growth, yet the conventional estimate of 10 percent growth per year over three decades is being challenged by experts in China and abroad. 
On the one hand, there are the ecological costs that are unaccounted for. Li Yang, vice president of the Chinese Academy of Social Sciences (CASS), said that the real GDP growth rate might be as low as five percent if accounting for ecological degradation and environmental pollution.
Research by Bank of America backs up Li's claim. Analysts estimated that in 2009, irrevocable environmental destruction such as deforestation, desertification and water pollution cost 3.8 percent in GDP. Official growth for 2009 was 9.2 percent, so accounting for environmental damages the real growth rate would be 5.4 percent. All in all, these damages to the environment totaled 1.4 trillion yuan ($223 billion) in 2009, 9.2 percent higher than in 2008. 
Waste
Li believes the nominal growth rate is achieved through wasteful natural resource consumption and pollution. Focusing purely on GDP numbers, the traditional economic development model led to a depletion of natural resources and serious damage to the environment.
Again, the Bank of America study backs up Li's claims that China is growing mostly by wasting natural resources. In 2010, Chinese GDP made up 9.1 percent of World GDP. Resource consumption as a share of total world consumption was much higher, however, indicating a very low degree of efficiency. China consumed copper (37.4 percent of world consumption), aluminum (39.3 percent), cement (57 percent) and steel (42 percent) at multiples higher than its share of GDP. 
First Financial Daily, a financial media group in China, reported that there is a price to pay when maximizing GDP. The level of sulfur dioxide, chemical oxygen demand (COD) and solid wastes emissions per unit area is much higher in regions with higher GDP per capita. They are about 3.7 times, 4.1 times and 2.8 times greater than in regions with lower GDP per capita. In this view, GDP alone is not a sufficient measure of economic performance and wealth. 
Li Yang says that the economic losses caused by ecological degradation and environmental pollution have improved recently but are bound to continue if efficiency doesn't increase. They destroyed nearly 8 percent of GDP during the 1980s and 1990s and have dropped to about 4 percent since 2005.
Questionable Figures
Another factor that the Chinese regime consistently understates when accounting for "real" GDP is inflation. Official GDP growth figures exclude changes in prices for goods, as they do not represent increases in the volume of output. The adjustment factor, however, is at the behest of the National Bureau of Statistics.
Professor Frank Tian Xie of the University of South Carolina Aiken Business School told The Epoch Times: "Over the past 20 years, China achieved a fast rate of GDP growth through an inflationary bubble economy. After adjusting for inflation and corruption, China's economy has been growing only about 5 to 6 percent. By now the economy is basically stagnating."
Hong Kong economist and commentator Larry Lang said at a speech in Shenyang in 2011 that China's GDP is overstated. After subtracting a more realistic 6.2 percent inflation from the 9.1 percent GDP growth rate for the year, the actual growth would only be 2.9 percent. 
Performing further adjustments to correct for double counting, Lang said that calculations by his team show that China's GDP in 2011 actually shrank by 10 percent. 
Read the original Chinese article.
The Epoch Times publishes in 35 countries and in 20 languages. Subscribe to our e-newsletter.