News Analysis
From flip-flopping on mask mandates, to initially leaving borders unprotected against travellers from the pandemic's epicentre, to applying lockdowns inconsistently, to piling on more conflicting measures amid rising Omicron cases, Canadians have endured a never-ending see-saw of COVID-19 policies since the virus outbreak began in China—in many cases presented in the name of undisputed science.
With the latest set of restrictions announced in different provinces, it seems an increasing number of people are questioning the policies, including parents who have been forced to make a last-minute scramble to figure out how to deal with their children after school openings were postponed. More than 500 doctors signed a letter in late December asking Ontario Premier Doug Ford to keep schools open.
"We are trading the certainty of profound harm to our children for essentially no benefit from a public health or disease transmission perspective," wrote infectious diseases physician and medical professor Dr. Jennifer Grant in an op-ed in the Ottawa Citizen. "It is an indictment of the politicians who feel comfortable using our children as political pawns that this is happening, despite the overwhelming and irrefutable evidence that it has served no purpose in the past and is unlikely to do so now."
The erosion of trust in politicians has been a trend since the start of the pandemic. A Navigator poll released in May showed that 44 percent of Canadians trusted Prime Minister Justin Trudeau less at that time compared to at the start of the pandemic, while 19 percent trusted him more. Provincial results showed a similar trend.
Now, at the cusp of the third year of the pandemic, it bears examining how response measures have been applied in terms of consistency and whether the policies have been based on evidence and the interest of Canadians or on other factors.
Omicron Policies
British Prime Minister Boris Johnson's response to rampant Omicron infections was that this new variant is "plainly milder" and that no new measures are needed.
In the United States, President Joe Biden said on Dec. 27 that Omicron "should be a source of concern but it should not be a source of panic," and ahead of the holidays he said gatherings are safe for the vaccinated. When asked to compare the U.S. response to Canada's as authorities warned against holiday gatherings, Deputy Prime Minister Chrystia Freeland said Canada is "a careful country."

Saskatchewan Premier Scott Moe was an outlier among premiers, saying his province wouldn't be imposing additional restrictions ahead of the holidays as the variant has been mild and the province's hospitalization numbers had dropped.
But provinces such as Ontario, Quebec, and B.C. acted quite differently in dealing with Omicron. Quebec brought back curfews, Ontario banned indoor dining in restaurants, and B.C. limited indoor gatherings, among a host of other restrictions.
The experiences of countries that had the Omicron outbreak earlier than Canada, as well as numerous studies, show that the variant is much milder compared to other variants of concern.
"What we are seeing now is … the decoupling between the cases and the deaths," said WHO incident manager Abdi Mahamud on Jan. 4.
Rising cases, fear of the virus, and the issue of whether the government is doing enough to minimize harm have been the main concerns among the populace.
A study published by the Cambridge University Press in March, based on data from 23 countries, showed that the public tended to have stronger trust in governments as they imparted more health measures, including avoiding crowded spaces and self-quarantining, as long as this was done in ways that were perceived as being better organized and based on clearer messaging and knowledge dissemination on COVID-19.
A report by the European Journal of Political Research published in May 2020 based on online surveys found that governments that imposed lockdowns saw an increase in support.
While no new public surveys have been done on the popularity of lockdown measures despite their enormous impact on people's lives, the concerns of the segments of society most impacted by such restrictions, such as small business owners, may receive less attention than the segments that have government jobs or who can work remotely. If politicians are taking action based on what is impacting their support polls, the rights of those vulnerable segments may not be upheld.
Daily media reports so far have been mainly headlined with new case counts, rather than hospitalization and death counts. In the third calendar year of the pandemic, such stories still get tagged as breaking news and still get sent to news subscribers as news alerts.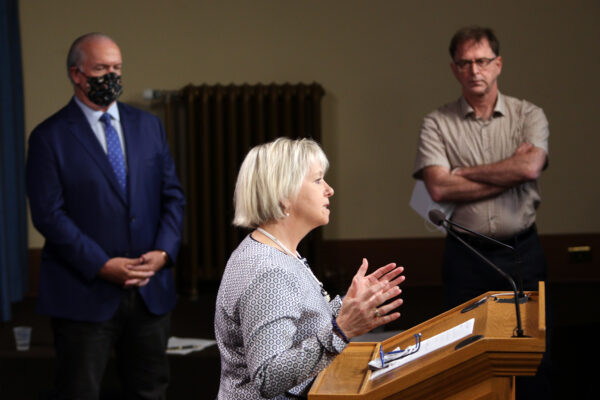 Traffic tools used by assignment editors to gauge which types of stories get the most interaction consistently show that articles with case count headlines generate the highest interest among the public.
A recent wire article published in many Canadian media was headlined, "Ontario hospitals facing staffing challenges as COVID cases continue to mount." Buried deep was this sentence: "The high number of unavailable staff comes as [the president and chief executive officer of Toronto's University Health Network] has noticed fewer people entering hospital critically ill from the virus." But this point was neither reflected in the headline nor the leading paragraphs of the article. Instead, the headline and the article itself imparted a sense of crisis by emphasizing the rising case numbers.
Expressing concern about the harm Ontario's latest lockdowns will inflict on business owners, Conservative MP Dean Allison said on Twitter that he wonders if it's "possible that those in power have no idea what is going on or how to fix this."
In imposing the new restrictions, Ford and the province's Chief Medical Officer of Health Dr. Kieran Moore said the decision is based on modelling projections and hospital capacity issues.
However, alarm about the rise in severe hospitalization cases seems to be at odds with the experience in other parts of the world. Some countries, including South Africa, are already seeing a decline in their Omicron infection numbers after new cases hit a peak about a month after the initial outbreak in November.
On the issue of hospital capacity, two factors are essential. One is the number of staff members who are becoming unavailable and sent home due to infection with Omicron. The other is the physical capacity of hospitals, such as in terms of ICU beds.
Some medical professionals and politicians, including Dr. Shawn Whatley, a former president of the Ontario Medical Association, and Patrick Brown, the mayor of Brampton, Ont., are noting that Canada trails in hospital capacity compared to other OECD countries.
According to OECD 2020 data, Canada has 2.5 beds per 1,000 people, taking the 32nd place out of 41 OECD nations and other partner countries.
"You closed schools … for the fourth time in 21 months because the health care system in a province of 15 million people can't handle 700 more ICU patients," said Aaron Wudrick, director of domestic policy program with the Macdonald-Laurier Institute, in a tweet on Jan. 4, reacting to Ford's announcement the day before imposing new restrictions.
"Who will be held accountable for this utter disgrace?"
Borders
One of the most inconsistent policy issues throughout the pandemic has been the issue of border closures.

At the start of the pandemic, while many countries, including the United States, Australia, and Taiwan imposed restrictions on flights from China, Canada kept its borders open, a decision that was cheered on by Beijing.
It became more clear that the number one criteria for Canada's border policy was China's interest, rather than the health of Canadians, when chief public health officer Dr. Theresa Tam reiterated on Feb. 5, 2020, that the WHO advises against travel restrictions on China, adding that, "China posted the virus genome very quickly. What are they getting out of it? I think the idea is to support China."
Like many other aspects of pandemic policies, eventually there was a complete reversal on the border policy and the federal government imposed very strict restrictions, including holding travellers in quarantine centres. This was despite the fact that the pandemic was already rampant in Canada and the opportunity to use border restrictions to buy time had passed, as the government had allowed travellers from China to enter the country.
The requirement that Canadians returning to Canada had to go to a government-assigned hotel to quarantine and pay $2,000 was seen by some as a violation of guaranteed freedoms, with the Justice Centre for Constitutional Freedoms describing the measure as forced confinement.
Besides the time and financial loss, some experienced other adversities while held at a place that wasn't of their own choosing. Two women who were forced to undergo quarantine in a government-assigned hotel in February 2021 reported that they were sexually assaulted at the hotel.
Masks
At the start of the pandemic in early 2020, as front-line responders struggled with a shortage of personal protective equipment (PPE), the official recommendation from the Public Health Agency of Canada and many experts quoted in the media was against the use of masks for the general public so that precious resources could be saved for front-line health workers.

Shortly before the pandemic hit Canada, many Beijing-linked organizations in Canada and around the world, coordinated by the Chinese Communist Party's United Front organization, bought large volumes of PPE and shipped them to China, contributing to the shortage of supplies when the pandemic came to Canada. The federal government also shipped 16 tonnes of PPE to China in February 2020.
Chief public health officer Dr. Tam cited scientific considerations as she declared that people who aren't infected shouldn't be wearing masks.
"What we worry about is actually the potential negative aspects of wearing masks where people are not protecting their eyes, or you know, other aspects of where a virus could enter your body," Tam said on March 29, 2020.
"And that gives you a false sense of confidence, but also, it increases the touching of your face. If you think about it, if you've got a mask around your face, sometimes you can't help it, because you're just touching parts of your face."
Tam wasn't alone in making this recommendation. In a tweet, on March 30, 2020, the United Nations quoted WHO experts saying that "there is no evidence that wearing a mask by healthy people has any medical benefit." U.S. authorities also made similar recommendations.
But Tam's stance completely reversed in just under two months, saying in May that all Canadians should wear masks. The same change happened in the United States.
There continues to be a range of opinions on the issue of masks, with some medical experts saying that cloth masks don't serve an effective purpose and people should opt for N95-type masks, and with others saying that masks may do more harm than good.
But currently, the weight of the law is on the side of the debate supportive of wearing masks, and no individual choice is allowed.
Vaccine Mandates
Vaccine mandates imposed by provincial and federal governments have come at a heavy price for those whose jobs or daily activities are on the line if they don't get a COVID-19 vaccine.

Governments and health authorities report that vaccines help to substantially reduce deaths and severe hospitalizations, but the mandates are imposed in the name of preventing risk to others. This is despite the fact that latest data from Ontario show vaccine efficacy in preventing infection has dropped to lower than 20 percent, and many of those being infected are people who are fully vaccinated.
With rising Omicron cases and as more front-line staff became infected, some jurisdictions such as Quebec started allowing COVID-positive health workers to stay on the job while others such as B.C. pondered a similar policy. If the concern is about transmission from infected health workers to others, many, including Conservative MP Mark Strahl, wondered what the logic was in barring unvaccinated COVID-negative health staff from working while allowing COVID-positive staff to continue to work.
Currently, those who are unvaccinated in Canada can't travel by air or train and can't access services such as gyms and restaurants, and many have lost their jobs. In B.C., no medical exemption is allowed.
Federal Employment Minister Carla Qualtrough has said that those who lose their jobs as a result of not getting vaccinated may be ineligible for employment insurance benefits.
These are fundamental infringements on citizens' rights, but there's no clarity around justification of such measures if they're based on concern about infected individuals potentially infecting others.
Natural Immunity
When Omicron hit South Africa, health professionals noted that one possible reason the new variant wasn't impacting the population severely was that many had developed natural immunity after the previous waves of COVID-19.

This was the assessment of the country's health minister Joe Phaahla, who said on Dec. 17 that vaccinations and immunity from prior infections appeared to be helping to reduce the severity of the disease.
Some countries, such as Israel and Germany, recognize natural immunity after a person has contracted COVID-19.
While scientists have different opinions on whether natural immunity is superior to vaccine immunity for a person who has already had the virus or vaccine, currently governments in Canada don't allow for any personal choice about vaccination. People cannot consult their physician and make the best decision for their own particular case, as only vaccine passports are acceptable for accessing many necessities of life.
Lockdowns
In October 2020, three highly accomplished epidemiologists from prominent universities—Harvard, Oxford, and Stanford—created the Great Barrington Declaration, calling for measures to protect the elderly and others vulnerable to COVID-19 while allowing some normalcy in the lives of those at low risk. The goal was to avoid the harms of lockdowns, including causing deteriorating mental health and robbing children of in-school education.

To date, the declaration has garnered over 900,000 signatures, some 46,000 of them from medical practitioners.
Later studies have corroborated the assessment of the declaration. One such study, published by the U.S. National Bureau of Economic Research, looked at lockdown policies in 43 countries and all U.S. states. It found that not only did these policies fail to reduce mortality, but on the contrary, some jurisdictions even had higher excess deaths.
A great number of scientists have also disagreed with the declaration, citing their own reasons and research.
But ad hominem attacks on the Great Barrington Declaration scientists in order to discredit them soon followed. On Wikipedia, which is among the top results that show up when one searches for the declaration, one line says that the declaration was "sponsored by the American Institute for Economic Research, a libertarian free market think tank associated with climate change denial."
In December, newly released documents revealed that Dr. Francis Collins, head of the U.S. National Institutes of Health, and Dr. Anthony Fauci, head of the U.S. National Institute of Allergy and Infectious Diseases, worked together to discredit the declaration.
"This proposal from the three fringe epidemiologists … seems to be getting a lot of attention," Collins told Fauci in an email. "There needs to be a quick and devastating published takedown of its premises. I don't see anything like that online yet—is it underway?"
As reported previously by The Epoch Times, within a day of Collins's email, Google started to censor search results for "Great Barrington Declaration."
In a commentary written for The Epoch Times, two of the original authors of the declaration, Dr. Martin Kulldorf and Dr. Jay Bhattacharya, say that Fauci and Collins, who were proponents of lockdowns in the United States, mischaracterized their declaration.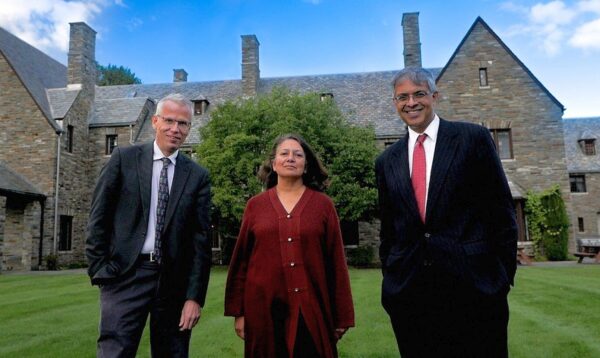 For example, they say that while they were calling for a focused protection approach, Fauci and Collins labelled the declaration's idea as a "let-it-rip" strategy, a label that was repeated by the media.
In Canada, Alberta's chief medical officer issued a statement criticizing the declaration. The tone of the statement, coming from a position of authority, gave the impression that it's settled science that what the declaration authors propose is incorrect, even though a great many prominent scientists support what the declaration outlines.
We are now in the third year of the pandemic. Yet as provincial governments impose new restrictions amid rising Omicron cases, public health experts have not released any assessment of whether previous lockdown measures had been successful or whether the benefits outweighed the considerable harms of the measures in terms of negative impacts on mental health, income loss, and increased drug abuse.
Outpatient Treatments

Throughout the pandemic, many doctors have complained that authorities haven't supported the use of outpatient treatments for those who contract COVID-19.
One is Dr. Peter McCullough, a U.S. internist, cardiologist, and epidemiologist who says there's been no attention paid to early treatment, which in his experience can be quite effective.
McCullough says that in the case of many simple and available treatments, some influential bodies have made a decision against their use despite the absence of any settled science against them. What's worse, many of those treatments are now no longer available, even for doctors who may decide on a case-by-case basis that they might be the best course of action for their patients.
Conspiracy Labelling
Shortly after the start of the pandemic, some influential figures in the scientific community with links to China published statements in prominent scientific journals denouncing as a conspiracy any suggestion that the SARS-CoV-2 virus was not of natural origin.
The term was repeated frequently by many media, including in Canada, to label anyone who discussed alternative virus origin theories, including the possibility that it leaked from a lab.

But after numerous intelligence reports, including comments by U.S. President Joe Biden in May 2021, it became clear that, as the origin of the virus hasn't yet been proven, the lab leak theory can't be dismissed.
The conspiracy labelling was also used by Canadian politicians when various important issues related to the pandemic came up.
During a parliamentary committee meeting in May 2021, Conservative MPs raised questions about the firing of two Chinese-born scientists from the National Microbiology Lab (NML) in Winnipeg and the NML's shipment of deadly Ebola and Henipah virus samples to Wuhan, giving context that the SARS-CoV-2 outbreak started in Wuhan and that the Chinese regime isn't being transparent about the origin of the virus. In response, Liberal MPs said the Conservatives were alluding to conspiracy theories, with one Liberal MP saying Tory MP Michael Chong was "borrowing from some of the wildest theories on Facebook and other social media to make a point."
The term was also used by then-health minister Patty Hajdu in April 2020, when a reporter asked whether China's account of the number of cases could be trusted. Hajdu accused the reporter of fuelling conspiracy theories.
In these instances, it's worth pondering whether the dismissal of such questions as engaging in conspiracies was in the best interest of Canadians, or whether it served a foreign power.