Commentary
When you read the word technology, what images spring to mind?
Smartphones, supercomputers, superfast search engines, self-driving cars, and so on.
It's important to remember that technology is simply the application of scientific knowledge for practical purposes. It's a broad definition, meaning technology comes in many forms.
Take seed technology, as in all the patents, trademarks, applications, trade secrets, and other intellectual property related to seed products, for example. It's a basic tool for a country's secure food supply.
Right now, in China, there is a mismatch between the supply of grains and the demand for grains. With close to 20 percent of the world's population, but only 7 percent of the world's arable land, China is looking to science to boost seed production. In a desperate attempt to keep hungry people fed, the Chinese Communist Party (CCP) will go to any length to boost crop production, even if this includes stealing scientific information from other countries, including the United States.
Farmer Jack
In the middle of October, Jack Ma, a man whose public appearances have become rather infrequent, traveled to Spain for an agritech study tour. This trip came shortly after Alibaba, the company Ma helped co-found, pledged to invest heavily in agricultural-related technology and farming practices.
A week after Ma's Spanish expedition, he traveled to the Netherlands. Why? To visit research institutions dedicated to the study of agritech and seed science. Ma decided to take a personal trip, we're told.
However, there's reason to think otherwise. Alibaba, lest we forget, has very close ties to the CCP. Just a few months ago, Ma mysteriously disappeared. So consumed by his love of painting, he chose to disappear into the shadows. Of course, everyone knows why Ma disappeared. He criticized the CCP.
Now, though, at the same time Beijing is aggressively pursuing all things agri-related, Ma is traveling around Europe, visiting agricultural workshops and research institutes. Is it possible that he has been sent abroad to report back?
Ma appears to be warm and affable, a savvy businessman, very much a social animal. He's a people person. His style is in stark contrast to the wolf-warrior diplomacy associated with the CCP. If there is one man who can secure a deal, it's Jack Ma.
China's Crop Crisis
As Reuters previously reported, 40 percent of China's arable land has been destroyed by rising levels of pollution and rapid urbanization. To grow enough crops, Beijing is throwing money at the problem—lots of it.
The CCP's "Digital Agriculture and Rural Area Development Plan 2019 to 2025" seeks to revitalize the country through agricultural development and scientific advancements. One of the ways in which it intends to boost the country's agricultural sector is through aggressive acquisitions. As the researcher Andrea Durkin has noted, acquisitions have become the "quickest way for China to gain access to seed technologies discovered elsewhere."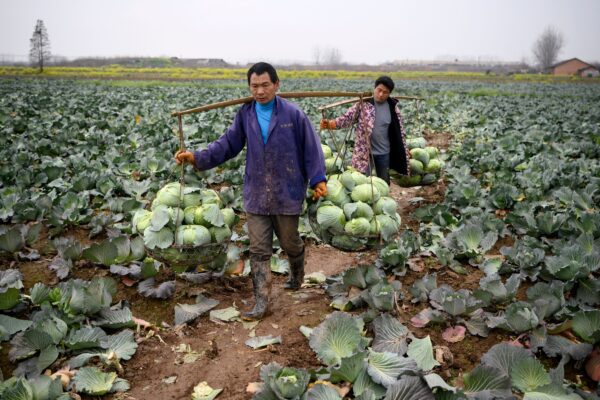 In 2016, ChemChina, a CCP-backed agrochemical company, bought Swiss-giant Syngenta, a leading global provider of agricultural science and technology.
In 2019, Johnny Chi, the chairman of COFCO International—China's largest grain, oilseeds, and food company—promised to invest heavily in Brazilian agriculture. The South American country is now considered a fundamental partner in guaranteeing China's food security.
This year, Chinese online retailer Pinduoduo, one of the largest agriculture-focused technology platforms in Asia, announced plans to invest in agricultural technologies abroad. The company appears to be answering Beijing's call.
The United States is not immune from Chinese investments. Smithfield Foods, based in Smithfield, Virginia is one of the largest pork producers in the world. It's also owned by Chinese Company WH Group (again, close ties to Beijing). Of course, besides acquisitions and alliances, the Chinese regime also engages in acts of economic espionage, including theft of trade secrets.
The CCP's actions are a genuine threat to the United States. In early November, a Chinese intelligence agent was convicted by a federal jury in Cincinnati. According to the Department of Justice, the man in question, Yanjun Xu, "was found guilty on all counts, including conspiring to and attempting to commit economic espionage and stealing trade secrets."
As Beijing struggles to avert a crop crisis, expect further acts of economic espionage. The United States is, after all, the world leader in science, including seed science and agritech.
According to FBI Director Christopher Wray, "the greatest long-term threat to our nation's information and intellectual property, and to our economic vitality, is the counterintelligence and economic espionage threat from China. It's a threat to our economic security—and by extension, to our national security." The CCP is attempting to steal information "on everything from military equipment to wind turbines to rice and corn seeds."
American agriculture, as the aforementioned Durkin has noted, is a particularly soft target for IP theft, "whether through access to privileged company research, the transfer of information out of university or government research facilities, or by simply digging up seeds in a field."
With China's agricultural sector stuttering, expect the digging to continue. Perhaps, once finished in Europe, Jack Ma will make his way to the United States.
Views expressed in this article are the opinions of the author and do not necessarily reflect the views of The Epoch Times.