"RED MENACE Lord Alan Sugar involved in scheme to replace much-loved 'eyesore' red phone boxes with BLACK ones," screamed The Sun.
"London's iconic red phone box has been upgraded – and there's a controversial change," grumbled the Mirror.
But behind both of these headlines is a different story – and it's not just that the red phone boxes aren't actually going to be replaced by black ones.
There are two companies that own phone boxes in the UK: British Telecom and New World Payphones. Both companies are "revolutionising" their boxes to offer high-speed public Wi-Fi and digital screens.
A BT spokesperson said they "may possibly" be replacing some of the classic disused red phone boxes with their angular Links kiosks. "We are not sure yet, it depends on the discussions with the authorities," the spokesperson said. BT own 45,500 public payphones, of which 8,000 are red.
A spokesperson from advertising company Clear Channel, owners of New World Payphones, said that the majority of their 1,700 payphones are modern glass and steel designs, while some are classic-style phone boxes painted black.
These phone boxes (that are not red) are being replaced by more modern black payphones, and most offer Wi-Fi provided by Virgin Media. They are manufactured by Lord Sugar's company, Amscreen. A hundred have already cropped up in London, with 500 more planned to be installed in London boroughs this year. They promise to plant a tree for each new phone box installed.
Regardless of which competing company is behind the new phone boxes, both offer public Wi-Fi.
This comes with its own set of concerns, according to Ed Johnson-Williams of Open Rights Group, which campaigns for online privacy.
"These new phones have to ensure they respect the privacy of people passing by," he said.
"You can't just collect data from random people walking by without asking them. When you do ask them you have to make sure you are clear about what you are doing, rather than burying it half way down thousands of terms and conditions."
Both BT and Virgin Media confirmed that they do not collect media access control (MAC) addresses from passers-by who are not connected to their Wi-Fi network. MAC addresses are unique numbers assigned to any device that is connected to the internet. Companies can track devices using this number to analyse customers' habits.
In the UK, while collecting anonymised data is legal, Johnson-Williams said "it's an area that has not been properly dealt with by the law yet".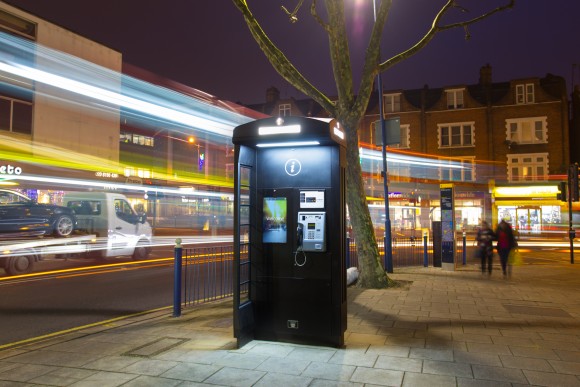 For the new Links, BT said they will collect the MAC addresses of people connected to their public Wi-Fi, but only so they can automatically re-sign in to the network. They are stored in two UK datacentres and users can request that their MAC addresses be removed from their records if they want to unsubscribe from the service, a spokesperson said.
Virgin Media, who provides New World Payphones' Wi-Fi, say they will not pass on a user's personal information to third parties, except when they are required to disclose it to comply with "any legal or regulatory requirements".
Both companies outline that they may share personal information with other parts of the company for marketing purposes. They may share this information to other companies for marketing purposes, if the customer has agreed to it.
Tracked via Wi-Fi
Sean Sullivan, security expert for F-Secure Labs, thinks the new Wi-Fi kiosks are "a promising idea" but he feels that many people are too carefree when it comes to online security.
"There have been more than enough database breaches that make us know that anything that collects information is a target," he said.
There are already 700 Links on the streets of New York. LinkNYC experienced a different kind of problem last year when they reportedly received complaints about users loitering around the Links, watching films, playing loud music, and even watching pornography using the web browser.
Web browsing was removed from all Links in New York last September, and this feature won't be included in any of the UK's Links.
In the UK, the first Link is set to be installed in Camden, north London around June this year.
"Wi-Fi networks are not really designed for security, they are designed to get you connected to the internet," said Sullivan.
He recommends that people take two basic precautions to protect their personal data when using public Wi-Fi: use unique passwords and encrypt your data while you are on a Wi-Fi network.
In research that is not yet published, Johnson-Williams of Open Rights Group has looked into public Wi-Fi networks that collect MAC addresses.
"BSkyB's The Cloud collects MAC addresses. They collect data when you click 'I accept' on some terms and conditions when you sign on," he said.
"Lots of shopping centres are collecting this data too. This is for identifying what sorts of people go through their shopping centres or train stations or whatever it might be."
Data collection on the London Underground
As illustrated by Transport for London's "Wi-Fi data collection pilot", companies do have the ability to collect MAC addresses from passers-by without their consent.
TfL's pilot scheme ran for four weeks at the end of 2016 in the London Underground, and collected MAC addresses from phones and devices, regardless of whether they were connected to TfL's Wi-Fi or not. The point of the pilot, according to TfL, was to get a sense of crowd movement and set the prices of advertising space based on where people were.
TfL displayed posters informing passengers about the data collection, but Johnson-Williams felt they weren't quite clear enough about the purposes of the data collection.
"They weren't properly communicating to the public how to opt out," he said. "If you didn't want data about you to be collected by the study, they weren't telling people that you just needed to turn the Wi-Fi off all the devices you were carrying."
But, he added, "What they were doing well was anonymising the data to quite a good standard."