WASHINGTON—The idea that art should at once delight and instruct is not just a maxim of the Western tradition: it has arrived in Washington with a thoroughly Eastern flavor.
Shen Yun Performing Arts, a premier Chinese classical dance company, began the first of seven performances at the Kennedy Center for the Performing Arts on Jan. 29, bringing its characteristic blend of traditional Chinese dance and music, borne of the 5,000 years of Chinese civilization. Embedded in the performance—with its soaring vocals, unique musical compositions, and exquisitely synchronized dances—is a timeless message about the continued relevance of ancient Chinese virtues, and even a rekindling of those values for a modern world.
January and February 2013 is also the eighth time that Shen Yun has come to the Kennedy Center, and the eighth time it has impressed Washington audiences.
Values Enacted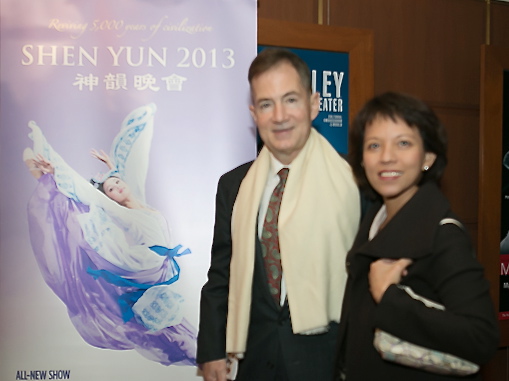 Grover Joseph Rees, III, a former professor of law and United States ambassador to East Timor, saw the opening performance on Jan. 29. It was the second time he had seen it. "It's beautiful to be able to witness the culture of a civilization which is impossible to experience in that country," he said. China's communist rulers have banned Shen Yun's presentation of traditional Chinese culture from being performed there.
A performance that stood out for Rees and his family was an excerpt from the great Chinese novel Journey to the West, about the magical creature Monkey, who leads a monk to retrieve Buddhist scriptures from India. "You have the dance and singing about the river ogre who is killing a girl… and he's defeated, and at the end the Goddess of Mercy saves him, and the monk who has defeated him accepts him as part of his entourage," Rees said, summing up the plot of the vignette.
The entertainment of the piece was evident, but its instructional value was the idea of redemption and clemency, found in traditional Chinese culture. "That's an idea in many religions," Ambassador Rees said. "But we don't typically see it enacted in a play."
He added: "All in all I'd say it was a wonderful evening."
Beauty and Grace
Shen Yun, based in New York, is a performing arts company that presents 5,000 years of Chinese civilization through classical Chinese dance and music. In each production there are nearly 100 artists and 400 costumes.
"A Shen Yun performance is the most authentic presentation of traditional Chinese culture in the world," said Dong Xiang, the executive director of the Falun Dafa Association of Washington DC, the presenter of the Shen Yun.
Renee McCoy-Collins, an oral and maxillofacial surgeon, saw the opening performance with her friend Ann Jackson, an international consultant soon to be living in Jordan. Jackson encountered a booth for the show in a Neiman Marcus store after having heard "how spectacular it was, and how colorful, and how the dances were absolutely phenomenal."

Jackson and McCoy-Collins found the word on the street to be largely accurate. McCoy-Collins said she would remember "the beauty. The grace. The phenomenal talent and the commitment to their art."
She added: "It seemed like there was this joy coming from within that they were trying to share and express. Just the genuine smiles and the ease with which they performed, as if it were a performance out of love. Love for something they believed in. Love for something they were doing."
Authentic Culture
Shen Yun's performance runs for nearly two and a half hours, featuring around 20 programs, many of them story-based (bilingual explanations are provided), which provides ample opportunity for illustrating the principles of what Shen Yun calls China's divinely-inspired culture.
An example can be found in a simple word like "loyalty." Look it up in the dictionary and you'll get: "A strong feeling of support or allegiance." But Shen Yun presents the concept through the historical story of Yue Fei, a renowned Chinese General.
"When audiences see that performance, loyalty is no longer just an abstract concept," Xiang says. "It becomes a story, and they gain the deeper understanding that is in Chinese peoples' minds."
Shen Yun's artistry and its presentation of Chinese values has found a welcome reception in Washington. It is one of the few outside performances that has met the exacting standards of the Kennedy Center, and been approved to perform in its crown jewel auditorium, the Opera House.
Washingtonians, among the wealthiest and educated people in the United States and inhabitants of the political center of the Western world, have already given Shen Yun its accolades and stamp of approval.
Delicate Movements
Shawn and Sherion Cosby, a choreographer and director respectively, had a high impression of Shen Yun. "I thought the show was magnificent," Shawn said. "I love the classical dancing. I loved the colours, the expression. I loved the mood of every piece. I loved the singing—the singing was off the charts!"
Sherion Cosby, who directs plays and musicals, said: "The precision, the skill, it's all there. You could see the classical training, its just wonderful to watch. It was a good lesson for me, I enjoyed it so much."
She said her favorite piece was An Unexpected Encounter, which portrays a father and daughter who are wrongly arrested. While taking photographs in a park they were mistaken for practitioners of Falun Dafa, a spiritual discipline that is persecuted in China. While wrongly jailed they come to see a greater truth associated with the Chinese cultural discipline. "I just loved it," Sherion said.
"Because I'm a choreographer I'm looking at the dance details," Shawn said. "The fingers, and everybody's hand placement and head placement. Everybody's on the same line and everybody's hitting center. That kind of stuff really, really makes a difference."
Official Support
Politicians in regions adjacent to the District of Columbia sent congratulations to Shen Yun this year, as in years past. Robert F. McDonnell, Governor of Virginia, wrote: "I thank the Shen Yun World Tour for its dedication to continuing the traditions that honor 5,000 years of Chinese civilization."
Timothy M. Kaine, a Senator from Virginia, in a similar letter wrote: "I want to personally extend a warm welcome to all those attending the performances by Shen Yun Performing Arts." He described the show as "stellar" and "a unique opportunity for the Mid-Atlantic region to gain a more profound appreciation for traditional Chinese music, dance, and culture."
Shen Yun has a deeper meaning in particular for Washington and its habitués, says Dong Xiang, executive director of the Washington Bureau of NTD Television.
Chinese Renaissance
For the sophisticated and powerful people about town, "watching Shen Yun will help them tremendously to understand China, and not just contemporary China under communist rule, but where China came from in the last 5,000 years, and more importantly what the future China will look like 20 or 30 years from now," Xiang says.
The view of China that Shen Yun takes is one of a vast, sweeping, majestic, and indelible heritage. In this view, the last 60 years of communist rule—wherein a vast amount of the traditional Chinese culture was suppressed to make room for the Communist Party—is but a blip on the map.
In China's 5,000 years, a variety of tribal powers and nationalities have conquered the country and seized power. They used to be known as "barbarians" to the Chinese. The Yuan dynasty, founded by Mongolian warriors for example, was one of the most powerful and ruthless in Chinese history—but it lasted less than 100 years, after their attempts to replace Chinese culture with Mongolian culture failed.
Xiang sees a similar dynamic unfolding in China and around the world today.
"When traditional Chinese culture comes back, it's a momentum and force that no power or political party can stop." The buds of this cultural renaissance have already begun flowering, Xiang says, and will "shape the future of China."
He added: "There is a cultural renaissance, and Shen Yun is leading it."
Shen Yun Performing Arts, based in New York, tours the world on a mission to revive traditional Chinese culture. For more information, visit ShenYunPerformingArts.org
The Epoch Times publishes in 35 countries and in 21 languages. Subscribe to our e-newsletter.