On the Water: The Question of a Water Czar
September 19, 2013 10:47 am Last Updated: April 24, 2016 6:41 am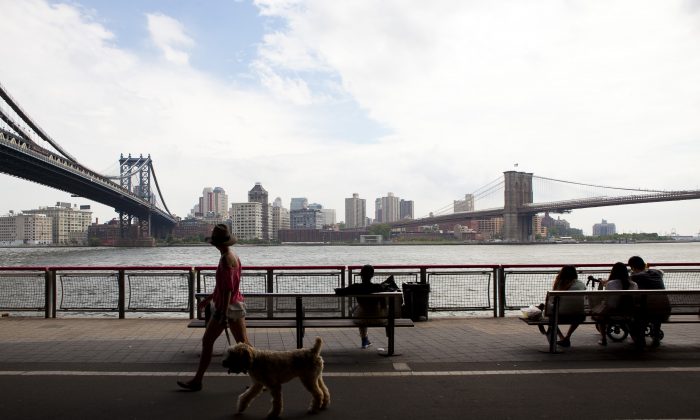 NEW YORK—Although New York City's waterfront and waterways are sources of entertainment, public transportation, tourism dollars, sporting activities. They give aesthetic value to the city. These most valuable resources are not under the purview of one city agency that acts as a steward. 
Aside from the powerful Port Authority of New York and New Jersey and the U.S. Army Corps of Engineers (from which a harbor master operates), the mayor's office and the New York City Economic Development Corporation exercise de facto control over how the waterfront is developed, used, monitored, and accessed.
So it's an interesting twist near the end of a torrid campaign season that a voter's guide on key waterfront issues was released last week by the Metropolitan Waterfront Alliance (MWA). The MWA is an influential alliance organization of more than 700 regional waterway-related organizations and key players. 
Part of its guide is a series of key questions posed to every candidate running for every office. That includes the offices of mayor, public advocate, comptroller, borough presidents for Manhattan, Queens, and Staten Island, and 28 city council seats. 
The most provocative issue raised by the MWA voter guide is the possible (and suggested by them) creation of a Department of the Waterfront.
The MWA states that there is an ongoing concern among waterfront stakeholders that the city has no centralized office to "advocate for water-dependent uses at the shoreline." They also state that the need for a Department of the Waterfront is even more critical in light of the massive amounts of federal and state Sandy recovery money pouring into the city without one single clearinghouse or steward.
As the MWA puts it, the city agency they envision would be the "lead waterfront agency to coordinate planning efforts, studies, funding, and technical assistance to waterfront users." What's not mentioned is that such an agency would require a leader—or a waterfront czar, if you will. 
Such a person would become a power broker at the table with state and federal leaders, wealthy and influential developers that covet waterfront views and access, a massive parks department, and a milieu of related citizen interest groups and organizations such as community boards and groups like the Hudson River Foundation.
Unfortunately, those interested in getting an answer to the MWA's question of a Department of the Waterfront might not get real answers until after the elections. Only two mayoral candidates (City Council Speaker Christine Quinn and former City Comptroller Bill Thompson) responded.