Commentary
On Aug. 10, we were treated to the White House's astonishing claim that inflation was zero. It was the broadcasting of a math error that would have been marked wrong on any test in a high school primer on economics. But if our times have taught us anything, it's that politics cares nothing for accuracy or truth.
We can fully expect the same from Aug. 11's Producer Price Index (PPI) release, which showed a one-month decline of 0.5 percent, led almost entirely by the fall in energy prices. Year-over-year, however, combined with all other sectors, we still have a 9.8 percent increase in final demand producer prices.
In the old days, such numbers were decried as intolerable. But this is how things are these days. Such misery has been visited upon us for two-and-a-half years that we've radically dumbed down the definition of improvement.
Here's how illusory this whole game has become. The White House decided to go all-in with its silly claim, and achieved it all with a straight face and an implausible degree of elan. Wall Street briefly wondered if anyone would actually believe this malarkey. Within the hour, traders realized that it doesn't matter. The Biden administration's little performance gives cover to the Federal Reserve to ceasefire in its war on inflation. That means that the Fed can avoid going full Volcker. That's a buy signal. Like magic, the Nasdaq entered back into bull-market territory.
It all seems crazy, doesn't it? Yes, but it's an extension of the crazy that we've lived now for years. So perhaps the only surprise is that this should surprise us at all. There are surely still people out there who do care about reality, which is why we should take the trouble to look at the facts. What they reveal is normal migratory inflation, bouncing from sector to sector, doing its damage and moving on, like a pathogen on the move.
The PPI reveals that the inflationary infection has moved on from energy to invade services and groceries. Energy was down in July by 9 percent but foods were up by 1 percent, yielding an overall decline of 1.8 percent in final demand goods. Subtracting both food and energy, we end up with an overall rise of 0.2 percent. In services, the fall in energy prices was also a blessing but warehousing and transportation still rose 0.4 percent, yielding a total rise of 0.1 percent. All this mushed together year-over-year still gives us a stunning 9.8 percent increase.
During and after the lockdowns, producer prices lagged consumer prices. That trend flipped in the other direction after Joe Biden's inauguration, pushing pent-up price pressure onto the institutions that make all the things we consume. Perhaps, we are seeing the pains of a flip back while producers get a temporary break and consumers get squeezed. We'll see. Overall, we have a picture of a gigantic and destructive wave of devaluation, ever since governments told us to give up our freedoms for a virus and Congress discovered the glorious power of authorizing a trillion monthly in new spending.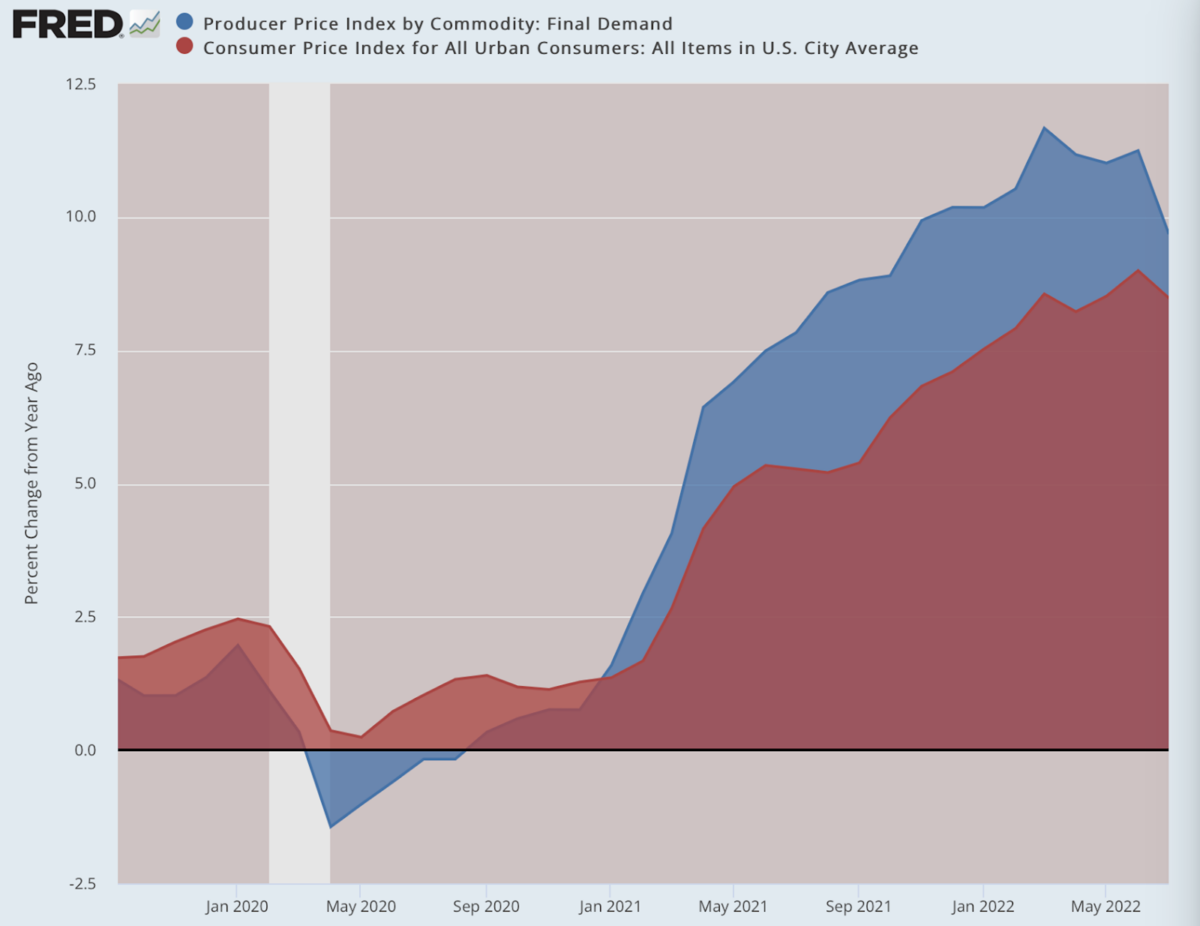 There is nothing about the above chart that should make anyone celebrate. And as I've repeatedly pointed out, even if the Fed suddenly "hits its target" of 2 percent annual inflation, this does nothing to reverse the damage. To actually restore the status quo ante would require an annualized 15 percent reduction of prices. That simply won't happen.
Meanwhile, there are whole sectors that either aren't experiencing this relief or only barely feeling a bit of respite. Consider deep sea freight, for example. It's rising again at 33 percent!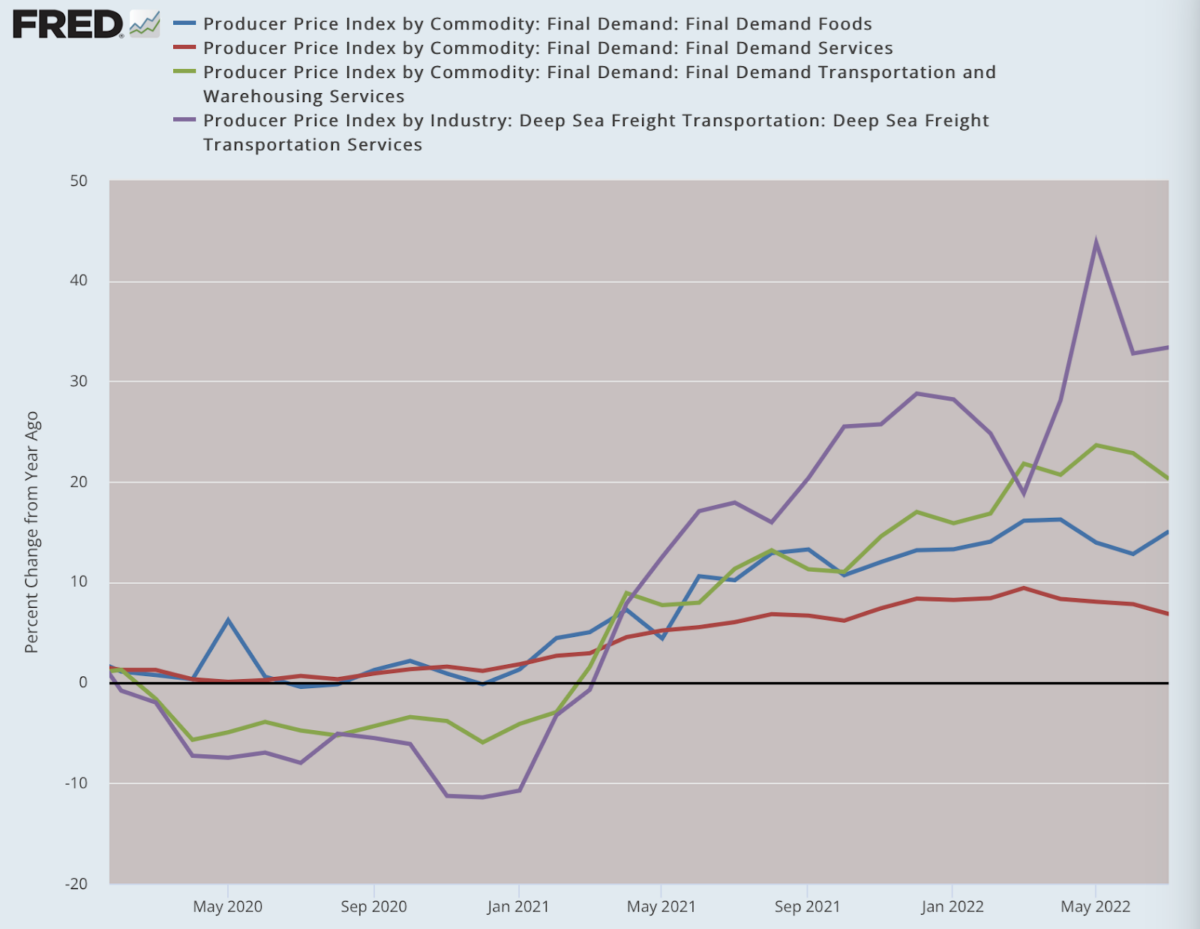 In reality, the reset has already happened. Remember that as you see all the smiling faces on TV as they talk about the latest inflation releases. There will be no apologies for what happened, or pats on the back for a job well done.
Meanwhile, we have no certainty at all that this ever-so-slight reduction in price pressure is anything but transitory. Analyzing all of this brings back painful memories of the virus. We watched the charts as it left New York and moved south only to return to New York later. Everyone who declared victory in one region ended up eating crow months later as the virus returned. Looking back, it's rather obvious—though never openly admitted—that the virus had to come to everyone. It's the only way for it to become endemic.
So it is with the waves of inflation. The root cause is found in the monetary sphere about which no one wants to talk. The $6 trillion in newly printed money has to find a home, and it will, one way or another.
Remember, too, that inflation affects all potential prices including financials. It's odd how we dread increases in gas and food prices, but always celebrate increases in stock prices, though they very well might come from the same source. There's nothing in the data that would seem to justify a sudden bull market, especially not when you look at labor productivity, which just reported the biggest decline in the postwar period.
While that report received almost no attention at all, it might be the most significant.
When you see stock prices undergoing a sudden recovery, we might actually be seeing the effects of credit and money expansion in just another sector. In this case, the price pressure has left the housing markets as they underwent the pain of higher mortgage rates while seeking a new home in the financial markets.
The philosophical backdrop of "woke"-style thinking is called post-structuralism, an outlook that implausibly targets truth itself as nothing but privilege and thereby seeks to unravel it. In the early days, it affected the soft fields of study such as literature but gradually made its way into the whole of the social sciences, even economics.
The Biden administration is the most woke in history, so it perhaps makes sense that it would contribute its part to the obliteration of facts in favor of fantasy. That's how these inflation reports have become opportunities for the high-level deployment of psychological operations, or psy-ops.
If only a post-structuralist educational credential could do something to bring down the price of groceries.
Views expressed in this article are the opinions of the author and do not necessarily reflect the views of The Epoch Times.