As environmentalists celebrate the banning of single-use plastic bags in a growing number of Canadian cities, critics claim the bans may actually increase the country's carbon footprint and have other unintended consequences.
At the start of 2018, Montreal was the first major city in Canada to ban plastic bags. Victoria is next in line; it has approved a bylaw to ban retailers from offering or selling plastic bags that will go into effect July 1. Edmonton, Halifax, and Vancouver are also taking steps to initiate bans, while other cities mull steeper fees and taxes—all in an effort to rid the petro-carbon bags from the environment.
By reducing the estimated 9–15 billion plastic bags Canadians use each year, advocates and city officials aim to decrease litter and carbon emissions, as well as prevent the bags from entering landfills, waterways, and oceans, which harms various species and marine life.
But critics say forcing people to use alternatives to plastic bags may have undesirable results.
"If you are looking at a more environmentally sustainable solution, the answer [is that banning] disposable plastic bags is actually [worse for the environment]," said Lee Harding, a research associate with the Winnipeg-based Frontier Centre for Public Policy.
When regular plastic bags are replaced with either thicker permanent plastic bags, paper bags, or even reusable cloth bags, the inputs required for all these alternatives equal more carbon emissions while inconveniencing consumers, Harding said.
Harding points to a 2006 study commissioned by the Environment Agency of the United Kingdom that says a cotton reusable bag would have to be used 131 times before it starts to create fewer emissions than single-use plastic bags. In contrast, reusable plastic bags would have to be reused 11 times in order to reduce emissions.
According to research done at the University of California–Berkeley, paper bag usage went up more than 31 million kilograms per year in California after several counties starting banning and taxing plastic bags in 2008. Single-use paper bags also require more energy to make, transport, and recycle than plastic.
"Governments are fond of doing things that appear to be green, and this is a very convenient one for them because they just have to ban something that won't cost any public resources or tax dollars, and administrations gain the reputation as being green," said Harding.
One of the other major arguments ban advocates use is the amount of damage plastic bags wreak on marine life. But Harding notes that only a tiny fraction of plastic waste found in the Pacific Ocean is from bags, while 60 percent actually comes from discarded fishing gear.
'Single-use' a misnomer
Other critics say the term "single-use" is inaccurate because many people reuse plastic shopping bags repeatedly since most are sturdy enough for multi-use.
"It's really a misnomer to call them single-use bags, as people use lots of them for multiple reasons such as lining trash bins, removing waste from pets, and carrying items from one place to the next," said Frank Stephenson, an economics professor at Berry College in Georgia.
Stephenson studied banning plastic bags extensively and wrote a chapter on the subject published by the Mercatus Center, a university think tank based in Arlington, Virginia. He thinks the intended results may not be achieved and bag bans could in fact do more harm than good.
"One of the supposed goals of bag bans is to reduce carbon emissions, as plastic bags are a petroleum derivative. But when one bans or taxes them, then people are still going to need bags for other uses to accomplish the same goals," he said.
According to the Berkeley study, after bans were enforced in California, thicker kitchen garbage bags and large trash bags purchases rose by as much as 67 percent. In Ireland, where a significant levy is added to plastic bags, such sales went up 77 percent.
The main findings of the Berkeley study show that an 18 million kilogram reduction of plastic from the elimination of plastic carryout bags in California is offset by an additional 7 million kilograms of plastic from increased purchases of garbage bags.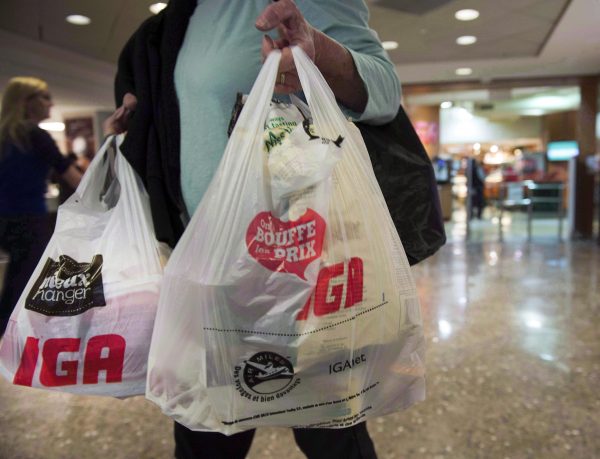 A 95 percent reduction
Melissa Gorrie is an environmental lawyer and volunteer at Earth General Store in Edmonton, which began a petition to ban plastic bags in the city and is now in talks with officials to work out the best strategy for the ban.
"I think we are seeing a movement across the world," Gorrie said. "There are hundreds of jurisdictions that have already enacted either a bylaw that bans single-use bags or puts a higher fee on them, and we are seeing results of up to 95 percent reduction. So to me, the proof is in the pudding."
Gorrie said removing single-use and disposable bags will have a net positive effect if everyone gets on board.
"Eliminating them is emblematic of a bigger cultural shift that needs to happen in terms of being responsible for our choices and reducing the amount of single-use items that we have that are clogging our landfills, and waterways, and oceans and killing other species," she said.
For Montreal city councillor Jean-François Parenteau, it's a no-brainer that dropping single-use plastic bags is a win for the city and for the ecosystem.
"The reusable bag is really popular here and the people keep it and reuse it for years. I have had mine for almost seven years and it's in very good condition. So for sure in the long run it's better than using [disposable plastic bags]," he said.
Jared Gnam is a freelance reporter based in Vancouver. He broke into the world of journalism covering the Stanley Cup Riot in 2011.