The Price of Gold in Beijing
August 13, 2008 12:20 pm Last Updated: October 1, 2015 10:55 pm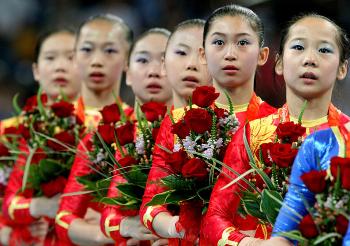 A tightly regimented, some say at times brutal, athletic training system is responsible for China's growing Olympic success. While Chinese athletes are pushed to the limits of mental and physical endurance, key regime spokespeople reveal the importance of Olympic gold for the continued legitimacy of one-party rule.
The Party has largely adopted the Soviet style approach to athletic training. Winning medals becomes a question of attrition: the greater the population, the more money, the more control of athletes, the more medals. As an autocracy, the regime is able to impose fierce control on its athletes and their training. One gold medal is worth one thousand silvers, according to Chinese Communist Party (CCP) Olympic officials.
Since 2001, the regime has invested billions in "Project 119", an Olympic training program meant to ensure that China sits atop the medal table this year. The system is named after the number of gold medals that were available in track and field, swimming, and rowing in 2001—areas where Chinese athletes have traditionally been weak.
In the quest for gold, many Chinese athletes have surrendered their education, personal financial control, and even their health. Children are recruited from a very young age, nation-wide, according to body type.
Hundreds of thousands of youngsters are put into provincial-level training systems, and are successively filtered out according to performance. The best move through the system to compete at a national level, where they are put under intense pressure to perform.
Hurdler Liu Xiang, like most of China's Olympic athletes, has his living expenses paid for by the state. Unlike other countries where Olympic hopefuls may often squeeze in a few hours of training after work, Chinese athletes train all day.
According to The New York Times, Liu lives in an official Shanghai sporting compound all week, and spends the weekends with his parents, who live in an apartment adjacent to his coach. Sports officials arrange his endorsements from companies like Nike, Coca-Cola, and Lenovo, and pocket half the earnings. The 25-year-old's parents manage the other half.
Liu is famous for breaking the 110-meter hurdles world record in 2006 and winning gold in Athens in 2004. His face is on billboards all over China, but senior government sports officials told his coach that Liu's past achievements would be meaningless if he does not win in Beijing.
When breaking from the scripted lines of the Chinese Sports Ministry and speaking candidly to foreign media, Liu has made clear that the pressure he is under is torturous: "I've been tortured these days," he said before a meet in Japan, "I was afraid of speaking too much. I've never been so nervous."
British Olympic rower Matthew Pinsent told the BBC in 2005 that he saw children in a Beijing gymnasium being pushed to breaking point, yelled at, and said one young boy was clearly beaten. A National Public Radio series on Chinese Olympic training indicated that gymnastic sessions for young children may include doing handstands for anywhere from 10 minutes up to half an hour.
Foreign media recently accused China of using underage gymnasts, which the regime denied. But children as young as four are among those recruited into the intensive gymnastic training squads.
As with Liu, these children are part of the system that manages nearly every aspect of their lives. They are often removed from their parents when they begin their training, and may only be able to speak with them over the phone a couple of times a year. Housing, medical care, education, finances, and interactions with the media and public are regulated by the regime. Details about their training regimens and the potential for injuries are all handled internally.
A Time article investigated life inside one of the training compounds and revealed the influence of training handlers. One man who identified himself as the "propaganda director" watched over the reporter's interview with a young weight-lifter, stepping in to steer the conversation toward how much the child likes to lift weights.
The article detailed conditions inside the training compounds, which include self-criticism essays from students about how they must try harder posted on the walls, dormitories stinking of urine and sweat. The life of a 15-year-old interviewed in the compound consists of no more than running and sleeping.
Autocratic rule and nationalistic fervor are key ingredients in the system where individual athletes become another instrument and expression of Party control.
Parents who advocate the nationalist cause are willing to submit their children to the system, and have indicated that they will move them from one discipline to another if they don't perform. NPR says this illustrates that they become no more than "cannon fodder" for patriotic designs.
Young athletes who fail to progress through the training system are generally left to fend for themselves. With little education or useful life skills and sometimes badly damaged or handicapped bodies, they find it difficult to get work.
An NPR article gives the example of Zhao Yonghua, a former Olympic-level skier. After performing well at national level she contracted a fever. She was exhorted to continue winter training with the army team, and later developed diabetes. She was then forced to retire permanently and has been bedridden for the last 10 years.
The China Sports Daily, an official Party mouthpiece, estimated that of the 300,000 retired athletes 80 per cent are unemployed, injured, or living in poverty. The regime promised them $USD 4 million in annual welfare which was supposed to start in 2007.
"An astonishing amount of manpower, money and goods have been poured in, so much so that it's inappropriate to be revealed publicly," Lu Yuanzhen, a professor of sports sociology at the Academy of Sports Sciences at South China Normal University told The New York Times.
He said if China's athletes do poorly, "the entire nation and its people will lose face."
Since surpassing Russia to win the second most gold medals in the 2004 Olympics, its highest ranking ever, China has held an unofficial but undeniable ambition to cap the hosting of the Games by surpassing the United States and finishing atop the medal board.