The Persecution of Falun Gong in China
March 30, 2006 12:00 am Last Updated: March 30, 2006 12:00 am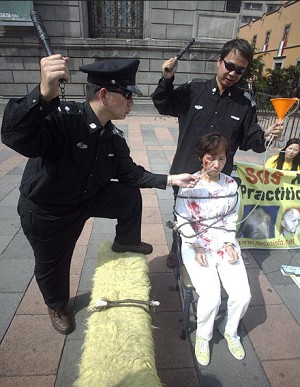 On July 20th, 1999, Chinese state media announced a ban on Falun Gong, and a new Communist political movement began. Chinese media began blanket coverage of the practice, denouncing it forcefully and repeatedly.
The movement spread to the general public, as Falun Gong books are collected and burned. Falun Gong practitioners are sentenced up to 18 years in jail in widely publicized show trials. Many Falun Gong practitioners were expelled from their jobs, detained, and sentenced to jail or forced labor.
As the mass political fervor against Falun Gong continues in public, daily reports of gruesome torture leaked out of China's prisons, detailing torture, beatings, injections with nerve-damaging drugs, and violent force-feedings.
Most recently, it was revealed that Chinese authorities have constructed at least one elaborate, underground facility where thousands of Falun Gong practitioners have been killed for their organs.
It all begs the question: What, exactly, is Falun Gong, and do Chinese authorities see it as such a threat that billions of dollars should be used to eradicate it?

*****
At first glance Falun Gong practitioners seem like the least likely target of the Chinese regime. Most were stubbornly apolitical, and, as was the case with other qigong disciplines, Falun Gong was comprised largely of middle-aged and elderly citizens who had come to the practice seeking improved health. Beginning in the 1970s, hundreds of varieties of qigong—slow-moving, meditative breathing exercises, such as Taichi – achieved widespread popularity in China. Many of the qigong practices spreading throughout China claimed roots in Buddhism or Taoism, and had been passed down for centuries. Tens of millions of Chinese took up forms of qigong, assembling in parks at dawn to practice the exercise regimens they claimed had brought them miraculously improved health.
In 1992, a qigong Master emerged in Northeastern China to found what would become the fastest-growing spiritual movement in China. Li Hongzhi, the practice's founder, introduced himself as one who had studied under Buddhist and Taoist Masters from a young age.
Unlike the other qigong forms in China at the time, which focused solely on the improvement of the body through physical exercises, Li Hongzhi's Falun Gong stressed that improvement in physical health was inseparable from spiritual self-cultivation. This was to be achieved by gradually striving to live in line with Truthfulness, Compassion, and Forbearance, along with practicing Falun Gong's qigong exercises and meditation.

Falun Gong, which was practiced for free, spread quickly by word of mouth, as adherents credited it with curing health problems and helping them achieve inner balance and peace of mind. By 1998, a government survey estimated that upwards of 70 million people, including mid and high-level government and military officials, had taken up the practice.
******
But despite Falun Gong's rise to popularity in China, it remained almost unknown to the international community until the morning of April 25th, 1999, when upwards of 10,000 of its practitioners silently gathered near the Zhongnanhai government compound in the heart of Beijing. They'd come from Beijing and surrounding areas to protest early forms of government suppression, and to ask that the government allow them a legitimate environment in which to exercise their beliefs. For a whole day, they sat quietly on the sidewalk, meditating or reading books as a few representatives met with China's then-premier, Zhu Rongji, to voice their concerns. By nightfall, an agreement had been reached and the practitioners dispersed as quickly as they'd come.

However uneventful the manifestation was, the gathering at Zhongnanhai was reportedly perceived as a shocking affront to China's leader, Jiang Zemin.
It was the first time in a decade that such a large protest had been staged in Beijing, and like the student demonstrations on Tiananmen Square ten years earlier, the retribution it met with would was swift, and brutal.
Practitioners all over the country were rounded up and jails, and long-term prison sentences were given out to those believed to be Falun Gong "heads." Much like other political mass movements in Chinese communist history, the suppression featured blanket media coverage, victims paraded in dunce caps, and political study sessions. Although the political fervor of the campaign has died down, deaths from persecution continue to accumulate – the Falun Dafa Clearwisdom rate has verified over 2,800 Falun Gong deaths since 1999, with nearly 300 since June 2005 alone.
But why the large-scale campaign? Many say that the Zhongnanhai appeal showed that Falun Gong was becoming a political force that could mobilize quickly, and that the Communist Party needed to suppress the practice's adherents if it were to maintain its power.
Yet even before the Zhongnanhai appeal, the seeds of suppression had already begun to be sowed. In 1996, the publication of Falun Gong books was banned. Falun Gong practitioners had reported that at least as early as 1996, the authorities had begun to send undercover police to monitor Falun Gong. Many were harassed and detained, and adherents protested these abuses on a small scale until their efforts culminated in the Zhongnanhai appeal.
The Nine Commentaries on the Communist Party , an Epoch Times editorial series that is highly critical of the Communist Party, suggests that the Party persecutes Falun Gong because it fears its firm beliefs. By calling itself "great, glorious, and correct," the editorial says, the Party has made itself the standard for good and evil, thus giving it the power to regulate the Chinese people's behaviour. Falun Gong's belief in Truth, Compassion, and Forbearance, it posits, indirectly challenges the Communist Party by giving people an alternative set of standards by which to live.
Either way, many practitioners have attested that their faith is what guides them through the trials of prison and torture. Detainees are often given the opportunity to leave jail sentence-free, as long as they sign statements renouncing their practice, yet many choose to endure difficult forced labor and brutal torture instead of selling out their conscience. Perhaps the strength and individual will that comes from firm beliefs themselves are what the Party fears – and tries to stamp out – most.