'The performers were perfection,' Businessman Says
April 23, 2014 11:57 pm Last Updated: June 24, 2015 8:07 pm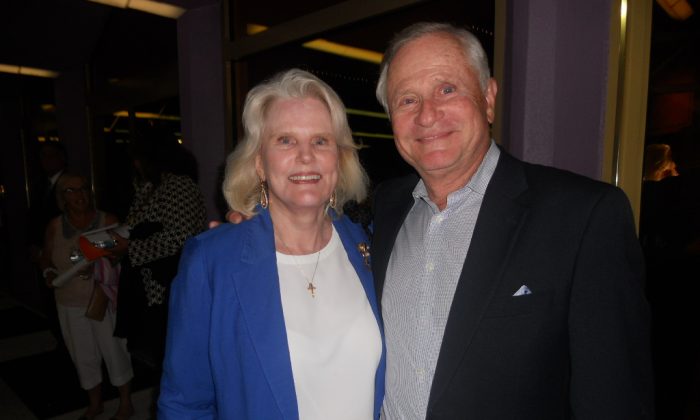 SARASOTA, Fla.—Tom Wall was happy to have experienced Shen Yun's April 22 performance at the Van Wezel Performing Arts Hall. "I thought it was wonderful," he said.
"It was very colorful, and the acts were exciting. The performers were perfection. They were so good at what they were doing. And it was beautifully choreographed," said Mr. Wall, of the former Missouri department store Townsend & Wall.
His wife, Linda Wall, a retired psychologist and teacher, said she had never seen anything like Shen Yun before. "I thought it was absolutely fabulous. The skill level of all the dancers was just extraordinary. I was just enthralled the whole time. It was beautiful. The music was fantastic."
Mrs. Wall said she had learned more about the history of China from the performance. She was surprised to learn that people cannot openly practice their faith in China.
Through classical Chinese dance, Shen Yun tells stories of courage in the face of adversity, and humorous pieces as well—stories from China's legends, myths, history, and also the current times.
"I think [Shen Yun] expands people's knowledge of China," she said. She was happy that the company is committed to bringing back the true culture, from the classical past to the future.
The closing dance, Buddha's Compassion Shines Forth, depicts a time in the future when "chaos is quelled and peace prevails," the program book says. Goodness is rewarded, and a new era begins.
"Keep those traditions going, so that our children see them also. I think this is so, so important for our world," she said.
"It was just an unbelievable show," Mrs. Wall said. And that's what she would tell her family and friends.
Reporting by Edie Bassen and Louise Rothman
New York-based Shen Yun Performing Arts has four touring companies that perform simultaneously around the world. For more information, visit ShenYunPerformingArts.org
The Epoch Times considers Shen Yun Performing Arts the significant cultural event of our time. We have proudly covered audience reactions since Shen Yun's inception in 2006.