The Most Beautiful Teacher on a Remote Mountain
February 5, 2007 12:00 am Last Updated: February 5, 2007 12:00 am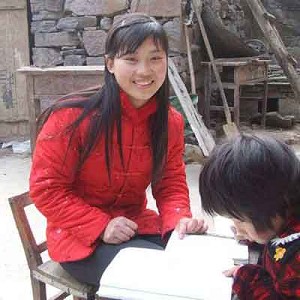 According to a Southern Metropolitan News report on January 31, in Shuiye village in Henan Province, some net surfers shot a series of pictures of Wang Meixiang, a female teacher on Taihang Mountain. These pictures depicting the life of this 22-year-old woman and her two students are published on several major websites. Some Internet friends even call Meixiang "the most beautiful teacher on a remote mountain."
On December 16, 2006, a net surfer named "Hometown Clouds" of an Anyang County forum saw a report in the Henan Business Daily about a 22-year-old teacher who has been teaching for six years on a remote mountain in Anyang County. She stayed for her only two students and asked her future husband to stay on the mountain as well. She had already missed many marriage proposals due to her teaching job.
"Hometown Clouds" posted her story on a Shuiye forum and received enthusiastic replies from net surfers. "Hometown clouds" decided to organize a gathering of the surfers to visit Wang Meixiang. Prior to the visit, he went to check out the route. Meixiang was very surprised to see the visitor.
On January 26, "Hometown Clouds" organized seven people to visit Wang Meixiang and brought some school supplies . "Ms. Wang and her two students showed us around the mountain and we took some pictures. We asked her if we could publish the pictures on the internet. She said, 'It is not good to expose my pictures to the public. I am used to staying on the mountain and don't want to see strangers.'"
Finally he persuaded Meixiang and published an article titled Visiting the Most Beautiful Female Teacher in the Remote Mountains along with the photos on the Shuiye forum.

The Story of Meixiang
After graduating from junior high school, 16-year-old Wang Meixiang became the only teacher in the elementary school of her village in the deep Taihang Mountains. She realized that if she didn't take over, the school would be closed. She ended up supporting this school for six years. When the original classroom collapsed, she used her own home as a classroom.
With the development of the tourist industry in the Taihang Mountain, villagers gradually moved out of the mountains over time. However, Meixiang holds her ground persistently. When she took over six years ago, she had eleven students; but since last year, there are only two left. People in the mountain are very poor and many parents moved their children's residence accounts out of the mountain so that they could study and find jobs in more affluent areas. Most of the students Meixiang taught during the past two years are girls since many villagers consider it of little worth to move girls' residence accounts. (Residence accounts are communist party rules that limit people to studying or working in that area only).
Wang Meixiang's story was known extensively in the village. People commented, "I hear she is really pretty." "The key thing is that she has a kind heart." "We call her 'the most beautiful village teacher in China.'"
Wang Meixiang married a schoolmate from elementary school. However, she now lives at her mother's house since her students are there.
She felt it was unfair to her husband and said, "If someone would like to take over my position, I will leave after the Chinese New Year." However, "children in the mountains do not have much opportunity to go to school, so if no one takes over my position I will continue to teach here."
When asked her wishes, Meixiang said, "I want to take a look at a bigger city. The furthest place I have been to is Linzhou and I only went there twice. Some of my friends who work in Zhengzhou always talk about how great Zhengzhou is. I hope to visit there when I have an opportunity."
A small blackboard framed by some pieces of wood is an important teaching tool for Meixiang. Although she struggles to make ends meet, Meixiang is still optimistic.