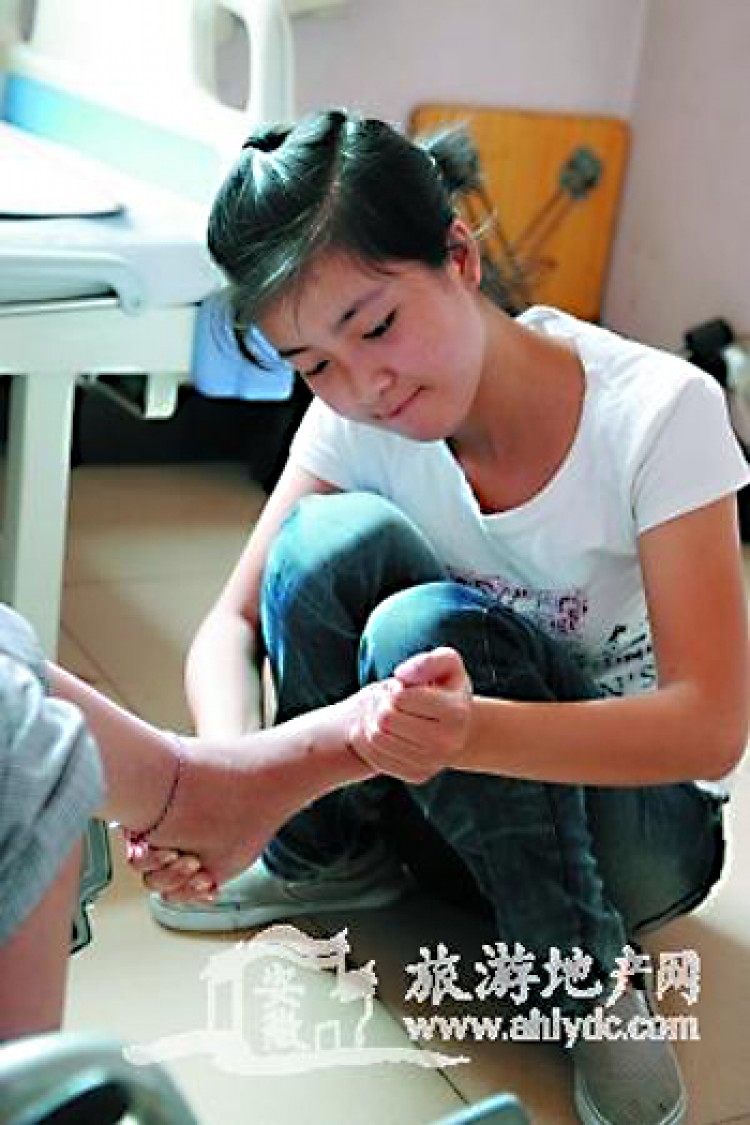 Her schoolmates call her the most beautiful girl in Linfen for a good reason. They think she is unusual and very special. Twenty-year-old Meng Peijie has been the sole caretaker of her paralyzed foster mother for the last 12 years, starting when she was only eight years old.
Peijie's story was written up by Xinhua on June 21 and has now been spread online by her classmates at Linfen College of Shanxi Normal University, who are inspired and moved by her kindness and dedication towards her foster mother.
Peijie was born in 1991 in Shanxi Province. She became an orphan at age five. After her father died in a car accident, her mother sent her to a foster family and subsequently also died.
Three years later, Peijie's foster mother, Liu Fangying, became an invalid due to an illness, and her foster father abandoned the family, leaving the eight-year-old child to take care of herself and her paralyzed foster mom, as well as grocery shopping, cooking, and going to school.
In 2009, Peijie was admitted to Linfen College, quite a long distance away from home, but she still continued taking care of her foster mom.
Liu described her daughter's busy schedule of the past 12 years. She said Peijie gets up at 6 a.m., helps her change her diaper, get washed and dressed, and feeds her breakfast. Then she runs to school. During lunch break, she runs home to cook, feeds her lunch, gives her a shower and a massage, takes care of laundry, changes bed sheets, and then rushes back to school. After school, she hurries home to make dinner and do more housework. At 9 p.m. she generally starts doing her homework.
After recounting all of what her daughter had gone through during the past 12 years, Liu was in tears. "I only took care of her for three years, but she is taking care of me for the rest of my life," she said.
Peijie also finds time every day to help her mother with her physiotherapy, which consists of 240 sit-ups, 200 leg-stretches and a 15-minute leg massage.
Yang Jiaojiao, a high school and college friend of Peijie's, said she is always running between school and home, out of breath with a flushed face, and no time for amusement or distractions.
Asked how she feels about what she has gone through all these years, Peijie said she didn't consider it anything unusual. "I just do what any daughter would do," she said.
But her schoolmates think she's remarkable and special.
Someone sent her a message, saying, "You may not know me, but I know you. Keep it up and stay strong!"
Another student wrote: "We are all from the grassroots class, but we are not insignificant. Being true, good and beautiful is our eternal goal. Keep up the good work!"