War Correspondent Michael Yon is traveling the journey of the migrants from South America to the United States, detailing their travails and travels, as well as remarkable encounters he has along the way. The Epoch Times presents excerpts from his ongoing account.
May 27, 2021
Bajo Chiquito, PANAMA—Only the survivors make it to the dugout canoes. Those canoes carry a veritable UN of migrants from the Bajo Chiquito village a few hours down the Rio Tuquesa to reception camps, where they will be put on luxury buses that take them to Costa Rica, on their way to the United States.
To get to Bajo Chiquito they will have had to spend a week or more walking the 60 miles of the Darien Gap—the gap between where the Pan American highway ends in Panama and picks back up in Turbo, Colombia.
As migrants cross through Darien, the stories are horrific.  Events happen daily that for Americans would make a bestselling book such as "Into the Wild."  Darien Gap is into the wild.
On that hike from Colombia through dense jungle and mountains and across powerful rivers, the migrants are robbed, raped, and murdered. Often the children emerge in the arms of others, parents—usually only the mother—having died in the jungle.  The children are now orphans.
Drownings, snake bites, murder, and simple jungle-vanishing are the daily norm.  Bodies regularly flow down Rio Tuquesa.  Migrants drown while crossing, or camp on the banks and are swept away by flash-floods, at times by the dozens.
A Colombian doctor told us that just on May 26, 10 migrants drowned in that single day.  He said that's normal.  And I know it is because I have been here three months.
Nobody knows the actual death toll, but as a working number, say 10 percent die during the crossing.  This number is based on many interviews with migrants as they emerge, the native Embera Indians, medical workers, and Panama's highly professional Senafront (Border Patrol), who spend a significant amount of time collecting bodies.
Voyage Up River
On May 27, I took Congressman Tom Tiffany (R-Wis.) on a ride on a dugout canoe up the Rio Tuquesa so that he could see for himself the steady stream of migrants—especially the unprecedented flow of extra-continental migrants—and hear first hand their stories. The famous Japanese foreign correspondent Masako Ganaha was sitting in front of me in the canoe when she began making the video that is embedded.
The rivers are imminently treacherous.  Even the Indians with centuries of experience here only get minutes of warning for flash-floods.  Giant trees float down.  New strainers—submerged objects, usually downed trees, that the current flows through—form without notice.  Engine failure at the wrong moment can literally be as dangerous as engine failure in an aircraft.
And this would happen today to a canoe filled with migrants with near catastrophic consequence.
20 canoes had departed from our destination—Bajo Chiquito—piloted by Embera Indian smugglers, the same Embera who were taking us up stream
The lead canoe in this flotilla would soon suffer an engine failure and get caught in a strainer.  It capsized, and all occupants were dumped.  Three nearly drowned, but Indians in other boats saved them.  We did not see the crash.  An Embera Indian who was there told us later in Bajo Chiquito village.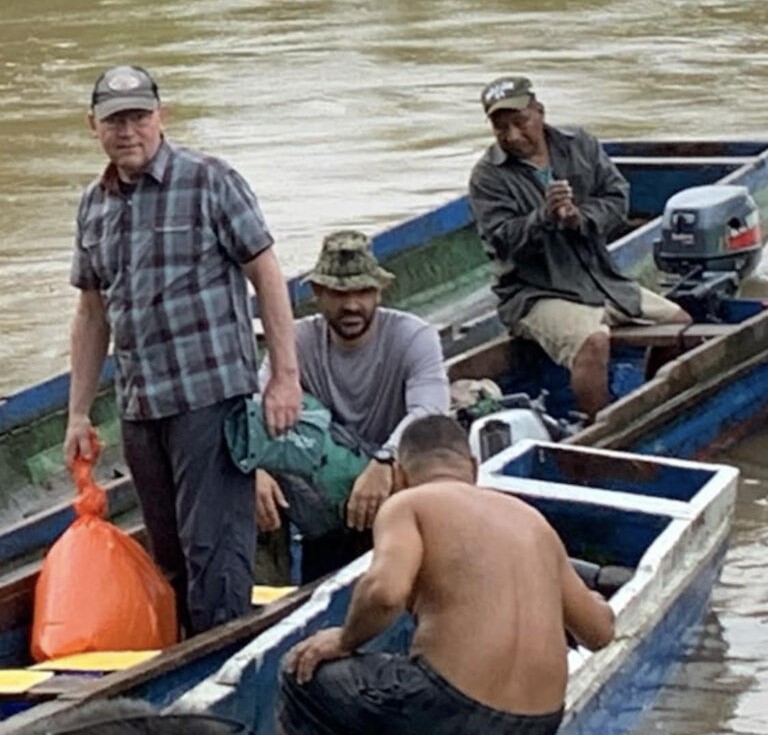 And so here was Congressman Tiffany.  Less than 24 hours out of America and now several hours by dugout canoe up Rio Tuquesa.  Real life Indian country.  No phone service.  No security.  No back up.
After much communication before his trip, I was confident Congressman Tiffany understood what we were getting into.  After all, he grew up on a farm, and farmers are quick studies on dangerous matters.
Those who survive Darien Gap will stay anywhere from hours to weeks in Bajo Chiquito.  The village of about 492 Embera Indians often is overwhelmed 2:1 with migrants.  Many of the migrants speak no language that any Embera is likely to speak.  (Embera all speak Spanish and Embera, and a small number speak English.)
Migrants defecate everywhere.  The entire village is a bio-hazard.  I have been in about twenty Embera villages and Bajo Chiquito is the only village with a slum smell and atmosphere.
Most migrants are robbed and without money by the time they drag into Bajo Chiquito.  "All the pretty and light skinned women were raped," they say.  The vast majority of migrants are military aged males.
In Bajo Chiquito, a store with a Western Union/Money-gram sign in the village can top off the migrants at a 20 percent commission rate, plus Western Union charges.
In reality, there is no Western Union—or even phone—in Bajo Chiquito.  The cash flow to migrants includes a wire transfer to Panama City, presumably from family.  When the money reaches Panama City, the recipient texts a message to Bajo Chiquito.  There is no phone service, and so Embera Indians and migrants in Bajo Chiquito climb up the nearby "cellphone hill" for calls and texts.
(Most every remote village in the cell-phone world seems to know the location of the closest "kommpunkt" where cell service works.  Often this is atop a distant hill.  Luckily, for Bajo Chiquito, the kommpunkt is just beside the village.)
Migrants in Bajo Chiquito who are fit enough to travel, and who have the $40 per person required to travel by canoe downstream, are loaded up in the canoes and taken to La Peñita village.
In 2020, hundreds of migrants were stranded in La Peñita due to CCP virus pandemic lockdown.  Migrants rioted including much property damage.  Embera Indians reportedly warned Senafront to get the migrants out before the Embera do.  Everyone knows Embera are fantastic fighters, and so Senafront closed La Peñita camp, and now oversees two other camps that hold migrants before they are loaded onto luxury buses to Costa Rica.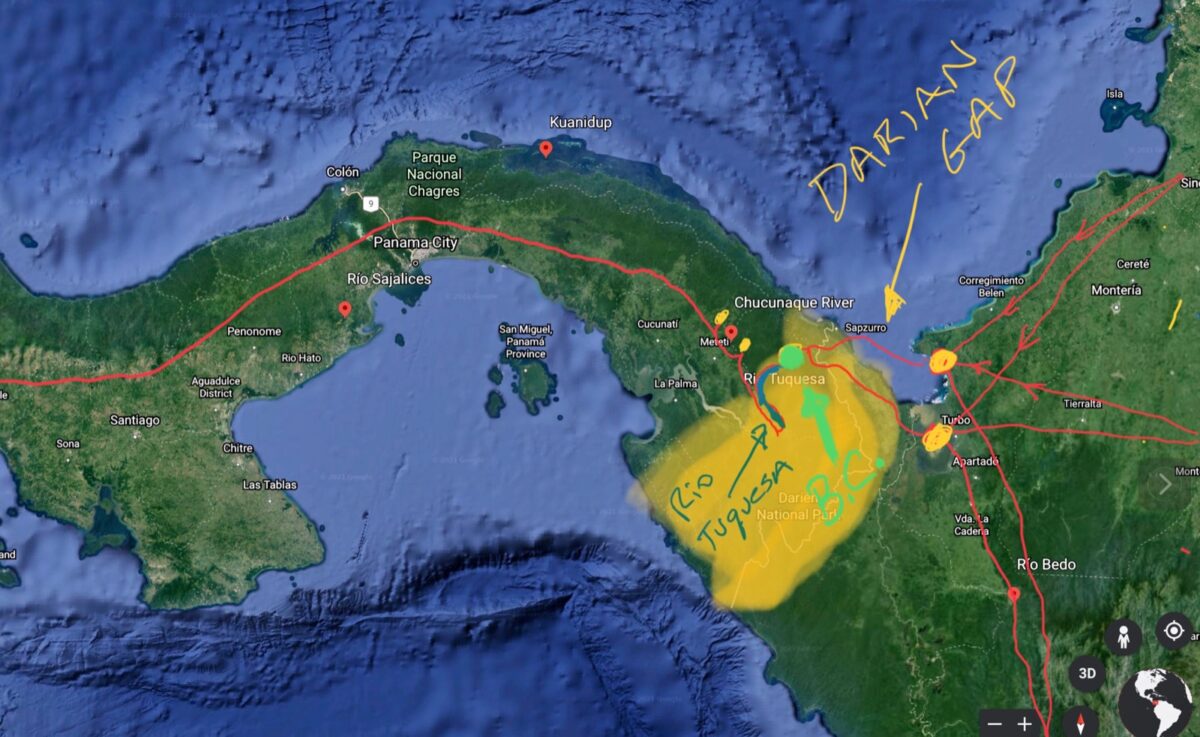 From Around the World
A record-setting 10,000 migrants are likely to cross through Darien this month alone.  These migrants are different than those larger numbers coming to the United States from the Northern Triangle in that these in Darien often come from countries like Yemen, Somalia, Pakistan, Bangladesh, India, and more.  The greatest percentage now claim to be from Cuba and Haiti, but many arrive without papers.
These migrants begin at tributary states such as Ecuador, Brazil, and Suriname—these three countries require no visa. They then converge in South America for the perilous journey across the Darien Gap, which is a kind of funnel bringing the desperate and dispossessed toward the United States.
Meanwhile 2-3 million Venezuelans, fleeing their failed state, have surged into Colombia, with many then making the journey north. They can be seen on streets around Colombia begging, selling lollypops, and with pre-teenaged girls plying prostitution.
Meanwhile, Colombia itself is on verge of collapsing into civil war.  While Colombia sparks and teeters, the flood of Venezuelans continues, all while Colombian cocaine production has reached record levels.
South America sits on the volcanic potential of the general collapse of numerous countries, including especially Venezuela and Colombia.
This article is adapted from Michael Yon's blog.