Politicians in Washington seem to think the fight over border security is just another political football to play with, which is why President Donald Trump's sincere commitment to solving the illegal immigration crisis is so refreshing.
Congress may be at a partisan impasse, but thousands of miles away—along the deadly southwest border—this isn't a controversial issue. The men and women I represent, who risk injury and death every day to protect America's borders, have been begging for a wall to help them do that job for years.
After decades of empty promises from politicians, Donald Trump is the one who finally took our pleas seriously.
Opponents of the wall frequently claim that "experts" agree that border walls are somehow ineffective. I don't know which "experts" they're talking to, but the experts I know and trust are the agents with actual skin in the game, and they say a border wall is a most important tool to secure America's borders.
The wall is massively popular among Border Patrol agents. In a recent internal poll that collected responses from bargaining-unit agents, 89 percent said that a wall isn't simply desirable, but absolutely necessary to secure the border.
That's why our largest union, the National Border Patrol Council, made the first political endorsement in its nearly 50-year history by backing Trump for president in the 2016 election. It wasn't because we're all dyed-in-the-wool Republicans: we're not. Our membership, then and now, is a typical American mix of Democrats, Republicans, and Independents.
The reason the NBPC gave that unprecedented endorsement to Trump was due to his unwavering commitment to build a border wall to bring the illegal immigration crisis under control.
This isn't and shouldn't be a partisan issue. There was a time when both Republicans and Democrats, including Senate Minority Leader Chuck Schumer, eagerly supported bills that included funding for walls.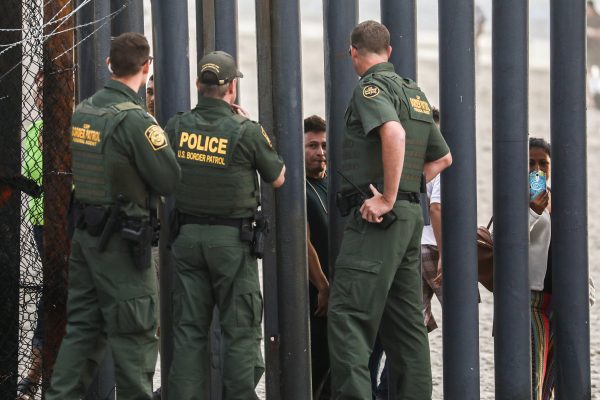 Former Border Patrol Chief Mark Morgan, who served under former President Barack Obama, has also come out unequivocally in favor of Trump's approach to border security.
"I cannot think of a legitimate argument why anyone would not support the wall as part of a multi-layered border-security issue," Morgan said recently. "Why aren't we listening to the experts and the people who do it every day? I don't understand that."
"It's not based on personal political ideology. That's based on historical data and facts that can be proven," Morgan has said, regarding his support for the border wall. "I think it's a political point that [opponents of walls] are trying to make."
The claims of better barriers and walls are backed up by facts. San Diego County used to be among the most lawless sectors on the entire border, and Border Patrol agents were virtually powerless to stop the steady stream of people and contraband flooding into Southern California. Then, with bipartisan support, the federal government constructed a border wall there, starting in the early 1990s.
The difference was night and day. Illegal crossings plummeted, which made the job of Border Patrol agents less dangerous, and allowed agents to concentrate more on the drug dealers and human traffickers who posed the greatest risk to America.
A little over a decade later, again with bipartisan support, the same success was repeated in Yuma County, Arizona. The physical barriers started to go up there in 2006, leading to a 96 percent reduction in apprehensions for illegal crossings. Crime in the surrounding U.S. communities, meanwhile, fell by more than 90 percent.
The border wall is a proven strategy that our Border Patrol agents desperately need to finally restore order along the southern border. Something that's so crucial to the safety and well-being of the American people shouldn't be the subject of a mudslinging partisan fight.
It shouldn't be controversial to provide the modest funding we need to keep drugs, crime, and human trafficking at bay. Whether Democrats like it or not, the foremost experts on securing our southern border say that true border security must include building a wall.
Trump understands that, which is why he'll have the support of immigration-control professionals like me, no matter how long this struggle lasts.
Art Del Cueto is vice president of the National Border Patrol Council.
Views expressed in this article are the opinions of the author and do not necessarily reflect the views of The Epoch Times.