The Many Uses of the Old-Fashioned Canning Jar
April 9, 2013 9:20 pm Last Updated: April 9, 2013 9:20 pm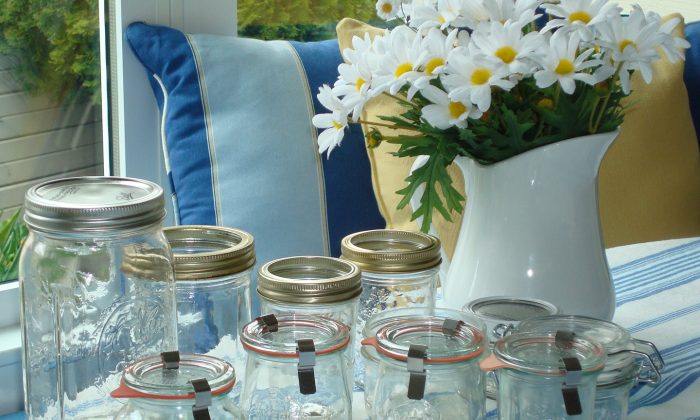 Canning jars have come a long way since the depression when the rural housewife filled them with all manner of preserved delectables to keep her family fed through a long winter.
A laborious and time-consuming job, canning largely died out due to economic growth and the advent of grocery chains. Although there has been somewhat of a resurgence in recent years, it is more of a hobby.
However, canning jars are in high demand for repurposing, being turned into everything from votive holders and vases to baking and serving containers.
Using the smaller canning jars for baking mini pies, bread puddings, cheesecakes, custards, and cupcakes has become popular. The glass is designed to withstand high temperatures.
The jars' charming appeal has made them a favourite at outdoor gatherings. Lemonade, slushies, jello, and fruit salad can be made in the half-pint jars—perfect individual servings—with a decorative ribbon tied around the neck. The jars can also be filled with drinks for road trips, and once at your destination, used as drinking glasses once the tops are removed.
Canning jars lined with fresh fruit and filled with coloured water or painted make unique seasonal flower vases. Tied around the neck with wire and hung from trees, they also make great tea light holders or lanterns to create a homespun look at weddings and other celebrations.
Finding boxes of dusty old Mason, Ball, Kerr, and Bernardin jars at garage sales and thrift shops is not as easy as it used to be. Nowadays, these older-style jars are more likely to be found at auctions and on eBay. The value of a jar is tied to its age, colour, condition, and rarity.
A popular newcomer to the North American market are the beautiful German-produced Weck jars that come in a variety of attractive shapes such as tulip, cylinder, and deco.
Receiving some form of food—whether canned or baked—in one of these charming jars is always appreciated, as the jar is as much the gift as its contents.