Commentary
There's a funny fracas evolving here in Australia over the National Jazz Awards. This year this major award focused on jazz pianists, and the ten finalists have been announced.
Please take a look at them here. Horrors, they are all men!
There's been much disquiet at this politically incorrect outcome, particularly since, due to COVID-19, the competition was judged through blind online auditions.
All ten best candidates just happened to be men.
Naturally, the very active women in our jazz world immediately started complaining, saying it needed to be made "fairer" by removing the blind audition and including a gender quota.
And the Australia National Jazz Awards are not the only prize that the quota ideology has touched.
Scientific American has just published an intriguing article about the most prestigious award given by the world's largest earth and space science society, the American Geophysical Union (AGU).
The AGU's Fellows Award recognises members who have made exceptional contributions to their fields through scientific innovation, breakthroughs, and discoveries.
The list of the top five candidates, all nominated by peers after a rigorous process, emerged for 2021—and they were all men.
So, the committee charged with making the final decision about the fellowship wimped out. The fellowship was not awarded.
What a crazy world we now live in.
When decisions based on merit are greeted with alarm if they don't happen to include women.

This constant kowtowing to the gender warriors is bad enough when it deprives hard-working scientists or musicians of recognition for their achievements, but far worse is when it puts our safety at risk.
That's what's happening in all manner of critical services like defence, police, and firefighting.
I've had many firefighters writing to me about this issue, ever since I attracted a huge feminist pile-on two years ago for a Twitter post about Australia's brave firefighters, pointing out that it is mainly men who are risking their lives to save others.
I gave thanks for the good in men.
It led to a funny skirmish when one of our prominent feminists claimed the photo I used in that tweet showed a female firefighter.
She turned out to be wrong—the photo showed a male firefighter, as discussed in this television interview.
Naturally, our media responded by madly promoting female firefighters, showing photos of the small numbers of women actually involved in fighting the dreadful bushfires Australia was then experiencing.
We are currently witnessing a ludicrous campaign aiming for 50 percent female firefighters.
I've just put out a video about this crazy business which shows that alongside the actual quotas, there's a systematic whitewashing of the real facts about women's role in firefighting. Their capabilities are misrepresented, and the problems with smaller, weaker people struggling with very difficult physical tasks are denied.
Many women are being treated as star recruits, given an easy ride to get into the service, leapfrogging over able, hard-working men to achieve promotion—all to showcase that our fire services are embracing diversity.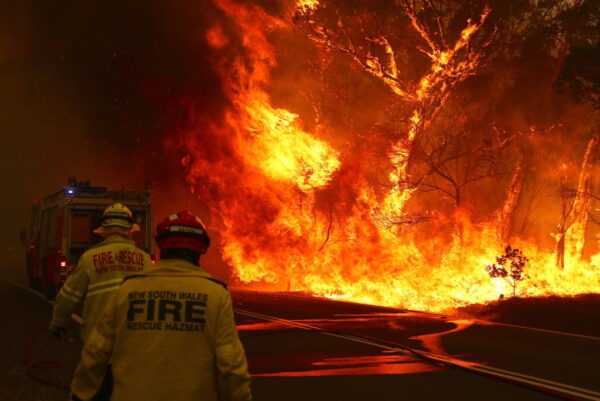 Firefighting is seen as one of the last bastions of masculinity, a boy's club which showcases men's toughness, courage, and strength.
Naturally, feminists have been determined to prove this wrong, getting women into the job to show there's nothing women can't do.
Now clearly, there's no problem with women becoming firefighters, provided they can actually do the work. But it is still mainly men doing the really tough jobs in the fire service as in most other careers, which are dangerous and physically difficult.
Here we have a job that everyone knows sometimes requires real bodily strength and endurance, and now we have to pretend that's not so.
It's putting lives at risk. A senior firefighter described the hazards for his team when they were distracted from their essential task of managing a hazard reduction to orchestrate an ambulance rescue for a young female firefighter on the point of collapse. There are many similar stories.
The firefighting literature shows that retention rates are poor for female recruits, with a survey of volunteer firefighters showing reasons for dropping out, including equipment being too heavy and stowed too high on trucks and problems with their protective gear.
There's also evidence that female firefighters experience higher rates of injury than male firefighters.
Male firefighters regularly cover for female colleagues who can't manage all the jobs—women are exempted from carrying ladders, connecting hoses, and handling other difficult tasks.
Knowing your colleague can't back you up in an emergency doesn't exactly inspire confidence.
I heard from a policeman who was severely beaten by a huge drunk driver he was trying to arrest. His female partner wasn't much help—she'd locked herself safely in the police van.

Interestingly, women in the fire service are doing incredibly well. For example, the latest 2018-19 Champions of Change report on women's progress in firefighting notes that the critical national management body, the National Council for Fire and Emergency Services, is now 65 percent women.
Overall, only about 5 percent of Australian professional firefighters are women and about 14 percent of volunteer firefighters, but this report shows 29 percent of key management are female.
It's also pleasing to note there have been objections to what's happening here from female firefighters.
Many of these women are concerned about all these efforts to bend the rules to admit more women, knowing that will detract from their own achievements.
In the state of Victoria, female union members tried unsuccessfully to take legal action to try to stop gender quotas.
Sensible men and women know that such measures undermine the legitimacy of competent women who work hard and do the job well and create resentment and discontent in the services.
But none of this matters to bosses busily pandering to the gender mob and their lackeys in the media.
Views expressed in this article are the opinions of the author and do not necessarily reflect the views of The Epoch Times.