The Latest on the deadly shooting at a Quebec City mosque (all times local):
8:50 a.m.
Pope Francis has condemned the Quebec mosque attack and is calling for mutual respect among people of different faiths.
Francis conveyed his condolences in writing and in person to the archbishop of Quebec, Cardinal Gerald LaCroix, who was in Rome on Monday and returned immediately to Canada.
In the telegram, Francis says he is praying for those killed and injured, as well as those who responded to the bloodshed. It says "The Holy Father firmly condemns the violence that engenders such suffering, and begs the Lord for the gift of mutual respect and peace."
In a separate statement, the Vatican's office of relations with Muslims is condemning the act of "unheard of violence," saying a massacre at a mosque "violated the sacredness of human life and the respect owed to a community in prayer in a place of worship."
___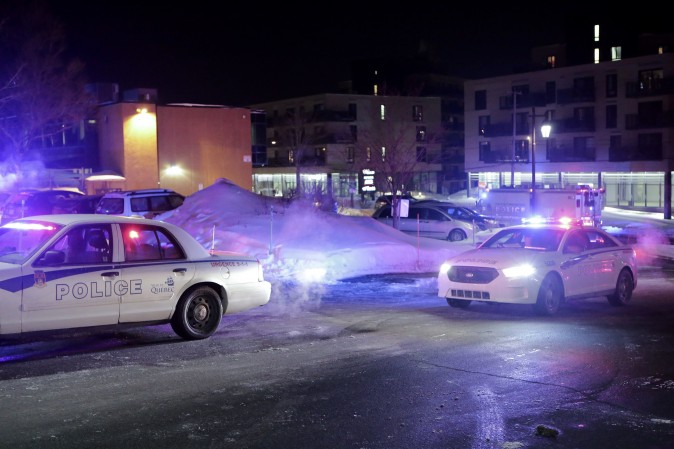 8:40 a.m.
A hospital now says five people are in critical condition following a shooting at a Quebec City mosque in which six people were killed.
University of Quebec Hospital Centre spokeswoman Genevieve Dupuis says 12 others suffered minor injuries in Sunday night's shooting, which Canada's prime minister has called an act of terrorism.
___
5:45 a.m.
German Chancellor Angela Merkel's spokesman is condemning the "despicable" attack at a Quebec City mosque.
Spokesman Steffen Seibert said the German leader was shocked by the shooting during Sunday evening prayers that left six people dead.
Seibert said Monday: "If the killers intended to set people of different faiths against each other or to divide them, they must not and will not succeed in that. We stand in mourning beside the Muslim community in Quebec."
___
5:15 a.m.
French President Francois Hollande has condemned the "odious attack" on a Quebec mosque and offered support for Canada's leaders.
Hollande, whose country has suffered a string of Islamic extremist attacks, said in a statement that "it was the Quebecois spirit of peace and openness that the terrorists wanted to harm" in Sunday's attack.
Hollande, whose country has suffered a string of deadly Islamic extremist attacks, said "France stands at the sides of the victims and their families," and offered solidarity for Quebec Prime Minister Philippe Couillard and Canadian Prime Minister Justin Trudeau.
Six people were killed and eight were injured in the shooting at a Quebec City mosque during evening prayers. Authorities reported two arrests.
___
1:45 a.m.
Quebec Premier Philippe Couillard says there will be solidarity rallies across Quebec on Monday and says the province's people will all be together to express horror.
Couillard says that like elsewhere in the world Quebec has been hit with terrorism. He says it is an act of murder against a specific community but added he doesn't want to talk about the motive until it's known.
Quebec City Mayor Regis Labeaume appeared visibly shaken at the early morning press conference. He says no person should have to pay with his or her life for their race or color.
___
12:55 a.m.
Quebec police say six people were killed and another eight were wounded in a shooting at a mosque.
Christine Coulombe, the Quebec Provincial Police spokeswoman, says some of the wounded were gravely injured. She says the dead were approximately 35 to 70 years of age. Thirty-nine people were in the mosque at the time of the attack. Two people have been arrested.
She says one person was arrested at the scene and the other nearby in d'Orleans.
___
12:45 a.m.
Canadian Prime Minister Justin Trudeau characterized a shooting at a Quebec City mosque as a "terrorist attack on Muslims." Trudeau said in a statement that it is "heart-wrenching to see such senseless violence" and he vowed that Canadian law enforcement "will make every effort to apprehend the perpetrators of this act and all acts of intolerance."
Five people were killed in the shooting during evening prayers Sunday, according to Quebec City Islamic Cultural Centre President Mohamed Yangui. He said the shooting happened in the men's section of the mosque. He said five males had died and he worried that some were children.