Kim Jong-un (Kim 3) recently celebrated the 105th anniversary of the birth of his grandfather Kim Il-sung, founder of North Korea's ongoing Maoist monarchy. A parade showcasing his regime's military hardware was followed the next day by a missile test, which inexplicably failed. The Trump administration, with its announced policy of "maximum pressure and engagement," appears determined to disrupt all future missile launches through cyber measures or interception.
Kim 3 has completed five nuclear tests and accelerated the number of ballistic missile launches. His response to increased UN sanctions in 2013 was to restart a reactor and processing facility and threaten pre-emptive attacks against perceived enemies.
Undeterred, the Trump administration will likely stiffen sanctions and deploy additional military assets to the region, including a second missile defence shield system (THAAD) to South Korea, and a carrier strike group with ballistic missiles intended to intercept intermediate-range launches. Kim's response is for now unpredictable.
The U. K.'s David Alton, co-chair of its All Party Parliamentary Group on North Korea, told a forum of the U.N. Human Rights Council last month that the Kim regimes have committed such egregious crimes against humanity that China should not veto a Security Council resolution referring the issues to the International Criminal Court.
Three years ago, a UN report deplored that human rights violations in North Korea "reveal a state that does not have any parallel in the contemporary world." The chair of that inquiry, Justice Michael Kirby, detailed crimes, including "extermination, murder, enslavement, torture, imprisonment, rape, forced abortions," as well as severe religious persecution, enforced disappearances, and starvation.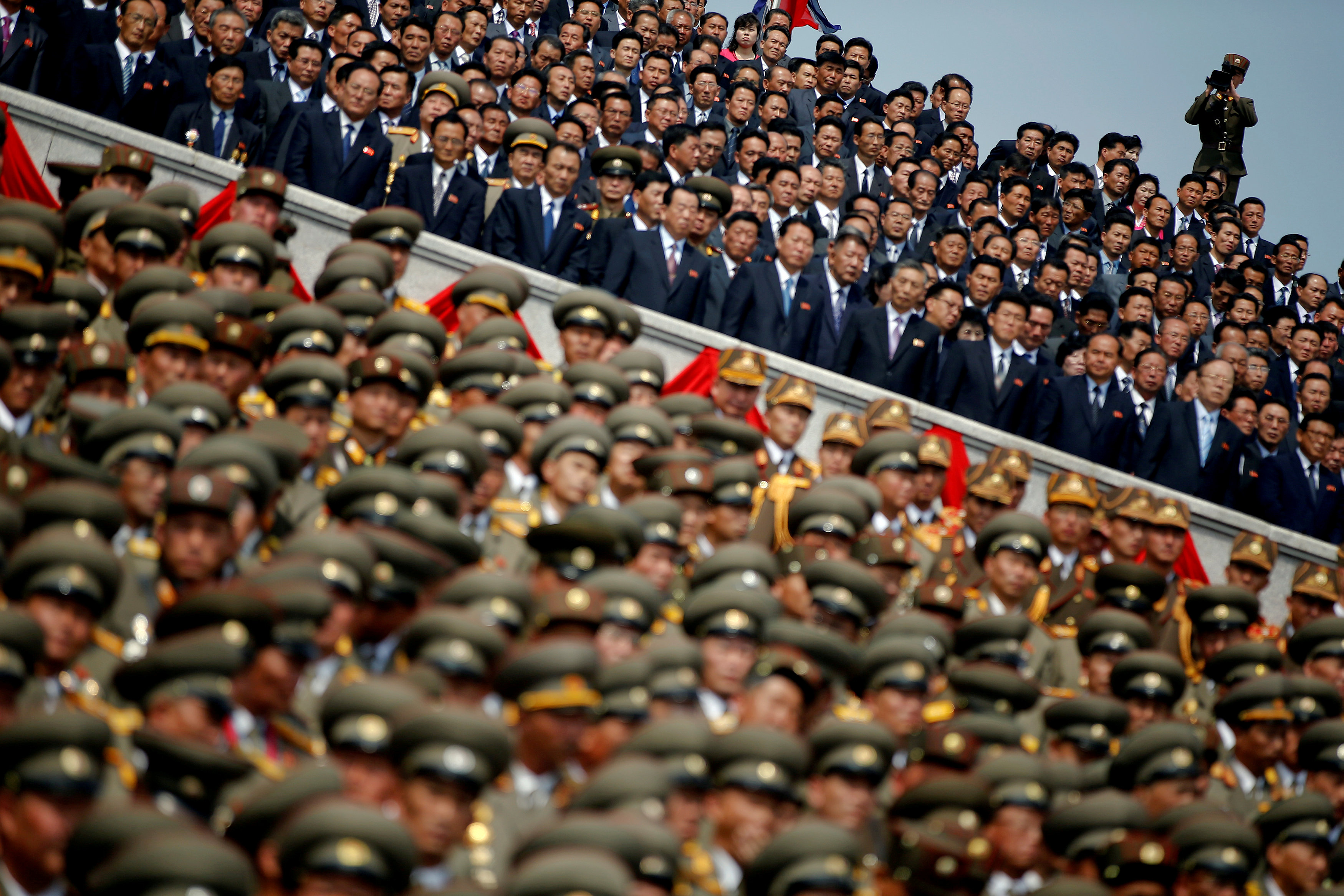 "Unspeakable atrocities" faced by up to 120,000 prisoners in the country's system of prison camps "resemble the horrors of camps that totalitarian States established during the twentieth century." No official or institution is held accountable because "impunity reigns."
Virtually all of North Korea's commerce continues to be with China. After halting trade in response to Kim 3's nuclear explosion in 2016, Beijing quickly reopened the border and Chinese trucks were observed carrying products from bricks to exhaust pipes over the Friendship Bridge to North Korea.
In 2016, the U.S. Dept. of Justice announced criminal charges and economic sanctions against a Chinese company, Dandong Hongxiang Development Co., for alleged support of North Korea's nuclear weapons program by conspiring to evade U.S. sanctions on Pyongyang, violating U.S. regulations against support for designated "weapons of mass destruction proliferators," and engaging in money laundering. The company is suspected of doing more than $530 million in two-way trade with North Korea between 2011 and 2015.
Beijing's refusal to enact sanctions against the Kim regimes dates back to October 1950 when Mao Zedong notified Stalin that China would fight "Yankee Imperialists" and Syngman Rhee's armed forces side by side with North Korean forces. Mao's motive for rescuing Kim Il-sung's tottering regime was to repay the favor he had received from North Korean comrades when CCP forces were in dire straits in the early stage (1946-47) of the Chinese civil war.
Two weeks later, 250,000 of Mao's soldiers crossed the Yalu River and surrounded UN troops in North Korea. In return, the Kim dynasty stood by the Beijing party-state after the 1989 Tiananmen Square massacre and even supported its policies toward Tibet and Taiwan. Beijing and Pyongyang are probably appalled that South Korean "people power" and their rule of law have impeached an elected president for corruption and jailed the head of one of the nation's largest companies.
Beijing-Pyongyang relations have certainly suffered from the recent assassination of Kim 3's older brother, who had been under Beijing's protection in Macau; the execution in 2013 of Kim 3's uncle Jang Song-thaek, China's main interlocutor with the North; and the new round of missile launches. China's ability to influence North Korea nonetheless still far exceeds that of any other nation. It could still exert enormous economic pressure.
This may explain why President Trump hasn't declared China a currency manipulator despite his campaign promise to do so. "Why would I (do that) when they are working with us on the North Korean problem?" he tweeted.
Why would I call China a currency manipulator when they are working with us on the North Korean problem? We will see what happens!

— Donald J. Trump (@realDonaldTrump) April 16, 2017
Trump's Trade Council head Peter Navarro has concluded that approximately 50,000 manufacturing facilities and 20 million related jobs across the United States have been outsourced to China over several decades, mostly through its predatory cheating on trade agreements on a host of issues, including currency manipulation.
The eyes of the world are anxious as they focus on the Korean peninsula, Donald Trump, and Beijing.
David Kilgour, a lawyer by profession, served in Canada's House of Commons for almost 27 years. In Jean Chretien's Cabinet, he was secretary of state (Africa and Latin America) and secretary of state (Asia-Pacific). He is the author of several books and co-author with David Matas of "Bloody Harvest: The Killing of Falun Gong for Their Organs."
Views expressed in this article are the opinions of the author and do not necessarily reflect the views of The Epoch Times.