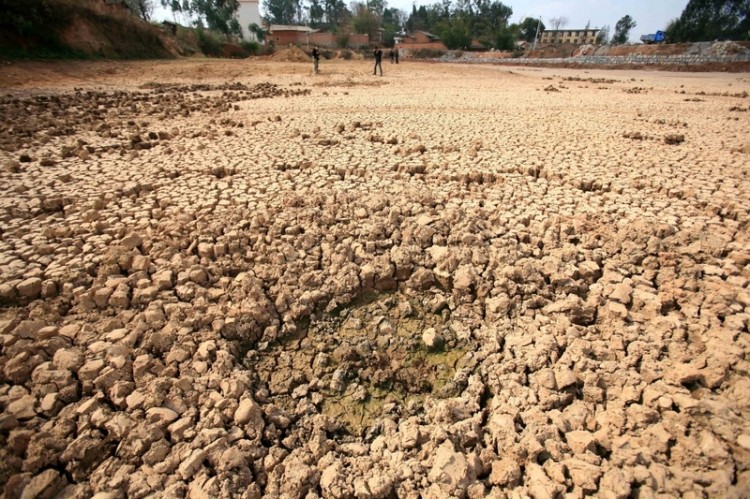 Yunnan, a province in southwestern China, famed for its beautiful mountains and clear waters, is now losing more and more ponds and brooks to what is called "the great drought."
In this, the third consecutive year of drought, over 3 million people and 1.6 million livestock are encountering various degrees of difficulty in accessing drinking water. With little or no rainfall since last winter, the water shortage in some towns and villages is so serious that manufacturing and mining activities have been suspended. The province-wide direct economic loss connected with the drought is currently estimated at US$1.6 billion.
Kong Chuizhu, Yunnan's deputy governor, said in a meeting on Feb. 27 that 273 rivers and 413 reservoirs have dried up, and the total remaining water stored in reservoirs in the entire province was merely 151 billion cubic feet, state-run Xinhua News reported. 
In a Feb. 20 report, Xinhua also said that local agriculture has suffered serious losses, impacting 1.6 million acres, of which 154,390 acres are so devastated that crops are now unusable.
Yunnan is China's second-largest cane sugar producing province. The usual cane planting area is approximately 11 million acres. The prolonged drought has impacted almost 90 percent of sugar cane plantations. So far 988,000 acres, equivalent to 1.5 million tons of sugar, have become a total loss.
The province, famed for its beautiful mountains and clear waters, is now losing more and more ponds and brooks. What makes things worse is that the meager amount of water at the bottom of ponds and rivers is mostly seriously polluted.
A farmer in Luoping County said the river, which passes by their village, used to be very wide. The water was so clean that people could drink it directly. Nowadays, the flow rate is substantially reduced and polluted. The villagers dare not feed it to their water buffalo, not to mention drinking it themselves. 
A villager in Shilin County said it has not rained in his village since last July and he has to purchase water at a gas station in a town five miles away. He has been paying $1.10 for a ton of water, but when adding travel expenses etc., the actual per ton cost is about $4.80, he said.
Read the original Chinese article.