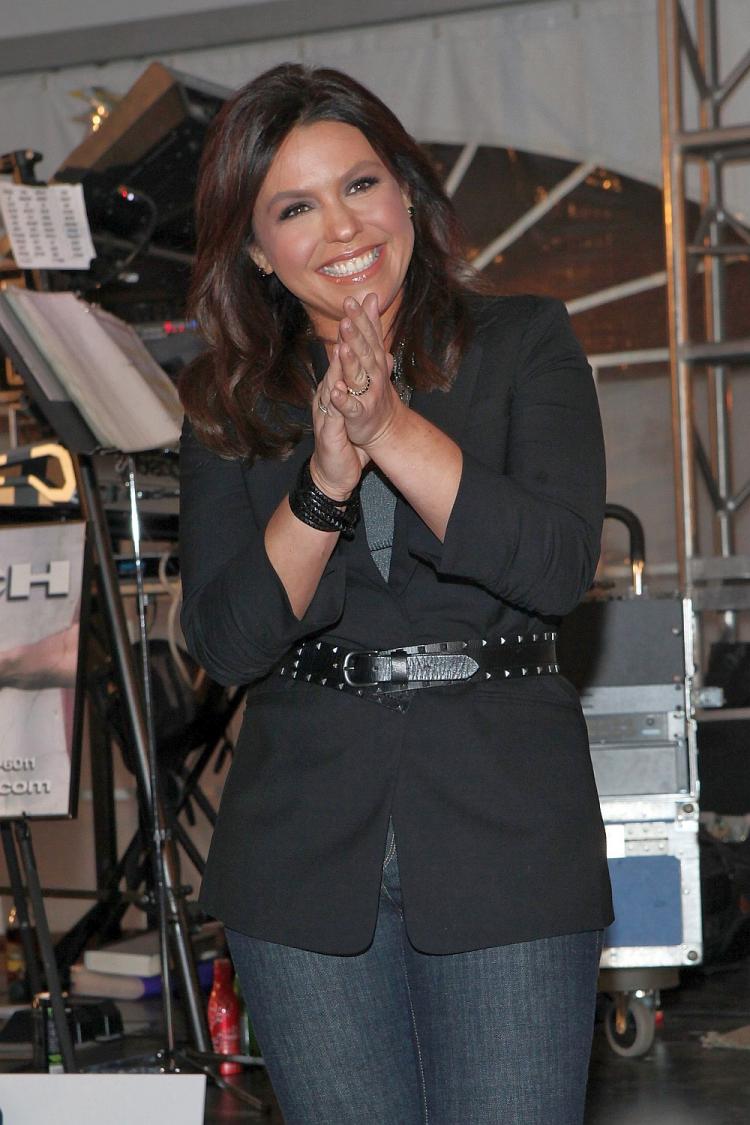 Rachael Ray Helps Town in Ohio
Talk show host Rachael Ray hosted a Thanksgiving dinner for an estimated 2,000 residents of Wilmington, Ohio, on Sunday. Also on hand was Ohio native and pop singer Nick Lachey.
Wilmington has recently suffered a number of economic blows and now has a 15 percent unemployment rate. The local soup kitchen is reportedly serving as many customers in one day as it did in one week a year ago.
Ray reportedly donated supplies and a year's worth of food to the soup kitchen in the struggling town. Mayor David Raizk told the local News Journal that having "The Rachael Ray Show" has been a good morale boost for the city."
Spider-Man Coming to Broadway
The Broadway production of "Spider-Man Turn Off the Dark" is making strides toward its open having finally cast the lead role. Singer Reeve Carney will portray Peter Parker (Spider-Man), according to producer Michael Cohl. The musical will feature a score by Bono and the Edge and will also star Evan Rachael Wood and Alan Cumming. Spider-Man is expected to swing into the Hilton Theatre in 2010.
Dr. Phil Renews Contract
Psychologist and television talk show host Dr. Phil McGraw has renewed the contract for his syndicated show, "Dr. Phil," through the 2013–14 season. The show, which was created by Oprah Winfrey's Harpo Studios and doles out advice to guests in his famous "tell it like it is" style, is now in its eighth season. Since its inception the show has been rated second among all daytime talk shows behind the show that launched the doctor's stardom, "The Oprah Winfrey Show."
Tiffani Thiessen Expecting a Baby
Actress Tiffani Thiessen and her husband, artist Brady Smith, have announced they are soon to become parents. Their first child is due in May. In a statement to People the couple said, "We are over the moon! It's something we've wanted for a long time and we are thrilled that it's actually happening." Thiessen is best known for her role in the late '80s teen television hit "Saved By The Bell," and can currently be seen in the drama "White Collar" on the USA Network.
Yoko Ono Lennon Helps With Hunger
Celebrity activist Yoko Ono Lennon is teaming up with Hard Rock International for the campaign, "Imagine There's No Hunger." The campaign features a specially branded pin, bracelet, and CD sold through The Hard Rock Café.
The CD "Serve4" includes a track by the late John Lennon called "Gimme Some Truth." Sales will benefit the charitable organization World Hunger Year (WHY) which aims to "fight hunger and poverty around the world."
In a statement the organization declared, "100 percent of net proceeds from Hard Rock's campaign will directly benefit WHY and its grassroots partners around the globe that have developed ways to feed children worldwide who are victims of poverty and also teach them farming and entrepreneurial skills for the future."
Compiled by Barbara Danza, Epoch Times Staff