At the G-20 summit in Hangzhou, China, President Barack Obama and Chairman Xi Jinping announced their joint ratification of the Paris Agreement at the 2015 U.N. Climate Change Conference.
With the United States and China on board, 26 countries have now ratified, but the United States and China represent respectively 18 percent and 20 percent of global carbon dioxide emissions—the main cause of global warning.
The final communiqué of the summit was probably also well-received across the world. It calls for fighting tax evasion, boosting international trade and investment, more fiscal stimulus and innovation to boost economic growth, opposing "populist attacks" on globalization, and strengthening support for refugees.
The event was the G-20's 11th meeting and first to be hosted in China. President Barack Obama on arrival was deliberately snubbed by having neither stairs nor red carpet for him to exit by the front door of Air Force One. Compelling him to leave by an auxiliary exit below, Chinese officials then attempted to keep his news corps from observing what was underway. Obama later prudently brushed it off.
More than 200 steel mills in Hangzhou were asked to suspend production during the summit to reduce air pollution temporarily. Many across the world were thus reminded that their own industries have been outsourced to China because its government engages in a host of environmental and other violations of international trade laws.
American academics Greg Autry and Peter Navarro estimate that the United States alone has lost in recent decades about 54,000 factories and 24 million manufacturing jobs mostly to China. (In the early 2000s, 32 U.S. steel companies were in bankruptcy because of unfair competition primarily from China.)
The two business professors say all nations should initiate policies to create fair trade, including defining currency manipulation as an illegal export subsidy and adding it to other subsidies when calculating anti-dumping penalties, and adopting and enforcing environmental, health, and safety regulations consistent with international norms.
Dan DiMicco's book 'American Made' argues for restoring manufacturing to a central role in the American economy and warns that innovation alone will not boost an economy.
Dan DiMicco's book, "American Made," about restoring manufacturing to a central role in the American economy—and by implication to many other economies as well—should convince anyone that his thesis is sound for most nations.
DiMicco was included by the Harvard Business Review in its 2010 top 100 list of the best-performing CEOs in the world, based on what he achieved at Nucor, today the largest American steel company and the largest recycler in North America. Each of its 22,000 employees is a full team member; no one has been laid off in 40 years.

Manufacturing and the innovation that accompanies it, DiMicco says, are indispensable. Noting that every dollar of activity in creating and making things "creates an additional $1.34 in activity in the broader economy," he finds it heartbreaking that manufacturing has dropped from a quarter of the American economy in the 1960s to about 12 percent today.
Manufacturing even today supports 6 million American jobs in services. He wants to raise the number of Americans working in manufacturing from 12 million to 20–25 million over the next decade. Most countries should move in a similar direction.
DiMicco estimates that by 2025 the United States will need to create 30 million jobs to keep pace with its population growth.
Millions of young Americans, he adds, are now either unemployed or underemployed, often "slinging hash or selling Chinese-made tennis shoes someplace." All economies should be encouraged by an array of sensible means, including prudent public investment, to create millions of jobs building, making, and innovating.
The book properly warns that innovation alone will not boost an economy because in the past decade, while about 6 million U.S. manufacturing jobs have disappeared, employment in information technology, telecom, electronics, and professional/technical services has remained essentially flat. Many American companies are moving their research labs to China because one invents where one builds.
Finally, DiMicco stresses that the No. 1 job killer in manufacturing is currency manipulation, which provides massive cost advantages to predatory foreign competitors. By the 1990s, China's undervaluing of its currency was causing the loss of millions of American and other jobs. Systemic corruption, bribery, and blackmail all added to the trade deficit with China. One of the book's key proposals is for America to invigorate its trade law enforcement.
The current $475 billion U.S. trade deficit is certainly catching public attention in this election year. (Canada's trade deficit with China was $45 billion in 2015.) DiMicco's call is for American political and business leaders to focus on the real crisis they face: the 30 million jobs the United States needs to create by 2025 in part to close the trade and budget deficits. The other G-20 members, including Canada, and many other countries should do likewise.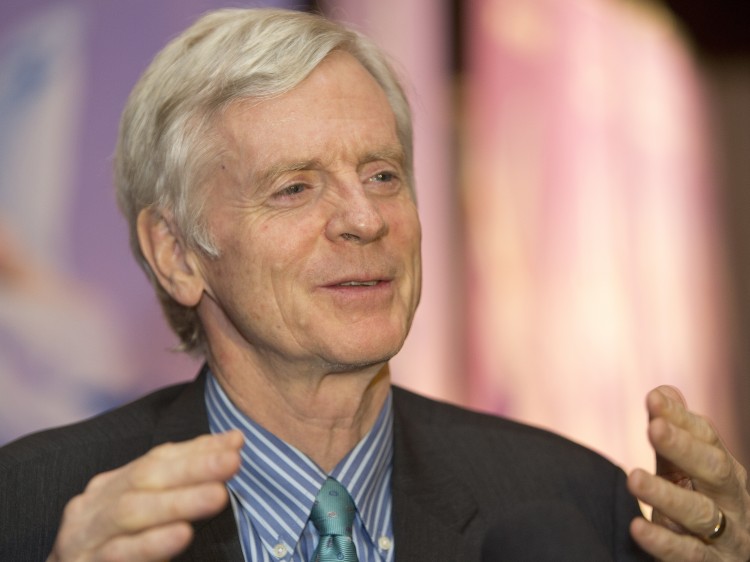 David Kilgour, a lawyer by profession, served in Canada's House of Commons for almost 27 years. In Jean Chretien's Cabinet, he was secretary of state (Africa and Latin America) and secretary of state (Asia–Pacific). He is the author of several books and co-author with David Matas of "Bloody Harvest: The Killing of Falun Gong for Their Organs."
Views expressed in this article are the opinions of the author and do not necessarily reflect the views of The Epoch Times.