Commentary
The Turner Classic Movie Film Festival (TCMFF) in April 2022 was my first experience covering a large event as a member of the media. I saw fourteen films during the four-day event, out of which I was hard-pressed to choose my favorite. Nevertheless, I can now confidently say that my favorite experience of the festival was "The Flame and the Arrow" from 1950.
Select films screened at the festival were categorized as Special Presentations, and I tried to see them all. This movie was considered special because the print they screened was in the original Technicolor. Although all old color movies are described as Technicolor in their credits, most modern prints' color schemes have changed over the years after numerous transfers. It's rare to see the original Technicolor palette. This was the first time I've seen a film in true Technicolor. I noticed the tones, although still very vibrant, were slightly more delicate and dreamier, giving a magical glow to the story's medieval locales.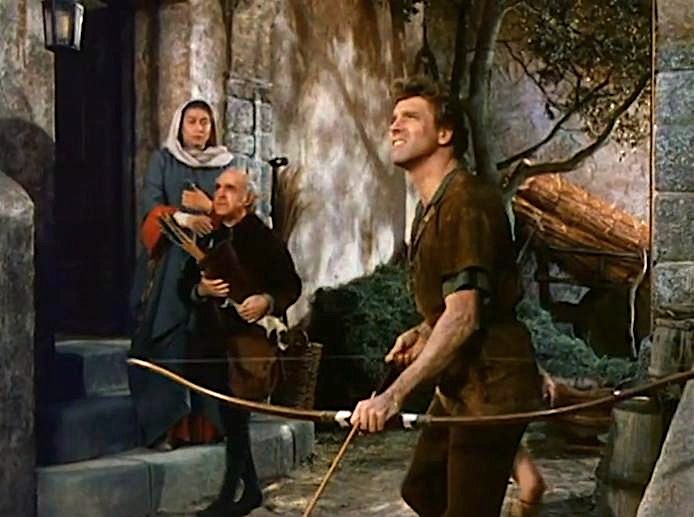 Although I had made note of most films that would be introduced by noteworthy people, I wasn't aware of who was introducing "The Flame and the Arrow." To my delight, the presenters were Ben Burtt, the Lucasfilm and Pixar sound designer behind such famous sound effects as Darth Vader's breathing and ET's voice, and Craig Barron, the Oscar-winning visual effects supervisor who revolutionized matte-effects photography after being hired by Industrial Light and Magic at eighteen.
These two gentlemen, who share an interest in and appreciation for Golden Era movies, have presented at previous TCM events and on the channel. Using the screen to show photographs and footage that illustrated their background stories about the film and its actors, they gave a thoroughly entertaining presentation long before the movie began. Little did I know the best was yet to come!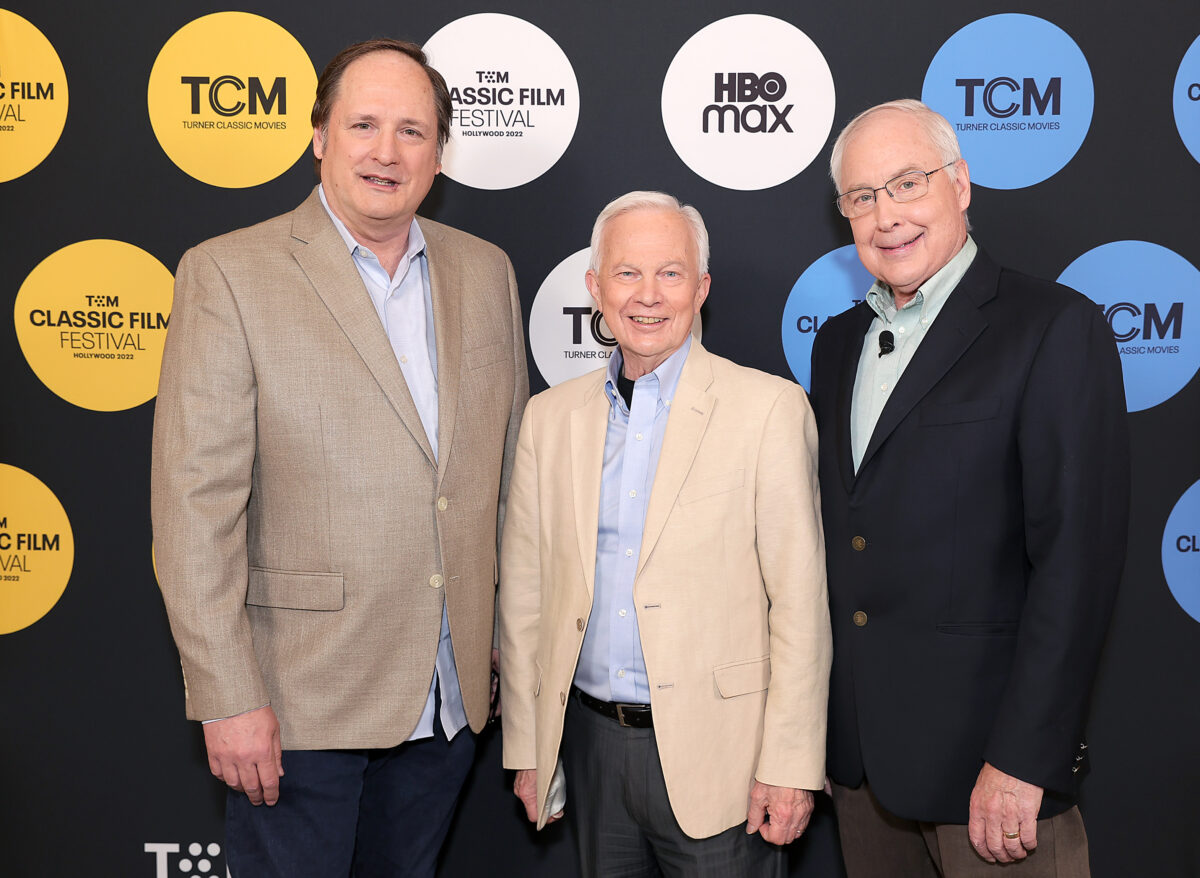 Sword Fights, Matte Paintings, and Child Stars
Years before seeing a George Lucas film, I heard about the sound designer who loved the arrow sound effect from "The Adventures of Robin Hood" (1938) so much that he reused it in "Star Wars." During this presentation, I was delighted to realize Ben Burtt is that very man! Using strategically timed sound effects to accompany the presentation, Burtt explained how "The Flame and the Arrow" reused sound effects from earlier Warner Bros. pictures. The distinctive arrow sound effect from "Robin Hood," which expert archer Howard Hill worked closely with the sound department to create, was reused in this motion picture, much to Mr. Burtt's delight. All the sword fights in this latter-day swashbuckling drama also feature very loud clashing sounds. Burtt explained these sequences, like the sword fights in 1930s Warner Bros. swashbucklers, were dramatized with overdubbed, exaggerated metallic sound effects.
Craig Barron also shared his impressive knowledge of Hollywood history, specifically regarding matte paintings used in "The Flame and the Arrow" and other motion pictures of the era. Before this presentation, I had never even heard of matte paintings, so I learned about a whole facet of classic filmmaking! Before the advent of CGI, green/blue screens, and The Volume—an immersive LED screen soundstage—to create virtual environments, filmmakers used matte paintings. Artists rendered these handmade paintings to serve as backdrops for credits, widen a set's scope, or turn a dusty Burbank backlot into a wonderland. Barron brought the concept to life on the screen by showing pictures of crew members testing original matte shots. I was amazed when he showed a few scenes from the film we were about to watch with and without the matte paintings, which transformed boxy soundstages into lofty realms. Since then, I've been on the lookout for the use of matte paintings in other films, and their transformative powers are astounding! It's no wonder one director papered his living room with discarded matte paintings from his films, which would have been thrown away otherwise.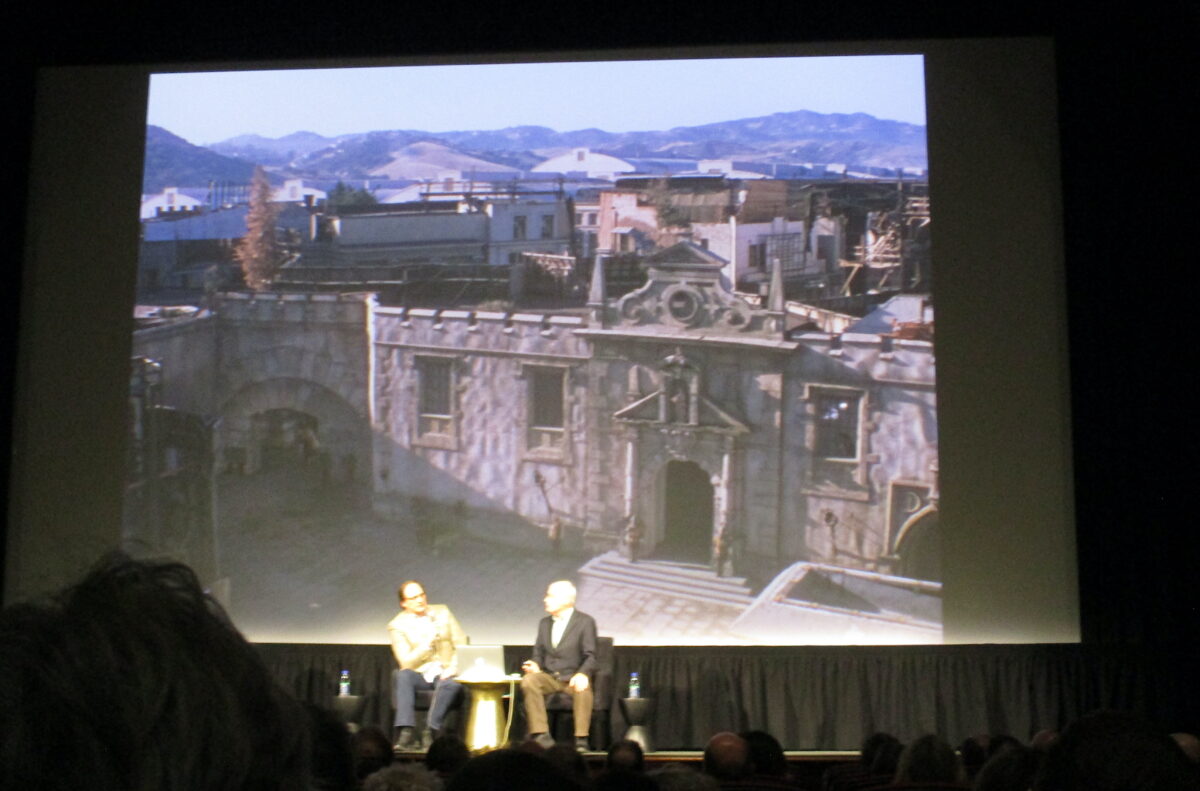 Just when I thought the presentation couldn't get any better, Messrs. Burtt and Barron began talking about someone who could shed more light on the film. As my mind started reeling, Gordon Gebert walked onto the stage! I immediately recognized the trim eighty-year-old gentleman as the child actor I've long admired in "A Holiday Affair" (1949). I knew he was in "The Flame and the Arrow," but I had no idea he would be at the screening! He talked about his experiences as a child actor, like going to the Warner Bros. schoolhouse with seventeen-year-old Debbie Reynolds as his only classmate, sneaking onto the backlot to play on his day off, and grudgingly taking dancing lessons for a scene in this film. He did his best to answer questions about "The Flame and the Arrow," although it's challenging for anyone to remember his experiences as an eight-year-old over seventy years later. For example, he surmises that his widely discussed smile in one scene was not a break from character but an intentional reaction. Also, he believes his uncredited archery coach was Howard Hill, although he can't remember his name for sure. It was such a pleasure to see this amazing child actor as a dapper older gentleman, full of spirit, wonderful memories, and all the charm that won America's heart when he was a boy.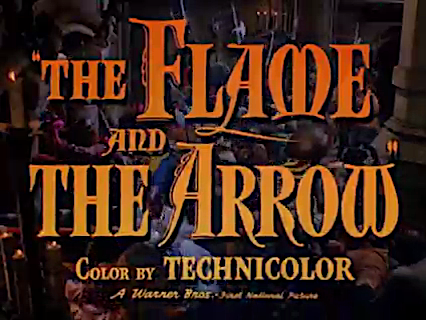 A Swashbuckling Revival
During the highly entertaining presentation, I almost forgot I was there to see a movie! Although the star-studded preshow was enough to make a film pale in comparison, "The Flame and the Arrow" lived up to the challenge. It was even more exciting because of the extra information I learned about its production. This is a great swashbuckling film for people who don't necessarily enjoy that genre. While packed with action, it lacks the nerve-wracking peril and violence of "The Adventures of Robin Hood." I look forward to rewatching it with my family at home.
This film is set in Lombardy, Italy during the 12th century. Burt Lancaster plays Dardo Bartoli, a brave mountain man who longs to free the region from its tyrannical Hessian conquerors. He brings his young son, Rudi (Gebert), to the town to see his estranged mother (Lynn Baggett), who left her husband and son years ago for the region's Hessian overlord, Count Ulrich (Frank Allenby). When Dardo shoots Ulrich's prized hunting hawk, he enrages the count and gets shot in the shoulder. To save his father, Rudi distracts the guards by letting himself get caught. While the boy is unwillingly trained to be a little gentleman at the palace, Dardo and his band of outlaws plot to rescue him. Dardo's constant companion and best friend is Piccolo (Nick Cravat), a mute blacksmith. When Dardo and Piccolo sneak into the castle to rescue Rudi, they kidnap the count's niece, Lady Anne (Mayo), to blackmail her uncle. Back at the camp, Dardo treats Anne very harshly, yet the unlikely couple's fighting may be fueled by another emotion.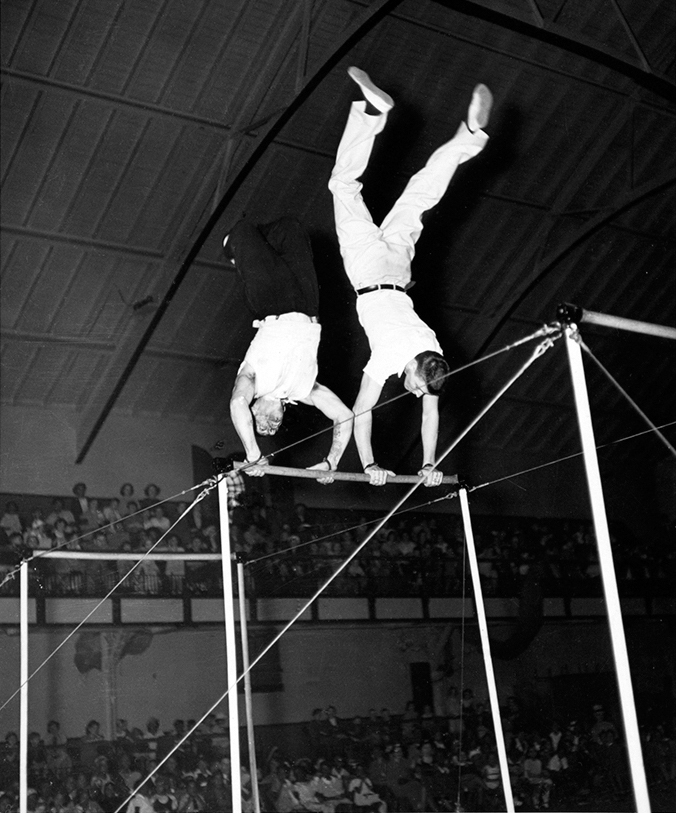 This movie was Burt Lancaster's first film under contract to Warner Bros, and it was structured to highlight the rising star's unique talents. Before becoming an actor, Lancaster performed as a circus acrobat with his childhood friend, Nick Cravat. During their presentation, Burtt and Barron showed pictures and home movies of the young men practicing their acrobatic tricks with makeshift equipment in their backyards. While Lancaster had to quit the duo in 1939 because of an injury, Cravat remained in the circus. Eleven years later, Lancaster was professionally reunited with his boyhood buddy in this movie. Since Cravat couldn't disguise his strong Brooklyn accent, which would have seemed out of place in medieval Italy, his part was written as a mute. Cravat's experience as a mime artist made Piccolo a very compelling character without dialogue, his muteness adding depth to the role. This movie made use of the duo's acrobatic talents by showing both Lancaster and Cravat doing astounding circus stunts without using doubles.
An Unforgettable Experience
I enjoyed the whole TCMFF, but the screening of "The Flame and the Arrow" was a truly unforgettable experience. Seeing those three legends onstage was a moment I'll never forget. I also had the pleasure to meet and talk with the gentlemen afterwards, which was a real treat. They all were cordial, warm, and funny out of the spotlight as well as in it. I hope to interview all three of them soon.
This was unequivocally my favorite presentation of the festival because it was relevant to the film, illustrated by pertinent media, informative about the film being screened, full of Hollywood history, and thoroughly entertaining. You wouldn't think two technical innovators would be diverting presenters, but Ben Burtt and Craig Barron make a fabulous lecture team or even comedy duo! They were especially funny when being completely serious while wearing orange clown noses like those used as disguises by Dardo and company in the film. If you ever get the chance to see a presentation given by Burtt and Barron, either at a live event or on the TCM channel, don't miss it!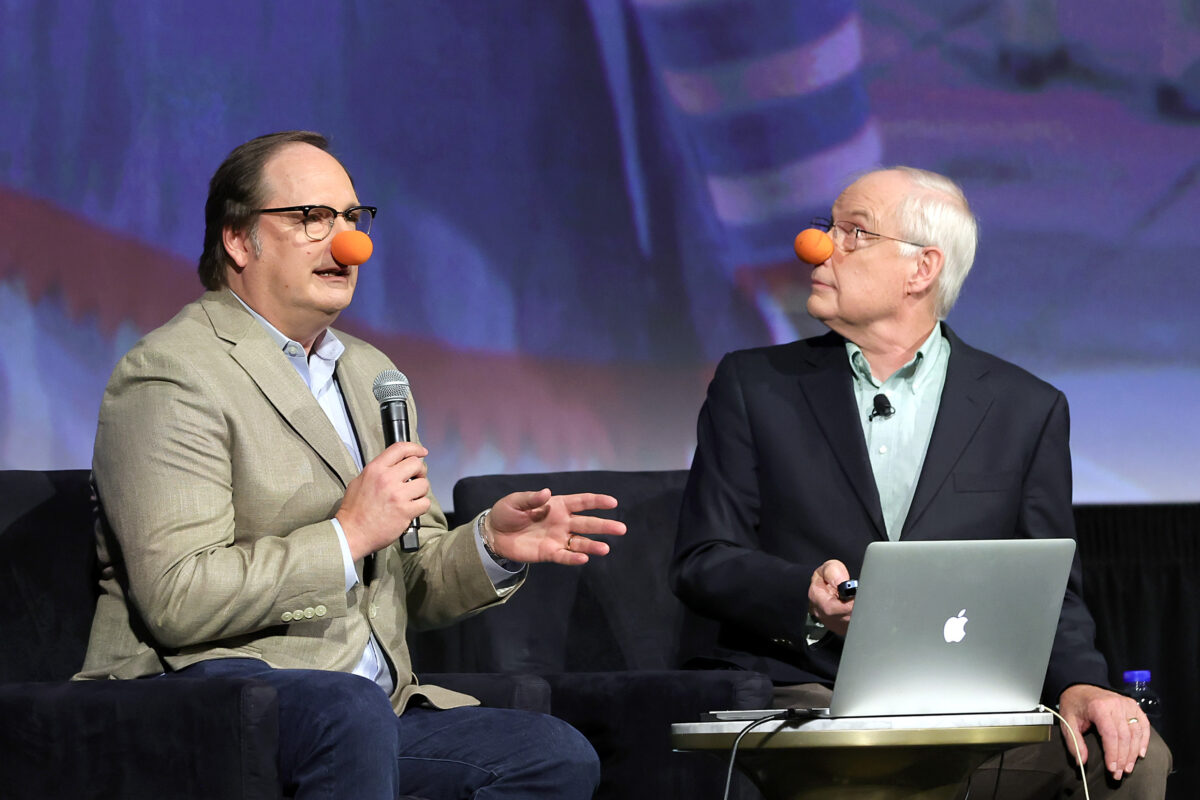 Even without all the fun and glamour of a special event, "The Flame and the Arrow" is a very enjoyable movie that I highly recommend. Some costumes, sets, and sound effects may have been reused from earlier films, but the talented performers gave them new life. It's not surprising this movie earned $6 million, making it Warner Bros' most successful picture of the year. If you like sword fights, acrobatics, archery, Technicolor glamour, and costumed romance, you'll love "The Flame and the Arrow."