WASHINGTON—A roundtable focusing on religious persecution in China set the stage on July 23 for the U.S. Department of State's first ever Ministerial to Advance Religious Freedom. The ministerial signals that the Trump administration intends to place religious freedom at the center of its foreign policy agenda.
Greg Mitchell, co-chair of the International Religious Freedom Roundtable in Washington, hosted the event, which he described as the "kick off" for the ministerial. Dozens of human rights experts and advocates, as well as victims of religious persecution in China, shared their views and personal stories.
Mitchell noted that similar stories of people being tortured and even killed for their religious beliefs have been shared over and over again in the past, but he said things will be different this time.

"It was always the pattern or habit for the government to not put pressure on those governments that are partners, " said Mitchell.
"We want to change that. The 'Ministerial to Advance Religious Freedom' sends a message to the world, to the governments of the world, that we are building this global religious freedom movement now.
"Even if you are an economic partner, a national security partner, a partner in the war on terror or nuclear nonproliferation, the U.S. government wants you to be a partner on this now, too, to advance religious freedom."
In an interview transcript released by the State Department, Secretary of State Mike Pompeo said, "This is a big deal, the first time the State Department has ever hosted such a gathering. "
"We'll have folks from over 80 countries, 40-plus foreign ministers, all kinds of religious groups and NGOs all coming together on a common theme, which is that the advancement of religious freedom matters to every individual in every country," Pompeo said. "The human dignity, human rights attached to religious freedom, I feel personally, and I know President Trump does as well.
"We want this administration to make religious freedom a true priority for the United States State Department in every interaction we have with our foreign partners."
Sam Brownback, the U.S. ambassador-at-large for international religious freedom, expressed the same idea at the U.S. Holocaust Memorial Museum, as it launched a week of activities to advance international religious freedom, on July 23.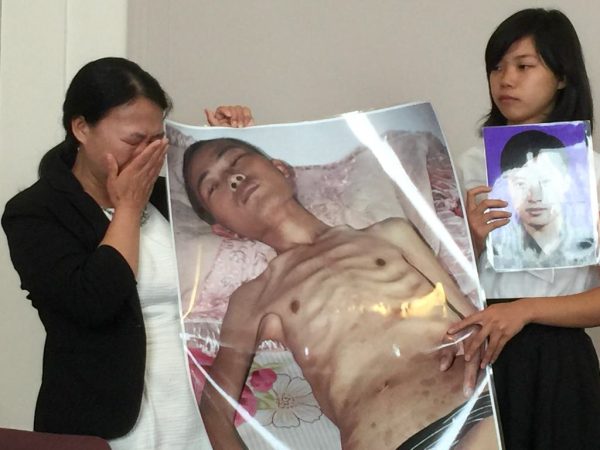 "This is something in the DNA of the United States. We believe in this in our very soul. We believe this is a God given right," Brownback told NTD, a part of Epoch Media Group. "I am delighted that this administration has made this a top foreign policy priority. And we are going to push it, and push it aggressively."
From July 24 to 26, a wide range of events will be held at the State Department and other locations in Washington, with senior U.S. officials providing an overview of foreign policy goals in relation to international religious freedom.
Civil society groups, including religious leaders and survivors of religious persecution, will convene to tell their stories. More than 175 civil society representatives and more than 100 religious leaders from around the world will participate.
At the July 23 roundtable, Falun Gong practitioner Chi Lihua and her daughter, Xu Xinyang, were some of those who came to tell their stories of religious persecution.
They held up before and after photos of Chi's husband and Xu's father, Xu Dawei, who was tortured while in custody in China. While Chi was pregnant, Xu Dawei was sentenced to eight years for practicing Falun Gong.
When he was released after eight years, he met his daughter for the first time. But only 13 days later, he died due to the severe torture he had suffered in prison. Xu Xinyang is now 16 years old.
For Mitchell, "the days of the U.S. government doing nothing are over."