Commentary
5G is finally cleared for take off.
"Federal safety regulators say they have cleared the way for Verizon and AT&T to power up more towers for new 5G service without causing radio interference with airplanes."
After being stuck in a holding pattern because of concerns about the radio spectrum that 5G uses was deemed too close to the spectrum range used by planes' radio altimeters which calculate altitude in low visibility conditions. The FAA has now cleared 90 percent of the U.S. fleet to operate around these towers.
(As a side note: the study that showed 5G frequencies could potentially interfere with a plane's technology was done in 2020. Why on earth it took them until now to get the issue resolved is beyond me.)
But I digress.
5G is now coming into its own. And that's going to create opportunities for investors.
An Absolute Must in Today's Tech-Driven World
5G is the fifth-generation mobile network.
Back in the 1980s, when cell phone users were carrying around phones the size of bricks and paying $10 a minute to make a call with a terrible connection, the first generation of mobile connectivity was an amazing and curious new technology.
Network connectivity continued to evolve, and cell phone hardware shrunk to a (somewhat) more manageable size. Suddenly more and more people were carrying them in their pockets.
By the turn of the millennium, 3G networks were delivering not only voice but also data. Piggybacking on that, in 2007 Apple introduced its iPhone—a "smartphone" handset that would put the entire internet in your palm. Soon everyone was trading up.
The introduction of 4G addressed all the added traffic by creating "mobile broadband." Now users could actually watch movies and play games on their phones.
In addition to all the phones, pretty much everything else got smart too. A phenomenon known as the Internet of Things (IoT) began connecting everything and anything—from jet engines to refrigerators—to the internet via wireless networks.
And the 4G superhighway was again getting jammed with traffic.
Then came 5G. This latest technology promises speeds 10-times faster than its 4G cousin. Downloading a movie on a 4G network used to take roughly a minute. A 5G connection will make that almost instantaneous.
The bottom line is that 5G networking is now indispensable in today's modern connected world.
What Does This Mean for Wireless Carriers?
You might think the launch of 5G would be a major win for telco providers. That companies like Verizon and AT&T should benefit handsomely.
But that's not the case as I see it.
If you look at a chart of Verizon, you can see that 22 years later the stock has not been able to reach its pre-tech crash highs. In fact today it's still trading below its highs from 2018.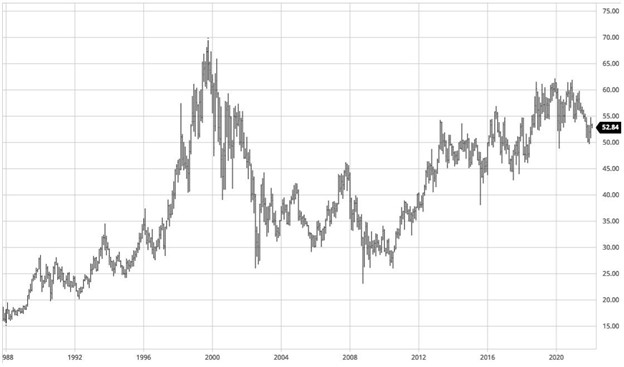 AT&T has been doing even worse…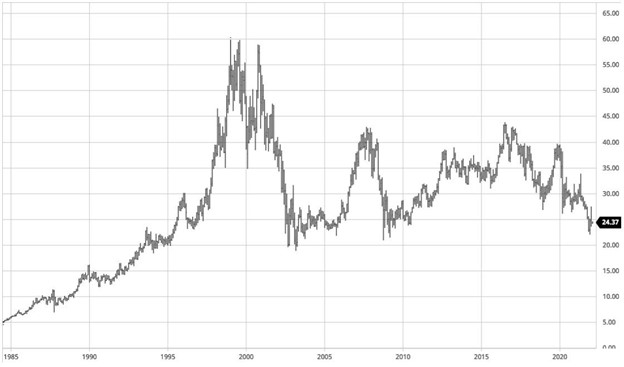 This basically tells me these two companies haven't figured out how to make money.
AT&T's dividends stink. Verizon may at least be better than keeping your money in cash but that's about it. So what can an investor do to take advantage of this new technology?
In my opinion, there are two ways to go. You can approach this new technology from the hardware angle—looking at cell phone manufacturers like Apple. Or you can approach it from the side of the businesses that actually maintain the networks—companies like American Tower (which operates 180,000 cell towers around the world).
There's actually a third option as well—the software side. The real beneficiaries from a blazing fast network are going to be the software companies that are developing unique apps that take advantage of the added speed and bandwidth. Those should shine in the future but don't expect VZ or ATT to change course anytime soon.
Views expressed in this article are the opinions of the author and do not necessarily reflect the views of The Epoch Times.