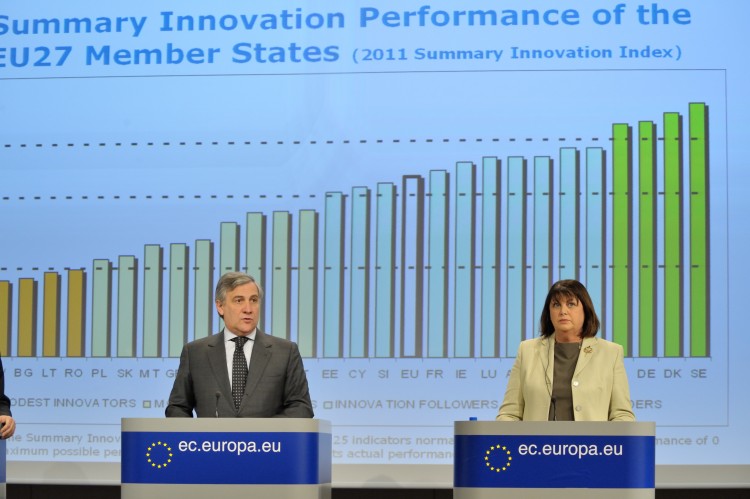 DUBLIN – The rate of increase of innovation performance growth among Member States in the European Union (EU) is slowing down.
This was one of the findings of the Innovation Union Scoreboard 2011 which was released this week. 
Another worrying finding was that the EU is not closing the persistent gap with global innovation leaders US, Japan and South Korea. The largest gap for the EU27 remains in terms of private sector innovation.
It is not all negative news because the report did find that almost all Member States have improved their innovation performance and the EU still maintains a considerable lead over emerging economies such as China, Brazil, India, Russia, and South Africa.
Within the EU, the Nordic countries maintain their dominance with Sweden topping the table closely followed by Denmark, Germany and Finland.
According to European Commission Vice-President Antonio Tajani, "This year's results are a clear warning that more efforts to boost innovation are needed. If we want to close the gap with our main economic partners and to overcome the current crisis, innovation deserves all our attention. In particular, I count on enterprises as they have proven to be the key to success in innovation. But successful start ups in other parts of the world show that some lessons still need to be learnt in Europe." 
Commissioner for Research, Innovation and Science, Máire Geoghegan-Quinn reiterated Vice-President Antonio Tajani when she called for a more balanced national research and innovation system from EU countries. "The Scoreboard also identifies a gap with the US in terms of top-end research. We urgently need a European Research Area to inject fresh competition, generate more excellence, and attract and retain the best global talent," said Máire Geoghegan-Quinn.