News Analysis
The U.S. government recently accused China of developing "brain-control weaponry," a type of technology that raises major ethical issues when adopted by a totalitarian, genocidal, and territorially aggressive regime.
The U.S. accusation, reported by the Financial Times, was part of the export blacklisting of China's Academy of Military Medical Sciences, along with 11 affiliated biotechnology research institutes, for allegedly assisting the Chinese military in development of the weapons.
The Academy has reportedly researched "brain-machine interface" or "brain-computer interface" technologies, known as BCI, including through implantation of electrodes into the brains of live monkeys like macaques.
According to Elsa Kania in a 2020 National Defense University publication, "researchers at the Academy of Military Medical Sciences are using macaques to examine techniques for brain-machine interfaces that involve the implantation of electrodes in the brain."
The U.S. Commerce Department blacklisted the Academy and affiliated research institutes on Dec. 16.
According to U.S. Commerce Secretary Gina Raimondo, "China is choosing to use these technologies to pursue control over its people and its repression of members of ethnic and religious minority groups."
The Financial Times quoted a senior U.S. official saying that China used new biotechnologies to attempt military applications of the future that include "gene editing, human performance enhancement [and] brain machine interfaces."
Chinese companies that use drones, facial recognition, cybersecurity, artificial intelligence, and cloud supercomputing for surveillance in the Xinjiang region of China are also on the new U.S. blacklists, including those of the Treasury Department.
Major U.S. investors—including Accel, Kleiner Perkins, GGV Capital, Glade Brook Capital Partners, Qualcomm Ventures, Silver Lake, and Tiger Global Management—according to the Financial Times, will be required to liquidate investments in blacklisted companies.
U.S. companies that research BCI technology are also linked to China.
Blackrock Neurotech, associated with Palantir's Peter Thiel, and Elon Musk's Neuralink are two leading U.S. companies seeking to advance BCI technology. Neurotech got $10 million of investment backing in May, and claims to have already implanted 28 devices in American, Chinese, and European patients.
Neuralink has experimented with a macaque monkey named "Pager" who plays Pong on the computer using his mind, in exchange for drops of banana smoothie delivered through a steel tube. The company made a video of the "Monkey MindPong" experiment, which is available to the public.
Musk's fortune is tied to Tesla Inc., which is dependent upon manufacturing and revenues from China. Tesla built over 133,000 vehicles in China in the third quarter of 2021. The company has garnered approximately $3 billion in quarterly revenues from China since the fourth quarter of 2020.
While China is behind on BCI technologies, Beijing has a stated goal of "dominating" biotechnology and artificial intelligence technology development globally. Toward this end, Beijing in approximately February banned the export of research primates, which are critical to the advancement of BCI science.
According to Slate magazine in November, "control of the primate research market lends itself to China's quest for technology transfer, as foreign entities who wish to do experiments with Chinese primates will have to ship their technology and expertise to China. Institutions and companies on the cutting edge will effectively be teaching China how to close the innovation gap."
The CCP's 'Brainwashing' of Uyghurs and Falun Gong
The Chinese military's brain control research is particularly concerning given its history of genocide and brainwashing of minority populations.
U.S. and other governments have recognized that a genocide, according to the U.N. definition, is ongoing against the Uyghur minority in China. Genocides are also arguably ongoing against Falun Gong adherents and Tibetans.
The Beijing regime has detained over 1 million in "reeducation" detention facilities in an attempt to remake its religious and ethnic minorities into "good" communists, according to researchers and U.S. government officials. The latter have estimated as many as 1 to 3 million Uyghurs in reeducation camps over the past several years, though academic opinion has settled on a number between 1 and 2 million.
Dr. Adrian Zenz, one of the most prominent researchers of the Uyghur genocide, has analyzed evidence from CCP sources that Uyghurs undergo "brainwashing" at the reeducation camps.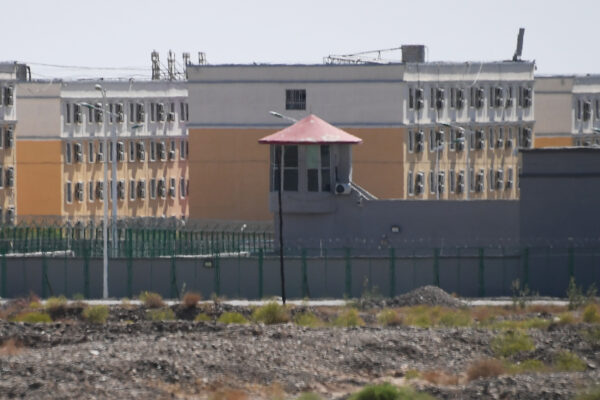 According to Zenz in a peer-reviewed 2019 paper, "Vocational Training Internment Camps" engage in forced labor. He has documented Chinese regime statements that claim to "'wash clean the brains' of those interned in them." Zenz stated, "Those subjected to such coerced brainwashing are referred to as 're-education persons'—the same term used for detained Falun Gong practitioners."
Zenz obtained a classified Chinese document that "states that detainees who show signs of resistance are to be subjected to 'assault-style re-education' efforts."
A 2017 work report from Xinyuan County's justice bureau "puts this in … drastic terms," according to Zenz. "Under the heading 'centralized transformation through education work,' the report states that re-education work must 'wash brains, cleanse hearts, support the right, [and] remove the evil' (xinao jingxin fuzheng quxie 洗脑净心扶正祛邪)," Zenz noted.
A London-based tribunal found on Dec. 10 that CCP General Secretary Xi Jinping is directly responsible for the Uyghur genocide.
The Ethical Risks of 'Brain Control' Technologies
The combination of the Chinese military's research into "brain control" and the regime's genocidal "brainwashing" should be taken more seriously by ethicists and government officials in the United States, Europe, and among Asian allies.
According to bioethicists Marcello Ienca (University of Basel in Switzerland) and Pim Haselager (Radboud University Nijmegen in the Netherlands), brain-control interfaces can be used to "hack the brain" in a way that violates the individual's privacy and agency. Ienca is currently at the École Polytechnique Fédérale de Lausanne.
BCIs provide a brain-machine interface, either through direct implantation of electrodes in brain tissue, or through more temporary wearable technology that keeps the electrodes outside the intact skull, according to the Ienca-Haselager paper, which is peer-reviewed and appeared in the April 2016 issue of Ethics and Information Technology.
BCI is designed to assist patients who suffer from neurological diseases that impair sensory-motor functions. BCIs can help them, for example, communicate to a robotic arm that provides the patient with increased control of their environment.
BCIs are also being researched by the U.S. Defense Advanced Research Projects Agency (DARPA) for military applications, such as more rapid and efficient human operational control over a fighter drone.
But Ienca and Haselager cautioned in the paper, "Hacking the brain: brain–computer interfacing technology and the ethics of neurosecurity," that the ethical risks of BCI technologies are underexplored relative to their rapid development.
"Neurocrime" and "brain-hacking," the researchers argued, including "illicit access to and manipulation of neural information and computation," are a major risk to the individual's "neurosecurity" such as individual privacy and agency.
At risk are the most basic qualities of individuality, including consciousness, volition, perception, thinking, self-identification, judgment, language, and memory. Ienca and Haselager argued that "misusing neural devices for cybercriminal purposes may not only threaten the physical security of the users but also influence their behavior and alter their self-identification as persons."
Ienca and Haselager identified not only BCIs as "particularly critical" given the potentiality of neurocrime and the function of BCIs for "reading of brain activity," but also devices known as "neural stimulators." This latter category of machine-brain interface includes devices for "deep brain stimulation (DBS) and transcranial direct-current stimulators (tDCS)."
Ienca and Haselager rightly highlighted the risks of brain readers and stimulators, and argued that "ethical safeguards against these risks should be considered early in design and regulation."
Ethical safeguards, regulation, and emerging international law will be particularly the case as Beijing disregards ethical standards in its attempt to increase its control of the individual within the expanding boundaries of what the CCP considers to be "Greater China."
Views expressed in this article are the opinions of the author and do not necessarily reflect the views of The Epoch Times.