The Economic Importance of Travel and Tourism
March 25, 2011 3:04 pm Last Updated: October 1, 2015 5:16 pm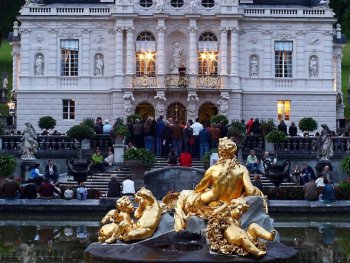 The travel and tourism (T&T) industry is the bread and butter and among the most important revenue sectors worldwide, but most of all for developing countries.
"Indeed, Travel & Tourism remains a critical economic sector worldwide, with the potential to provide economic growth and development internationally," explained the World Economic Forum (WEF) in its recent "Travel & Tourism Competitiveness Report 2011."
The T&T sector provides foreign currency earnings and jobs, especially in areas that have little or no industrial growth. A downturn in the T&T sector leads to an economic domino effect not just in a given country and the T&T industry but also worldwide, because of the many indirect and direct support functions.
"Travel & Tourism creates jobs, generates exports, and stimulates investment. At a time of post-crisis global recovery, the industry is in a unique position to power sustainable growth around the globe, whether in mature economies emerging from recession or young emerging markets in the throes of rapid development," said David Scowsill, president and CEO of the World Travel & Tourism Council (WTTC) in a March press release.
Worldwide, the T&T sector is predicted to employ 99 million people, about 3.4 percent of the world's total employment by the end of 2011. By 2021, it is forecasted that the employment numbers will reach around 120 million, according to WTTC.
In 2011, the above employment figures will increase to more than 259 million, rising by 2.3 percent when including employment figures of indirect support positions. Estimated direct and indirect employment numbers will reach 324 million by 2021.
In the United States alone, earnings by the T&T industry are expected to reach $1.2 billion in 2011, and increase to $1.8 billion by 2021. In the United States, investors will pump $652 billion into the industry in 2011, which is around 4.5 percent of total U.S. investment, and by 2021, investment will reach $1.5 billion.
"While economic growth going forward faces many challenges, the Travel & Tourism industry is still expected to be one of the world's fastest growing sectors," predicted the World Travel & Tourism Council in a March press release.
Travel & Tourism Industry Perking Up
"Following a period of severe economic turmoil, the travel and tourism industry is now beginning to see positive signs of recovery, especially in the emerging markets of Latin America, [and] Asia," said Robert Greenhill, chief business officer at WEF in a recent press release.
WEF calls its predictions, after careful research and analysis, a "cautiously optimistic outlook."
The travel industry is perking up, although WEF qualifies its statement in its Executive Summary, by stating that there are many intracountry barriers, such as government regulations, fear of terrorism, ineffective marketing tactics, and other issues that have an impact on the T&T sector.
The WEF, to assure a qualified, balanced, and well-researched opinion, looked at 14 factors/pillars (a pillar is a generalization used as the basis for analysis) that included regulations, economy, safety, transportation, infrastructure, resources, and pricing.
The authors considered factors, which on first view don't seem to bare any relevance to the subject matter. However, they point out that there are synergies existing between T&T, and industrial and government sectors, which although indirect, are dependent on each other and thus can't be discarded.
"Both travel and trade are enabled by factors that extend far beyond physical and administrative borders and include elements such as the general business environment or infrastructure," explain the authors in the WEF report.
Ensuring the viability of the T&T sector, the authors of the WEF report emphasize that the traditional models that call for progress and market share, be replaced with an astute T&T model that includes environmentally beneficial surroundings, considers the customer's preferences, promotes peace and tranquility, and is balanced between the countries' and the customer's needs.
"The authors conclude by stressing the importance of transforming "classic tourism" dominated by considerations of growth and market share to "smart tourism" that is clean, green, ethical, and customer- and quality-orientated," stresses the WEF report.
Ranking the World's T&T Sectors
In the overall rankings of a total of 139 countries, Switzerland ranked first, followed by Germany, France, Austria, and Sweden, with the United States in sixth place. The United States and Sweden improved from a ranking of eight and seven in 2009, respectively.
The lowest rankings were received by Chad (139), Angola (138) and Burundi (137). Angola has been included into the rankings for the first time in 2010.
Switzerland received many kudos, beginning with cultural and natural resources, environmental protection, and infrastructure and transportation. It is not only recognized as a tourist mecca but also major business travel destination.
Germany has made tremendous strides, moving up another step to the No. 2 position, while Austria, that held the second position in 2009, received a ranking of four. Germany received a pat on the back for having the most resourceful industry sector and well-developed transportation.
Canada ranked fifth in 2009, but dropped to the ninth place in the 2011 Index. India moved six points down from its 62 ranking in 2009. Even Brazil lost its ranking of 45, down to 52. However, without extensive research, the report is not quite clear as to why these countries suddenly slipped in their rankings. The report identifies mostly the positive characteristics.
Aggressive Marketing Campaign Saves Tourism
Not only the financial meltdown, but also man-made events, such as the Gulf Coast disaster, or natural disasters, including earthquakes, floods, and volcano eruptions, played havoc with the travel industry over the past few years.
In April 2010, the volcanic eruption in Iceland resulted in one-fifth of tourist cancellations in April alone, according to a Tourism-Review.com report on "Natural Disasters: Real Force Majeure for Tourists," (force majeure is French for superior force).
Iceland's industries reacted immediately, including the Ministry of Tourism, with a large-scale marketing campaign between mid-May and mid-June of last year. The price tag was $6 million. The country used all available media and social networking websites, including Twitter and Facebook.
The country's aggressive marketing campaign was so effective that for the entire year travel statistics suggest a small loss, less than 1 percent of all inbound tourists.