In today's face-conscious—and bribe-heavy—Chinese society, gift-giving has come to occupy a weighty place in the local economy. So much so, in fact, that stores are actually making money by buying back the wares purchased to influence officials.
In 2012, China's Gift Industry Research Institute estimated that gift purchases accounted for about 768 billion yuan (about $115 billion) yearly—a sprawling business that appears to be closely linked to the world of corruption and money laundering.
Mao Yushi, a renowned Chinese economist, often observed how people carrying filled bags would enter government offices at South Yuetan Street in Beijing, then come out empty-handed. Looking out his window at home, he would then see officials leave work with the bags they had received and head towards nearby shops, where they would sell the gifts.
According to Mao, the merchandise would be resold to people arriving in Beijing, again for use as gifts, Hong Kong's Phoenix Weekly magazine reported in June 2012.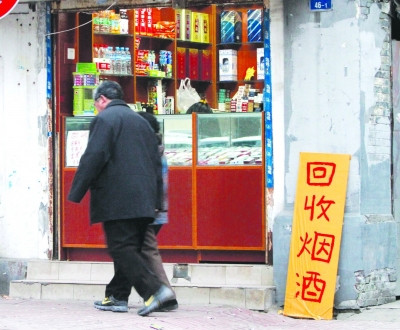 The business, according to the magazine, comes in a variety of forms, with over 200 businesses in Beijing alone. Xinhua, the state-run news agency, says the practice emerged in the early 2000s, as China began to experience major economic growth.
Some specialize in reprocessing fine alcohol and wines, others in less flashy products. Some of these entrepreneurs ran physical shops, while others offered services and asking prices online.
Some had no shop at all. Xinhua reported that one woman would stand outside a retail store and buy 1000-yuan gift cards from officials for 850 yuan, then turn them over to someone who would resell them for 900 yuan.
Processing Corruption
According to a 2004 article on China Radio International, the gift industry has paved the way for officials to turn the gifts they have received into cash, becoming a "[commercial] ring orbiting around a corrupt body."
Bribery is common in China, but it is often veiled in a pretense of courtesy, in which gift-giving plays a role.  
Wang Huaizhong, a former deputy provincial governor in Anhui Province who was executed in 2004 for accepting over 5 million yuan in bribes (about $780,000) defended his behavior in a statement reported by the state judiciary's Procuratorial Daily.
"During the holidays and New Year celebrations, there are always people who come to pay me visits to express their goodwill," Wang said. "This is a reciprocal politeness. How can this be considered a form of bribery?"
Faced with a life sentence in 2000 for accepting bribes of 500,000 yuan, thousands of American dollars, and 15,000 yuan in gifts, former village-level Communist Party secretary Ding Yangning told investigators that he was simply following the Chinese lunar new year spirit of giving and receiving red envelope cash, the Procuratorial Daily reported.
The state-run China Central Television (CCTV) reported that gift resale is illegal, and that the authorities never issue registrations for shops specializing it. But in 2012, lawyer Wang Liang told the Communist Party's Xinhua news agency that there was no regulation specifically banning the practice of purchasing and reselling gift items.
In 2014, CCTV made a half-hour report about corruption associated with the buying industry. In Hangzhou, there were over a hundred gift-buying shops, mostly located near, and sometimes in government buildings. According to CCTV, some shop owners admitted that average people made up only a small portion of their customers.
Gift buyback seems to have been significant as early as 2001, when Xinhua published an article on the lucrative practice. When asked about the Communist Party's calls for frugality and how this might affect business, one shop owner was quoted as saying that "the authorities have all sorts of slogans, but people continue to give gifts. What can the government do about it?"
Tightening the Screws on Extravagance
But after ten years and shifts in leadership, more concrete changes may be afoot.
The luxury industry and the associated gift buyback business seems to be in decline as the anti-corruption campaign launched by Chinese leader Xi Jinping in 2013—a year after he took power—has taken its toll on thousands of offenders.
In January 2014, the state-run news site People's Net reported a drop in demand for high-end tobacco and alcohol products.
In April this year, the state-run Silver Evening News in western China published a story on its WeChat account, saying that the buyback industry in Baiyin, in north-central China's Gansu Province, was withering because of Xi's 2012 Eight Point Regulation. That proclamation anticipated the anti-corruption campaign by demanding more discipline among Communist Party officials.
Across the country in coastal Zhejiang Province, the Qianjiang Evening News reported that local buyback shops were going out of business.
Fu Shuaixiong, a postdoctoral graduate of applied economics at Peking University, told Xinhua in 2014 that state ordinances had curtailed the extravagance, driving the gift market in a more affordable, "commoner-friendly" direction.  He also said that a dip in extravagance reflected a "healthy and rational development" in changing purchasing trends.