Throughout his campaign, President-elect Donald Trump has been saying his immediate goal after taking office would be to deport the 2 million or so illegal immigrants with criminal records.
"Gang members, drug dealers, we have a lot of these people," he said during the Nov. 13 "60 Minute" interview. "We are getting them out of our country or we are going to incarcerate."
That pledge raises the issue of resources, though Trump hinted in a Time interview on Nov. 13 that he would take a softer position on Dreamers—people brought to the country illegally as children.
"We're going to work something out that's going to make people happy and proud," he said. "They got brought here at a very young age, they've worked here, they've gone to school here. Some were good students. Some have wonderful jobs."
That softer treatment, however, does not seem to include rescinding his campaign promise to scrap President Barack Obama's executive orders that handed Dreamers work permits and protection from deportation.
Whoever he decides to deport, Trump will face budgetary, logistical, and legislative constraints.
Courts and Detention Centers
Immigration courts, which decide the majority of deportation cases, are sinking under a backlog of over 526,000 cases (and counting), making people wait years for a court hearing.


The Department of Homeland Security (DHS) handles the rest of the deportations, mostly through a procedure called "expedited removal." But that procedure requires putting the immigrants in detention and the department has only 34,000 detention beds.
"There would need to be a larger infrastructure and more money to detain and to deport people," said Ingrid Eagly, a law professor and immigration expert at UCLA School of Law.
Trump's "2 million" figure represents all "removable criminal aliens," as DHS puts it. That includes illegal immigrants, but also some legal immigrants, tourists, and foreign students who commit a serious crime, such as robbery, drug dealing, or worse. Nobody knows how many of the 2 million are in the country illegally. The Center for Immigration Studies says most, while the Migration Policy Institute says fewer than half. 
Regardless, some 550,000 of these criminal aliens exit jails and prisons every year, DHS estimated in 2013. The Obama administration has been recently deporting about 65,000 criminal aliens caught inside the country a year, down from over 100,000 in 2009.
What Can Trump Do About It?
Obama has ordered DHS to focus deportations on "threats to national security, public safety, and border security." That limited the agency to suspected spies or terrorists and convicted felons in an effort to deport "felons, not families," as Obama put it. Trump said he will broaden deportation criteria to fully enforce the existing immigration law.
Since DHS monitors state and federal prisons for illegal immigrants, broadening the criteria to include people with simple misdemeanors, for example, may quickly garner many more people to deport. But simply priming the pipeline doesn't solve the issues of clogged immigration courts and limited detention centers. Trump may try to use provisions in immigration law that allow for deportations without an immigration court hearing.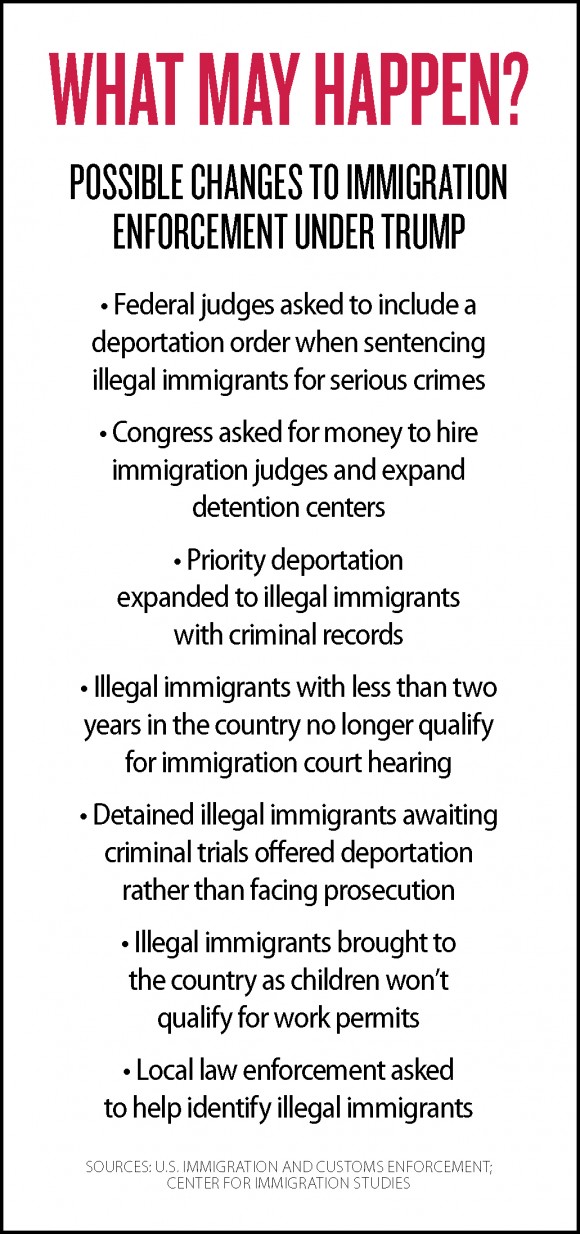 Expedited removals, for example, have mostly been used to remove illegal immigrants caught near the border. But the law allows the attorney general to use it on all illegal immigrants with less than two years in the country. This way, Trump can expand expedited removal to cover hundreds of thousands more, but would still need more detention center space.
Then there are judicial removals. The attorney general may ask federal judges to include a deportation order when sentencing illegal immigrants for other serious crimes like robberies. This provision has rarely been used, according to Jessica Vaughan, director of policy studies at the Center for Immigration Studies, a low immigration but pro-immigrant think tank in Washington.
Judicial removals require the cooperation of judges, which could be gained through offering to train them on the subject, she said.
Then there are stipulated removals "that are similar to the way a plea bargain would work," Vaughan said. Illegal immigrants, often when facing detention time, can give up their right to an immigration court hearing and go back to their countries. Tens of thousands used to leave that way every year. But the Obama administration scrapped the practice after immigration advocates argued the threat of detention made it coercive.
Reversing that move would free up some detention capacity for more expedited removals and thin out court dockets, which should accelerate court decisions.
This way, Vaughan said, Trump may be able to remove the 2 million criminal aliens within his term. Eagly, however, was doubtful, given that many still had a right to a court hearing.
Trump would thus still need to hire more immigration judges and possibly expand the detention centers. So far, he only proposed tripling the number of immigration agents and adding 5,000 Border Patrol agents.
Another route would see Trump propose immigration reform to simplify the convoluted web of laws into a more efficient system. Repeated failures by previous administrations may make him hesitant, however.
Correction: The article has been updated to more accurately reflect President-elect Donald Trump's proposed immigration policy, as outlined in his Aug. 31 speech in Phoenix, his position paper on immigration reform, and the immigration policy outline on his website.