Commentary
To protect the fundamental rights of Brazilians, President Jair Bolsonaro announced the lifting of public health measures that were still in place in the country in April, with the health minister, Marcelo Queiroga,  putting an end to such measures after signing a decree on April 22.
But the fact is that the president could have done much more were it not for the controversial actions of activist judges, which has been observable in the comments of Justice Dias Toffoli of the Brazilian Supreme Court who stated that "presiding over Brazil is not easy" and confessed that unelected judges like him "have taken action to mitigate the impacts of the pandemic in Brazil."
Additionally, on April 15, 2020, the Supreme Court endorsed the power of mayors and governors to enact their own decrees on the pretext of combating the pandemic. This court ruling allowed these local authorities to decide on lockdowns and which "non-essential services" should not be suppressed. These authorities used their powers to close trade, suspend public transport, and isolate their local communities.
In April 2021, the Court confirmed that local authorities could also prohibit in-person religious services. According to Uziel Santana, president of Brazil's evangelical lawyers' association (ANAJURE), that decision was "flawed from a technical and legal point of view." This form of judicial activism "ends up interfering too much in the sphere of another branch of government, and this is not a good thing in a democratic state of law," he said.
Supreme Court and the President With Opposing Views
Meanwhile, Bolsonaro has expressed concerns about these gross violations of human rights. He would like to see congressmen investigate the actions of local authorities to whom the federal government provided emergency funds. The president alleges that these authorities are imposing a state of siege that is unconstitutional.
"They cannot do this without the approval of Congress. They are humiliating the people while saying that they are saving lives. How can they be saving lives? They're starving people," he said.

In 2021 alone, the Supreme Court made around 9,000 decisions regarding the management of the pandemic. These unelected judges argue that their activism is backed by "scientific evidence" that supports such initiatives as lockdowns and mandatory vaccination.
However, Martin Kulldorff, a professor of medicine at Harvard University, Sunetra Gupta, a professor of theoretical epidemiology at Oxford University, and Jay Bhattacharya, a professor of medicine at Stanford University, have all highlighted "the damaging physical and mental health impacts of the prevailing COVID-19 policies." These three have also stated that lockdowns actually produce "devastating effects on short- and long-term public health."
On Nov. 12, the Supreme Court overruled a federal law that prevented companies from forcing their employees to show "proof of vaccination" in order to keep their jobs. The legislation aimed to protect the rights of employees to bodily autonomy and freedom of choice.
Curiously, the decision was announced only a few days after Labor Minister Onyx Lorenzoni had stated that allowing companies to fire employees who refuse to get vaccinated was absurd and a gross violation of their basic rights.
Is It Justified?
Justifying his decision, Justice Luis Roberto Barroso considered the law invalid because, in his opinion, "the lack of vaccination interferes with the rights of others."
However, his claim is false because, as demonstrated in a research paper by the British Medical Journal, "from a public health standpoint, it makes poor sense to impose vaccine side-effects on people at minimal risk of severe COVID-19. The argument that it protects others is weak or contrary to evidence."
On Dec. 20, Justice Barroso went even further and decided to demand proof of vaccination against COVID-19 from all travellers arriving in Brazil.
Bolsonaro strongly criticised such a decision but was unable to prevent its eventual enforcement.  Such activist judges falsely accuse the president of being a "denialist" in regard to vaccines and the epidemic.
One of these judges, Alexandre de Moraes, has even opened a recent inquiry against Bolsonaro because of his comments on possible associations between the Pfizer vaccine and the risks of contracting myocarditis.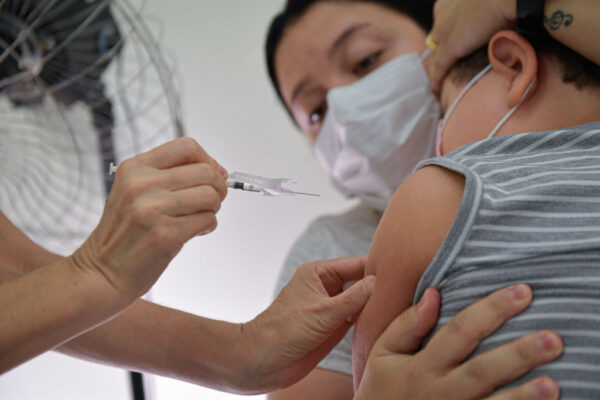 Curiously, just last month the Journal of Food and Chemical Toxicology published a research paper showing that "vaccination induces a profound impairment in Type I interferon signalling, which has diverse adverse consequences to human health."
These researchers identified that there was a potential for "profound disturbances in regulatory control of protein synthesis and cancer surveillance," which have potential links to myocarditis and a long list of other diseases and health issues.
Health Concerns
Above all, the data on COVID-19 deaths reveal a concerning trend, where higher death rates are being seen among the highly vaccinated. It is reasonable to suspect that mRNA vaccines are actually suppressing the immune system as there seems to be a clear connection between getting vaccine boosters and falling ill.
This is not just the conclusion of one respected journal. Writing in the Journal of Virology, Dr. Kenji Yamamoto comments that "immune function among vaccinated individuals eight months after the administration of two doses of COVID-19 vaccine was lower than among the unvaccinated individuals."
According to Dr. Robert Malone, inventor of mRNA vaccine technology used in the Pfizer vaccine, the current situation where the efficacy of these vaccines is fading should have been expected. "The truth is now that it's the highly vaccinated that are putting us all at risk for further evolution of this virus," he says.
Despite all this evidence, Justice Ricardo Lewandowski has ordered that all children aged five to 11 must be included in the National Vaccination Plan against COVID-19. Bolsonaro has opposed these mandatory vaccinations and said he would never allow his daughter, who is 11, to be vaccinated against COVID-19.
His concerns as a father are entirely justifiable. In fact, the United Kingdom (UK) government's Joint Committee on Vaccination and Immunisation (JCVI) has refused to endorse COVID-19 vaccination for children stating that the benefit to them of receiving such vaccination is "virtually zero," whereas the already known risks of serious harm are "not negligible."
To conclude, an unelected and unaccountable judicial elite continues to enforce mandatory vaccinations for COVID-19 on the Brazilian population. This violates not only the democratic principle but also the fundamental rights of the Brazilian people. Given the already known potential harms of being inoculated with such novel vaccines and the entirely unknown potential long-term adverse effects, the decision of these judges to impose mandatory vaccination regardless of age and health conditions is wrong and unsupported by scientific evidence.
Views expressed in this article are the opinions of the author and do not necessarily reflect the views of The Epoch Times.