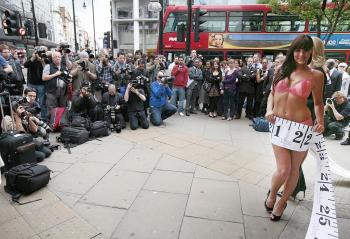 In my last article I discussed bra basics: how to correctly put on a bra and how to solve some common problems. This week, we'll focus on how to determine your true bust size, and then find out which styles to look for.
Determining Your Size
Two components make up your bra size: the band and the cup. To find your bra size, you need to measure yourself and calculate the band and cup sizes as follows.
Step 1: To find your band size, remove your bra and wrap a measuring tape snuggly around your rib cage, and then add 5 inches to this number to get your true band size. For example: 29-inch rib cage + 5 inches = 34-inch band size.
Step 2: To get your cup size, wrap the measuring tape comfortably around the fullest part of your bust and subtract your band size. The difference will give you your cup size. For example: 1-inch difference = A cup, 2-inch difference = B cup, and so on.
It's a good idea to measure yourself every year or so, as your size can fluctuate throughout your lifetime. Now that you know your correct size, the next step is finding the best styles to suit your shape.
Best Styles
Average: If you are fit with little to no additional flesh and wear a C-cup or under, you're in luck—you can wear any style you like.
Petite: If you are a B-cup or under, you will benefit from styles with underwire, molded cups, and padding for enhancement and shaping. You can get away with the "triangle," wireless bras, but be warned that while they are wonderfully comfortable, they do nothing for your figure! Save them for lounging around the house.

Push-up, demi, and balconnet styles are your best friends. Natural cups (no molding or padding) with underwire work as well, as long as they have seams that give you shape and definition; the seamless version will leave your girls looking sad and deflated.
Full: For larger bustlines with little or no additional flesh, look for styles with more support. Natural cups or underwires both work for you. If you've got a bit (or a lot) of flab at the sides or in the back, you'll want something with wide, firm straps, wider sides with boning, and firm, strong fabric that will give you additional support. Look for full cup or minimizing styles; avoid strapless.
No matter what size you are, the right bra will not only give you comfort and support, but it will also give you a visible lift (drooping or sagging is to be avoided at all costs). This will give you a younger, slimmer appearance as well.
In terms of color, all you really need is nude and black. Wear nude under white (usually better than white under white unless it works with the look), and black under almost everything else.
Seamless "T-shirt" bras are best under tight-fitting garments and work with just about anything. However, every woman needs a beautiful, lacy little number, and these are surprisingly versatile as long as they are not worn under anything too tight or too thin. A good, strong and sturdy strapless is a must as well. The rest is icing on the cake.