Welcome to spring … almost! While we wait for the flowers to bloom, here are the top five spring/summer trends that ruled the runways in New York, Paris, Milan, and London.
Botanical Garden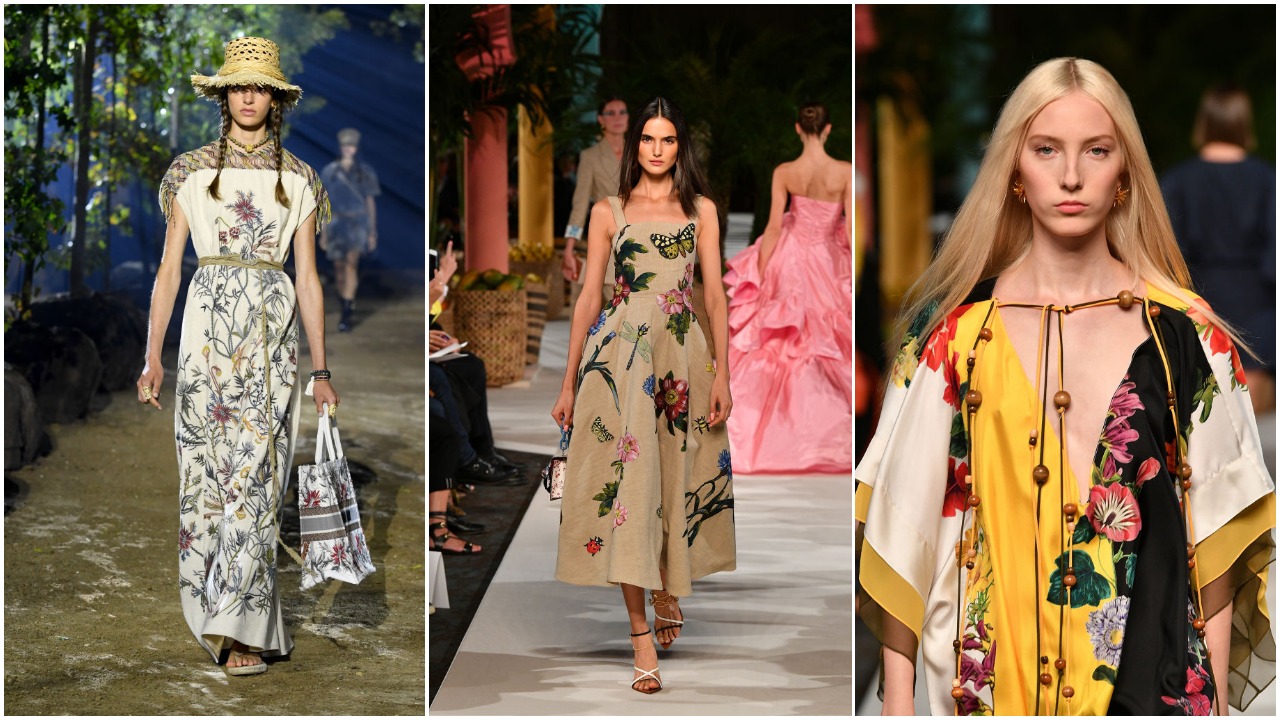 This season, designers thought outside the garden box, going beyond the usual floral patterns with roses, peonies, and sunflowers. They created a botanical garden, exploring patterns, embroideries, and prints with plant varieties we rarely see on clothing. Take Dior, for instance: The collection displayed a wild plants design from the herbarium of the French National Museum of Natural History. The Oscar de la Renta collection was inspired by a 19th-century plant research book by American botanist Anne Kingsbury Wollstonecraft. The prints and embroideries are in earthy tones, which give them a vintage look. Pair any of these prints with earth tone colors like rusty orange, beige, or olive green.

You don't have to be walking down the aisle to dress in white. The immaculate color made an appearance on most runways this season. Aside from white accessories, we saw a lot of white dresses, varying in style from shirt maxi dresses, like those by Valentino, to a more feminine shape, as seen in Louis Vuitton. In any case, embrace the white; don't be afraid to wear it from head to toe.
Polka Dance

Designers are getting "dotty" about the polka dot trend: This is the second year it has made the cut. Last year, the trend was demure and subtle, playing mainly with black and white. This year, it's an explosion of colors and patterns. The dots are more whimsical in size, with big and small circles playing off of each other, as seen on the Ports 1961 runway, while colors alternate between light and bright tones, as seen at Paul & Joe. If you like this trend, try a blouse in polka dots or a maxi dress in the same pattern.
Fresh Sherbet

I had the choice between two trends to highlight: neon colors and pastels. Neon colors, let's face it, are a fleeting trend; they are not timeless. Pastels, however, go with every classic, dark neutral color in your wardrobe, and they are soothing, reminiscent of fresh sherbet on a hot summer's day. At Agnona, designers opted for a monochromatic look: light turquoise from head to toe, good inspiration to go to the beach. Longchamp, meanwhile, presented its pastels in ombré shades, a nice and new way to wear the trend this season.
Super Bag It

Let's talk about the bag trend. Last year, the bags were super tiny—useless, if you ask me—but this year, designers went in the opposite direction, opting for huge tote bags instead. This trend has plenty of practical benefits. If your bag is made of a soft material, you can roll it up when it's not full and carry it under your arm. If you have a long day ahead of you, you can use it to comfortably pack your second pair of shoes, your yoga mat, and even a late-day snack. What's not to love about it?