The Bambi Conundrum
July 14, 2011 10:35 am Last Updated: July 14, 2011 10:40 am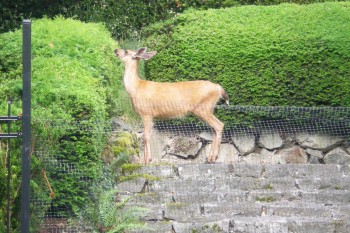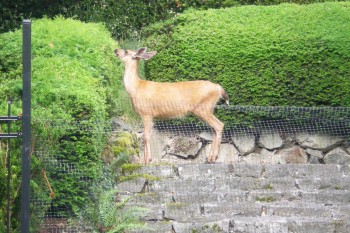 It's such a sensitive issue with the deer-sympathetic public that politicians have been loath to touch it. But with deer ruining gardens and crops and even stalking and attacking people, many B.C. municipalities are considering a cull, however controversial.
With no natural predators in towns and cities and a veritable smorgasbord of readily available shrubs and flower beds to munch on, deer populations have exploded in numerous communities across North America in the last 20 years, and governments are struggling to find a solution.
"These deer eat everything that's green—anything that you can grow they'll eat it now. At the beginning they didn't, but as time went on by they now have adapted to eating everything. They even open up garbage bags with their hooves," says Jim Ogilvie, Mayor of Kimberley, B.C.
Ogilvie says the deer have become so habituated that they've lost their natural fear of humans.
"Over several generations they've learned how to live right within the community. Seems as if they've never been in the wild, some of these deer. People try to scare them and they don't even move."
Ogilvie is particularly concerned because two people have been attacked by aggressive deer in Kimberley. One of them ended up in hospital.
Last month, a fully grown doe jumped a two-metre fence at a home in Kenora, B.C., ran up the deck stairs, and charged at a child. A small dog was trampled before the doe was chased off. A petition is making the rounds in Kenora calling for a cull of the deer population there.
In spring, female deer will react to a real or perceived threat to their young, while during the rut in late fall, males can become aggressive.
Other threats posed by the overabundance of deer in urban areas include vehicular collisions, agricultural and forest damage, and health risks through deer infested with ticks carrying Lyme disease.
Culls Most Effective
A report by the B.C. Ministry of Environment examined a wide range of options implemented by municipalities in Canada and the U.S. to deal with deer problems, including fencing, fertility control, the use of frightening techniques, capturing and relocation, and controlled public hunting.

Many researchers conclude that reducing the size of a deer population to an acceptable level is more effectively achieved through culling initially, then maintaining the population at the desired level through contraception, the report said.
In particular, the report looked at Helena, Montana, which has been capturing and euthanizing deer using baited clover traps. The carcasses are removed to a Fish, Wildlife & Parks facility to be cleaned, and then taken to a local butcher where the meat is processed into deer burger and donated to the Helena Food Share for distribution to needy families.
While Helena's deer population is still above targets, complaints have been greatly reduced.
Deer-human conflicts had been escalating in the city in recent years. The tipping point came after a boy delivering newspapers was trapped under a vehicle by an aggressive mule deer. Culling began in 2008.
Several B.C. municipalities are looking at implementing a cull. Ogilvie says a committee has determined that a cull modelled on the one in Helena would work best for Kimberley, but wants provincial help to cover the costs, noting that ungulates are the property of the government.
"The best solution would be the province look after their own animals," he says. "We've got five communities in this area that all have the same problems—they're all looking for some assistance as well."
However, Mike Badry, wildlife conflicts prevention officer with the Environment Ministry, says there's no funding available to cover the cost of a cull, but the government will help facilitate whatever approach municipalities come up with.
"We'll have staff that will attend committees and provide technical advice, provide support for any sorts of things that need to be done, such as permitting and that," he says.
Non-Lethal Methods
Liz White, director of the Animal Alliance of Canada, is against a cull. She believes deer and humans can coexist if certain measures are taken, such as planting shrubs and flowers that deer refuse to eat, putting up fencing, and passing bylaws prohibiting feeding deer.
"Given the extent to which human beings now occupy Canada, there's a lot of interfacing between wildlife and humans so there will be conflict, and we need to figure out a way to resolve these conflicts in a non-lethal manner," she says.
White maintains culling is not a long-term solution.
"If you come in and shoot 100 deer you're going to have to do it again, and again, and again, because the environment is such that it can maintain that number of deer in a healthy manner," she says.
"It might solve your problem for one year, it might solve your problem for two years, but in the long run it will not solve your problem."
Rodney Wiebe, director of the B.C. Wildlife Federation, begs to differ. He says culls have the effect of teaching the deer that they should give humans a wide berth.
"You throw a hunting element into it and the whole perception of humans changes," he says.
"Firstly, you're reducing the numbers. Then you're also inspiring some caution and wariness in those animals of people. They become almost totally nocturnal, and you just don't see them during the daylight hours nearly as much, just because they're being hunted. They figure it out."
He says members of the federation, a voluntary organization comprising hunters, anglers, and recreational shooters, have the expertise and would be willing to participate in a controlled hunt of the animals—free of charge.
"What I'm suggesting is that with the right outreach to the hunting community, qualified, responsible people could be recruited, providing the municipality had the permit from the ministry and orchestrated or managed the hunt so that it was done safely."