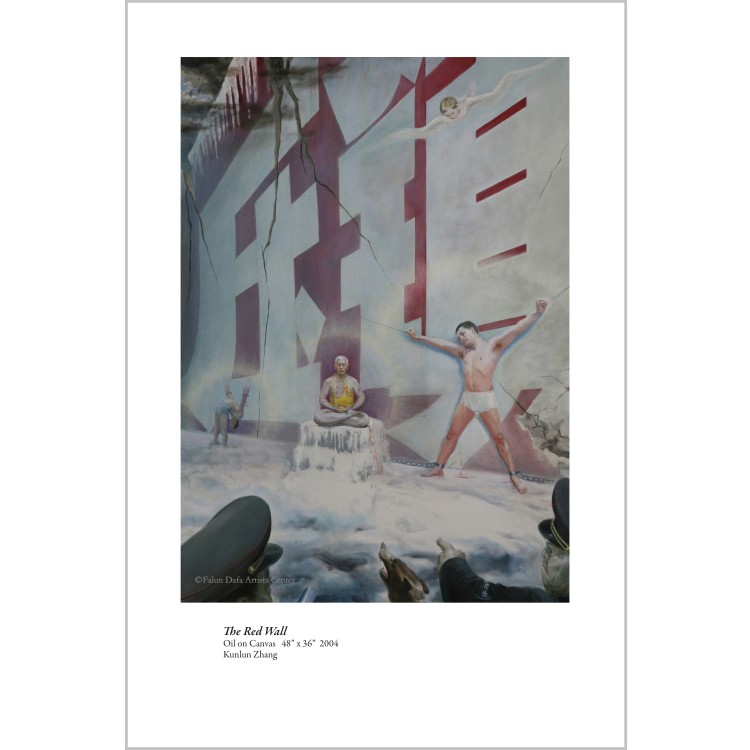 The Art of Truth, Compassion, Tolerance is the unexpected theme for a world-touring exhibition which began the UK part of its global procession in Chichester on May 22nd.
Religious and spiritual subjects were once a primary source for artists' imaginations but have lost prominence in the contemporary global market.

Nicholas Frayling, the Dean of Chichester Cathedral, was present at the launch of the exhibition.
"Two things have struck me about the paintings. One is the quality of many of them as works of art. It's very obvious that they've come from the heart. They're not just exercises, they've come from the heart and a deep system of belief of the artists who painted them. The other thing is that some of the scenes they portray are very graphic," he said.
"It has a message which goes beyond the Chinese culture and goes between the culture of Falun Gong and speaks of universal values of goodness and purity overcoming evil. I think that's the heart of the whole exhibition and something which moves me very greatly."
Falun Gong (also known as Falun Dafa), a spiritual discipline that involves practising five meditative exercises and living according to teachings based on the principles of truthfulness, compassion, and forbearance.
The practice flourished in China for seven years until 1999, when Communist Party leader Jiang Zemin implemented an unlawful edict to wipe out the movement. Since 1999, more than 3,000 people have died as a result of the Chinese Communist's continued persecution of Falun Gong.
Xiaoping Chen, a New York-based artist featured in the exhibition, said in a phone interview: "I am an artist and also a Falun Gong practitioner so when I heard about the persecution [in China] I hoped my art might help save people's lives in China and tell others about the persecution of good people. I personally got lots of benefit from the practice and even my artistic skill was given to me through my practice. It is totally wrong to hurt good people and damage good values."
Professor Kunlun Zhang was one of many artists caught in the maelstrom of the persecution. With pressure from around the world, he was released. After he moved to the U.S., he and other painters and sculptors joined to make work which would tell the story of Falun Gong inside China and its global and universal unfolding.
"When I was in China, because I followed the principle of Truthfulness-Compassion-Tolerance and practised Falun Gong to become a good person, my home was ransacked, and I was illegally arrested, detained, and sentenced to three years of forced labour," he said in a previous interview.
"The police beat me and shocked me with electric batons. The head of the local police station Zhang Huisheng said blatantly, 'The highest leader General Secretary Jiang Zemin said, so long as you are Falun Gong practitioners, no matter how you are mistreated, that doesn't matter; if you are tortured to death, you will be dragged out and buried, and you will be labelled as committing suicide .
' The police took various means to persecute me, including lies and deception, psychological tactics, deceiving me into actions in front of a video camera, and then concocting programmes on TV and articles in the newspaper to defame me. They deceived the public in China and around the world. Such mental torment is far more severe than the physical torture applied against me, and even now I am still reluctant to recall that nightmarish period of time."
Professor Zhang, whose work is also featured in the exhibition, has said: "As an artist, the fundamental skills are necessary. Without skills, it is very difficult to express what you want to express. But I think the skills are a basic thing, not the whole thing of creation. Our thought and realm are more important.
"We know that literature is like the person and paintings are like the person. When you draw a line, all your information such as your quality, morality, experience, and even your health have been put into it. It is the reflection of your inner nature. So an artist must be a noble and moral person, and be a thoughtful person."
Lisa Pow, a music student, visited the exhibition on its first day.
"I think they're beautifully done. I think the facial expressions are slightly reminiscent of pre-Raphaelite painting," she said.
"The faces, the expressions they're pulling, its very real, very emotional. You can relate to them as people, it feels as if you're meeting them in the flesh rather than behind the wall of a painting. You feel like you can reach out and touch the person and you can see who they are so clearly. You get so little information about who the person is but you feel like you know them, you've met them and you can hear what they're saying and you can hear what's happening in the painting, you can see it moving, although it's not really. You can see what's happening."
The exhibition will be in Chichester from May 22nd to June 4th before moving to:
Birmingham: June 6th – July 10th
Bath: July 12th – July 24th
Cambridge: August 14th–21st
Liverpool: August 23rd – September 17th
Manchester: September 19th–24th
Further exhibitions are planned in Edinburgh, Kingston and Ireland.
Additional reporting by Mary Cann and Rong Cheng.