WARREN, MI—When word came down from on high that Buick was going to introduce the sixth generation of the Buick Regal ahead of the 2017 New York International Auto Show, there were some ominous but pleasant rumblings. There had been rumours that Buick would be bringing a wagon back into the lineup.
And so it was that invited automotive journalists from around North America descended on the much-lauded General Motors Design Dome to see for themselves what all the anticipated excitement was about.
GM executives were in evidence as the appointed hour drew close and we were ushered into seats within the dome setting. On display in the background was the current Buick lineup—sedans and crossovers—and a raised circular dais obviously intended for the guest of honour.
The Buick Regal TourX
Buick's global vice-president, Duncan Aldred introduced the eager throng to the Opel Insignia-based Regal, a smart-looking five-door sport sedan. The audience listened politely, many now believing that there was, indeed, going to be more this day. Aldred continued to regale all with the new mid-size hatchback's (Sportback) highlights and features. And then, something happened which some had anticipated or to be more accurate hoped for. Another Regal this one red in colour replaced the aforementioned blue Sportback on the turntable. Many assembled journalists stood for a better look. There were clearly audible gasps and an occasional fist would pump the air. Before us was a wagon—the Regal TourX!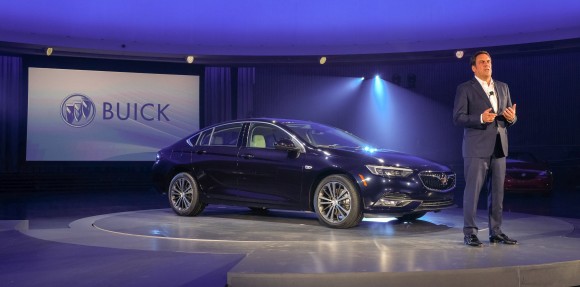 Mark Reuss, executive vice-president of GM's global product development, replaced Duncan Aldred centre stage and gave his presentation on this welcome sight for sore eyes. In truth, Reuss could have said just about anything: the masses wanted to see, touch, and smell this stunning, German-designed vehicle. The very presence of this new premium mid-size wagon truly impressed the crowd. In truth, every year, we are fortunate enough to see and drive all manner of engineering and design marvels, but a wagon, an authentic utility-type automobile, resonates.
But the enthusiasm of the small Canadian contingent of writers was dampened as our American colleagues climbed over chairs and each other toward the stage for a closer look.
Our GM Canada spokesperson, the ever-affable George Saratlic quickly convened a scrum. As Larry David would say, "Curb your enthusiasm!" The TourX will not be coming to Canada when the Regal goes on sale in the fall!
It turns out Canada's Buick Division doesn't believe that at this time, there's sufficient demand for a premium mid-size wagon to justify the costs involved in bringing it to our market. To be clear, consumers in Canada have different tastes and priorities than American buyers. For example, for years, Canadians have eagerly accepted and bought hatchback versions of many marques. When Honda brought back the Civic hatch recently, some wept tears of joy. Usually a little more expensive than their sedan-type counterparts, the general affordability and yes, utility and accessibility of a hatchback makes sense for this market. In fact, we were further advised that Buick's own research indicated a lack of interest in a premium wagon—certainly enough not to warrant the financial obligation required by Buick Canada and its dealer network to make the commitment—at this time.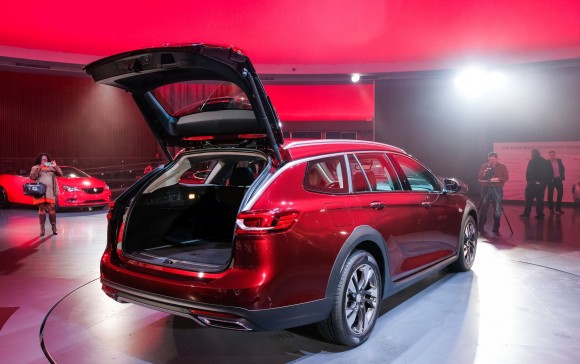 So, before we leave the TourX, let's give you a teaser for what we will not be seeing. This is the first wagon in the Buick lineup since the barge-like Roadmaster was discontinued back in 1996. Buick anticipates the Regal TourX will compete against the Volvo XC60 Cross Country, Audi A4 Allroad, Subaru Outback, and the BMW 3 Series wagon. Here's the thing that would make this vehicle cry out as a natural this side of the border: only available in all-wheel drive, with a turbocharged 2.0 litre four-cylinder engine, generating an estimated 250 horsepower and 295 lb.-ft. of torque while mated with an 8-speed automatic transmission.
The Buick Regal Sportback
While there was no opportunity to drive either Regal, we can tell you a bit more about the Regal Sportback.
The continued European influence of the Opel platform has resulted in a car that promises a sportier dynamic in terms of ride and handling. In fact, on-hand GM engineers touted that the wheels have been pushed further to the corners of the car and the wheelbase has been stretched more than 76 millimetres compared to the current Regal. Furthermore, those same folks say that the body structure is stiffer and stronger, yet the car's coverall curb weight has been reduced by about 91 kilograms: this reduction alone will add further to the Sportback's dynamic performance, and should also improve fuel efficiency.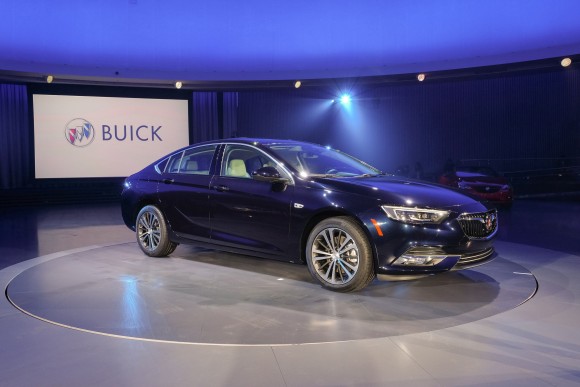 Opening the doors—all five of them—the actual cabin itself seemed roomier and the finish and materials appeared on par with the craftsmanship you'd expect in a premium vehicle. The standard infotainment system, with a 7-inch display, is compatible with both Apple CarPlay and Android Auto—wish that more OEMs did this and avoid committing to one or the other. Upgrades include a premium Bose audio system and 8-inch screen with navigation. Also standard is the OnStar 4G LTE system with a built-in Wi-Fi hotspot— a handy nanny-type feature if young attention-span-of-a-squirrel passengers are in back, eager to connect multiple devices as soon as seatbelts are fastened.
As GMs Duncan Aldred stated, "The new Regal Sportback was developed with today's active, independent premium car customer in mind. They have an SUV in the garage and are looking to complement it with a sport sedan, but have an appreciation for the usefulness of versatile cargo space when an occasional need arises."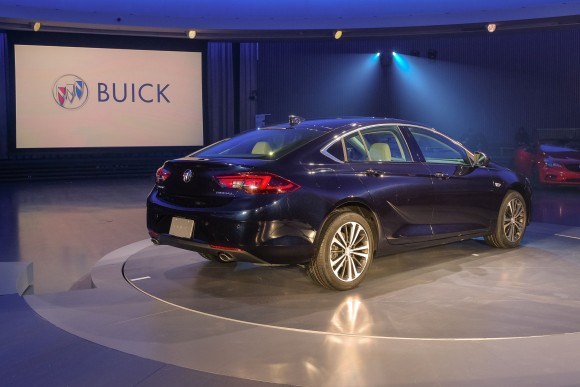 Finally, the 2018 Regal Sportback offers new levels of crash prevention and protection than before. This will be the first Buick to offer a standard active hood pedestrian safety system. Basically, what this means is that the vehicle senses the imminent impact of a pedestrian between 25-48 km/h (16-30 mph) and uses a pyrotechnic actuator to lift the back of the hood up about 102 millimetres (4 inches) to actually lessen the impact and potentially reduce injury. With the available Driver Confidence I package which includes popular active safety features, including lane change alert with side blind zone alert, rear cross traffic alert, and rear park assist, drivers can feel a little more confident behind the wheel. A more advanced Driver Confidence II package adds front pedestrian braking, lane keep assist with lane departure warning, forward collision alert and adaptive cruise control with forward automatic braking. Plus, standard equipment on every 2018 Regal Sportback includes push-button start and entry, hill start assist, 10 air bags, universal home remote, and heated side mirrors.
To be made available in three trim levels—Regal, Preferred II, and Essence—the Regal Sportback is aimed at those who possess a passion for driving and demand a vehicle that represents their personality and style. 
2018 Buick Regal Sportback
BODY STYLE: Five-door mid-size sedan.
DRIVE METHOD: Front-engine, front-wheel drive (FWD) with 9-speed automatic, optional available all-wheel drive (AWD) with 8-speed automatic transmission.
ENGINE: 2.0 L four-cylinder turbocharged I-4 engine, DOHC. 250 horsepower, 260 lb.-ft. of torque equipped with FWD and 295 lb.-ft. of torque when ordered with AWD.
CARGO CAPACITY: 31.5 cu. ft. (890 litres) rear seats up, 60.7 cu. ft. (1,719 litres) when rear seats are folded.
FUEL ECONOMY: Figures not available at this time.
PRICE: Pricing and other details will not be announced until closer to the on-sale date in the fourth quarter of 2017.
David Taylor is an independent automotive lifestyle writer, producer, and editor based in Barrie, Ontario who is fascinated by innovation and technology which enhance the overall driving experience. He's also a member of the Automobile Journalists Association of Canada (AJAC). Follow him on Twitter @Omemeeozzie or on Instagram @hugoscaroftheweek.