Thanksgiving Weather Forecast 2013: Storm Will Impact Travel on East Coast
Thanksgiving Day itself projected to be clear, but travel delays expected in New York, east coast, southern US earlier in week
November 24, 2013 6:28 pm Last Updated: November 26, 2013 5:56 pm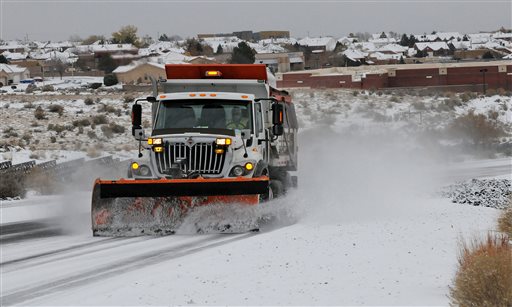 The Thanksgiving weather forecast for 2013 is not looking good, as a large storm is moving toward the East Coast–including New York– and the southern U.S. 
The storm has killed at least 11 people as it moved from the western U.S. through through Oklahoma, Texas, New Mexico and other parts of the Southwest.
Light snow was falling from Ohio east through central New England and moderate to heavy freezing rain was falling on Tuesday over the southeast and middle Atlantic, the Weather Prediction Center said.
"Winter storm warnings and winter weather advisories are in effect for a large area from the Tennessee and Ohio valleys eastward across the Appalachians to the interior mid-Atlantic region and the lower great lakes, as well as interior New England," it said on Tuesday afternoon.
Freezing rain in Maryland and the surrounding region prompted a rush hour advisory for Baltimore and Washington, D.C., for instance.
The National Weather Service warned that the storm would almost certainly upset holiday travel plans for those hoping to visit loved ones in the mid-Atlantic and northeast.
"The timing of the storm couldn't be worse," said Chris Vaccaro, spokesman for the weather service headquarters in Silver Spring, Md. "We are seeing numerous threats as the storm is beginning to develop and intensify."
Flights were running across the country basically on schedule.
As the storm continues east, there are fears of heavy rain along the busy Interstate 95 corridor and sleet, freezing rain and snow away from the coast and at higher elevations. Travel delays are also expected on the I-10 and I-20 corridors from Louisiana to Mississippi, Alabama, Georgia, South Carolina, and northern Florida.
It appears rain will increase on Tuesday across the Carolinas and possibly Washington D.C. and Philadelphia, reported AccuWeather. 
Wind-driven rain across the East Coast and a potential for snow from South Carolina to Maine, including the interior states of Pennsylvania and West Virginia, will likely spur travel delays. Snow could fall in western Pennsylvania and the interior of New England. Up to 9 inches could blanket northern parts of West Virginia, where the National Weather Service issued a winter storm warning from Tuesday morning through Wednesday afternoon.

"Rain is the most likely form of precipitation from Virginia to near New York City then southeastern New England, with the air simply being too warm or the warm waters of the Atlantic Ocean exerting its influence. This includes Richmond, Va., Washington, D.C., Baltimore and Philadelphia," reports AccuWeather. "If fresh cold air invades the storm, then there could be a period of snow over the mountains from northern West Virginia and western Maryland to central and northeastern Pennsylvania, upstate New York and western and northern New England. If this scenario pans out, major travel disruptions could be in store for portions of I-80, I-81, I-87, I-90 and I-91.
"Only if the storm were to strengthen a great deal and draw more cold air in would there be a change from rain to snow in New York City, Hartford, Conn., and Boston."
Either way–rain or snow or a mixture–there will be a problem for the millions of people expected to travel.
AAA projects 43.4 million Americans will journey 50 miles or more from home during the Thanksgiving holiday weekend, with 90 percent traveling by automobile. The average distance is expected to be 601 miles.
And the day before Thanksgiving will be the busiest single day of travel, with 37 percent of travelers departing on November 27, AAA projects. About 33 percent of travelers plan to return home on Sunday.
Ironically, the western U.S. and southwestern states such as Texas that got hammered on Sunday and Monday will experience relatively good weather on Wednesday and Thursday, especially the western U.S. AccuWeather forecasts "pleasant" weather in states from Colorado to California (and north and south of these states), and "chilly" or "brisk" but clear weather in Texas and surrounding states such as Arkansas.
The northern U.S. will have "cold" weather on Wednesday with slight chances of snow.
Hard to Predict; Thanksgiving Day Likely Clear
Thanksgiving Day itself is projected to be clear in many areas, though possibly rainy in parts of California and quite cold in New York and other northeastern cities.

Troy Peoples, center, and Amenia Evernz, right, pass the time watching TV after their flight to Washington state was delayed by two hours due to winter weather at Dallas-Fort Worth International airport, Monday, Nov. 25, 2013. (AP Photo/Brandon Wade)
Delays on Monday but Not Yet on Tuesday
Nearly 300 American Airlines and American Eagle flights were canceled in and out of Dallas-Fort Worth International Airport on Monday due to the weather, spokeswoman Laura Masvidal said, mirroring disruptions at the air hub a day earlier.
Some of the country's busiest airports — New York, Washington D.C., Philadelphia, Boston and Charlotte, N.C. — could see big delays. Ground stops announced around 5:30 p.m. at Charlotte Douglas International Airport and Newark Liberty International Airport were soon cancelled. Minor delays continue at LaGuardia Airport in New York City.
The Associated Press contributed to this report.
MORE:
Thanksgiving Weather New York: Forecast for NYC
Thanksgiving Weather Forecast Philadelphia: Rain and Snow to Slow Travel
Thanksgiving Weather Forecast for Atlanta, GA: Cold Rain Until Thursday
Thanksgiving Weather in San Francisco, San Diego, Los Angeles, Sacramento