PATHUM THANI, Thailand—Thai police raided the headquarters temple of a controversial Buddhist temple sect on Thursday, seeking to detain its chief, a monk facing criminal charges including accepting $40 million in embezzled money.
The action followed several failed attempts to seize Phra Dhammajayo, head of the Dhammakaya sect. Police were previously thwarted when crowds of monks and followers blocked the way, risking a violent confrontation.
It was not clear if Dhammajayo, 72, who has not been seen in public for months, was inside the temple, known for its vast golden dome seeming to hover like a gilded UFO.
Thailand's military government invoked an emergency order declaring the area around the temple a "restricted area" for the raid to stop people from entering.
About 3,000 police were deployed in surrounding the temple's grounds.
Phra Pasura Dantamano, a Dhammakaya spokesman, said Dhammajayo was innocent and criticized the authorities for being heavy-handed. He estimated that 10,000 followers were in the temple, a figure that could not be confirmed.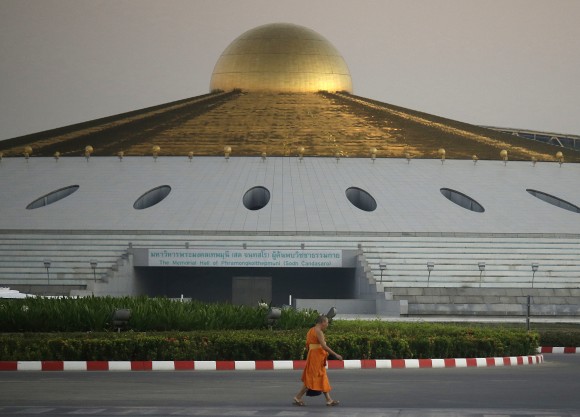 The campaign against the sect is also thought to have political motivations because the temple and its followers are seen as supporters of former Prime Minister Thaksin Shinawatra, deposed by a 2006 military coup. The charges were brought under an anti-Thaksin military government that seized power in 2014 and is seeking to erase his power base.
No resistance was reported as police moved through the temple's gates, but police stopped reporters from entering.
One of Dhammajayo's followers, the head of a credit union, was convicted of embezzlement and sentenced to 16 years in prison. Dhammajayo was charged with money-laundering and receiving stolen property. The sect says he did not know the money was tainted.
The Dhammakaya sect is controversial for fusing Buddhism theology with what critics call a bourgeois, money-friendly ideology, although that message is appealing to Thailand's burgeoning middle-class.
The sect was founded in 1970 and its base ballooned in Thailand's economic boom of the 1980s. Its increasing size and influence drew scrutiny, and Dhammajayo was forced to temporarily step down as the temple's abbot following embezzlement accusations in 1999 and 2002. He resumed his post in 2006 after clearing his name.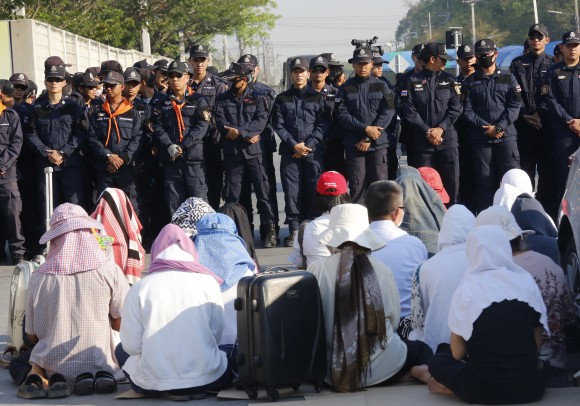 Thursday's raid was the latest in a series of attempts to arrest Dhammajayo over the past year. The Department of Special Investigation—Thailand's FBI—first summoned him last March in connection with the money-laundering charges. After he repeatedly failed to show up for questioning, saying he was ill, a criminal court issued an arrest warrant in May.
In June, supporters repulsed hundreds of officers seeking Dhammajayo by crowding the temple grounds, and in December police called off a raid after thousands of monks blocked the way.
The raids have also been complicated by a Thai law which forbids the arrest of a monk in his robes, for fear that would mar the sanctity of the clergy.
Buddhism is the national religion and one of three core pillars of Thai society, along with the monarchy and nationhood. Monks occupy a privileged position and are granted many concessions, including not paying taxes and being exempt from arrest until they are defrocked.