Texting & Typing: Trivia to Blow Your Mind [INFOGRAPHIC]
July 2, 2013 2:25 pm Last Updated: April 24, 2016 4:41 am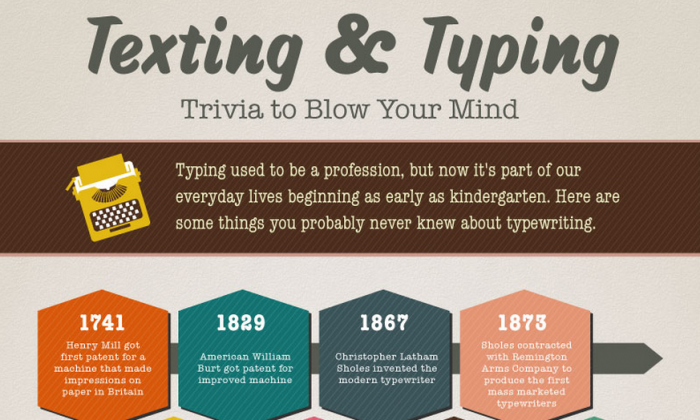 [Source: DJ Miller]
Keyboarding is an important skill in today's world of computers and tiny smartphone key pads. From work functions to school assignments, people are texting and typing all day long. Read this infographic to learn more about the device you take for granted known as the keyboard, and find out where it came from.
Discover the timeline of keyboard innovation, from the early days of Henry Mill in 17th century Britain to the modern ages of QWERTY keyboard computers and laser keyboards for tablets. Find out why Christopher Latham Sholes is a household name among typography students, and what he did for modern computing and texting on devices purchased with T-Mobile cell phone plans and the like.
Also, this interesting infographic will teach you special keyboarding words that will impress your friends and family. For example, do you know which word is the only one you can type that's fifteen letters long that never repeats a letter? You will if you read this IG! Learn which ten-letter word is the only one that doesn't repeat a letter, too.
Can you quote the only sentence that uses every single letter on a QWERTY keyboard? Do you know how a QWERTY keyboard got its name? Learn all of this and more, below.